NewsDen Premium WordPress Theme
NewsDen is a professional and clean magazine styled WordPress theme. If you are trying to take your blog or website to the next level, getting a professional looking design should be the first step.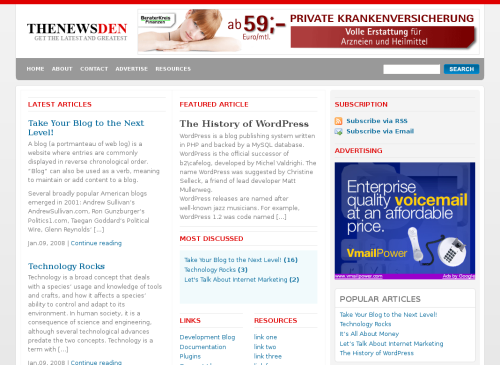 Click here to see a live demo
The theme was developed to maximize your monetization strategies as well. It integrates several advertising spots, including a 728×90 leaderboard on the header, and a 300×250 rectangle on top of the sidebar. Those two units are the most popular ones around the web, making it appealing for advertisers and profitable for your AdSense units. If you use 125×125 ad blocks, they are also integrated on the theme already.
There are several in-built functions as well, including a "Featured Article" section where the author can manually pin a post on the front page, and a "Most Discussed" section that will track the posts with the highest number of comments.
The theme costs $47, and it comes with a single user license, so you can use it only on one website. You are free to modify the theme in any way you want, but you cannot give or sell it to someone else. Finally, we will also be providing full support for 30 days after your purchase.
Buy now for $47