My Top Commentators WordPress Plugin
I am glad to release the third WordPress plugin by Daily Blog Tips. My Top Commentators is a plugin that allows a blogger to discover who are the most active commentators on his blog (via the WordPress Dashboard, so other people will not see this information). You can also use different time frames for this, so you can see the top commentators:
Today
Yesterday
Last 7 days
This month
Last month
This year
Last year
Secondly, you can also see all the comments left by a single person, and edit or delete them via the plugin interface.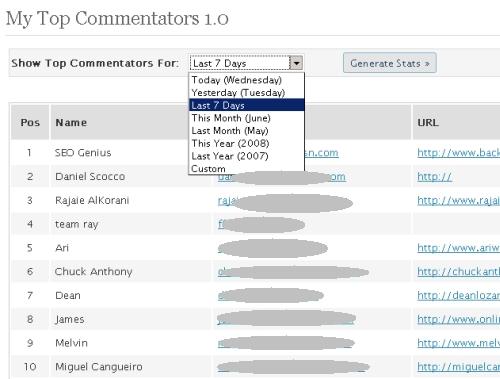 So, what are the possible uses for the plugin? Here are some ideas:
You could check your top commentators every month to write a post thanking them
You could see the most active people on your blog to link more often to their articles
You could see people that support your blog, and email them to propose joint ventures or ask for feedback
People that comment often on your blog are your most loyal readers, so I thought that it would be useful to know exactly who they are.
I would like to thank Pawan Agrawal from MaxBlogPress that coded the plugin specially for Daily Blog Tips. He has more outstanding plugins on his site so check it out.
Installation Guide:
Unzip the file
Upload the whole MyTopCommentators folder to your Plugins folder via FTP
Inside the Plugins section of your WordPress control panel activate the plugin
Under the Dashboard click on My Top Commentators, and use at will
Browse all articles on the WordPress category
109 Responses to "My Top Commentators WordPress Plugin"
Paper planes

Oops!

I wanted smethng like dis frm sme months… surely will b testing out.

WordPress seems to be evolving and becoming more and more useful, have tried sme of their templates.

Thanks for this gr8 plugin.

Anne

Great widget and easy to install, Thanks for sharing.

ebeggingonlinedotcom

gr8 plugin but i have a doubt..its the same one thats availbale in wordpress plugin directory? whats the difference between this two?

AlexClarke

Nice plugin. Now i just need comments… 🙁

Urgent Care

This is a great plug in that really draws a lot of attention to a blog, thanks for the post!

Custom street cars

Thank for this gr8 plugin i'll install and it would be very helpful to get more comment and visitors on blog.

computer tips

Great plugin. I love websites that have this plugin installed and in use. It really promotes good interaction between the blog readers and writers.

Jehzeel Laurente

a really great plugin! This is exactly what I'm looking for 😀 yay!

Masterpiss

Wow nice plugin, thanks for all

p@r@noid

nice plugin…
thanks for Sharing

Ahmed

I've been looking for something like this for along time. I've already downloaded it.
I'm using it now.
Thank you very much. 🙂

fast shop sale

are you still using the pluggin?
sorry i could find it on your site.

Fenix

Just started using this feature as well and find that it draws more traffic. Thanks for the great article!

Hikari

That's a good idea. A wigdet would be great!

Vera

This is great and exactly what I'm looking for. Thank you! 🙂

pays to live green

I use a top commentators plugin right now and have had good success with it. It hasn't hurt my pagerank that much since I still have a 3. It is a good plugin to have to reward the people who comment most regularly to your site.

Frank

@rap: It all depends on if they slow your site down. On heroesarg.com i'm running 43 plugins and my site loads 302 queries in 3.163 seconds. Not bad at all.

Frank

This is perfect. The one I was using wasn't customizable at all! This is so much better. Thanks!

rap

Hi, Daniel:
I have not downloaded a plugin in weeks, because i feel they are slowing my blog down. There are loads of good wp plugins, such as this, but how many is too many?

Can you write a post on this subject. I run several blogs, and my main blog (Groovy Vegetarian) has quite a few plugins. I would like to know at what point or quantity, should one cease to add more plugins?

Let me know. Thanxs!

cartmanffc

How about option to display the list on a single page so that everyone could see this (without e-mails of course)?

Peter Szabo

Great work. I think it is very useful.

CMG Technologies

I have seen this plugin in use at a lot of blogs, time to use it at mine :), thanks both of you.

gossip

The plugin is really good, esp for a popular blog e.g urs.

Amarnath

It's time blogger follows wordpress and provides one such plugin for blogger users

website design

great post. I will download your plugin and use it to my blogs. I find it very useful and I am very much interested. I hope i will be able to successfully install it though.

Zath

This sounds like a great way of finding out who is most active on your blog recently and reward them appropriately.

While we're on commenting, is there a way of displaying a person's total comment count after their name? In a forums post count kind of way?

Jacques Seoman

It definitely makes good sense to reward your most active participants with a bit of extra link love. I say 3 cheers for the top commentator plug in. If you're spending the time on the blog it is nice to be rewarded for it in some form.

Suta

After I recieved email from Easywordpress that was sent to me regularly, everyday I came to know about new plugins, I felt that I'm left behind by not using WordPress as my blogging platform. Seeing that there are so many gadgets and plugins to use to promote and make life better.

But, I have decided it wouldn't be for long now,

rapmatix

I think it is very useful

Blackhead Remover

Downloaded and installed. A Different idea
Comments are closed.