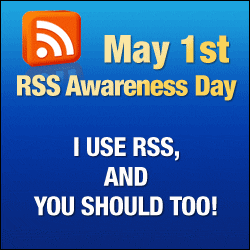 Back in 2005 5% of the Internet users said they were using RSS aggregators or XML readers to get the news and other information delivered from blogs and content-rich Web sites as it is posted online (according to the Pew Internet Project).
Feedburner recently reported that they track around 60 million RSS subscribers. Even if we bump that number to 70 million RSS users (counting people that use RSS with other applications or platforms) this would still convert to a meager 5,4% of the Internet users around the world, as of today.
What is the takeaway message? Only a very small percentage of the Internet population is aware of the RSS format and its benefits.
If you have been using RSS (either to syndicate content or to consume it) you know how useful the format is. It allows users to stay connected with different websites and applications, especially those that are updated regularly.
So it is a pity that such a tiny part of the web users are using RSS. The question that came into my mind was: is there anything we can do about it?
Yes, let's create an RSS Awareness Day!
Objective
The objective of the RSS Awareness Day is to get as many people as possible talking about RSS and its benefits on May 1st. Bloggers and blog readers are already aware of the RSS format, but if enough of them talk about it perhaps the mainstream media will cover it as well, and the general public will get exposed to it.
If people start reading about RSS and how it can help them everywhere, I am sure that some will get curious at least to try it out. Over the time the usage of the format should pick up, and all the Internet users (including content publishers) gain from it.
How to participate
There are several ways to participate (none of them require that you link back here, in fact we will be creating a special site for the event on RSSDay.org):
Blog about it: on May 1st write a post or article on your website about RSS. You can just mention that it is the RSS Awareness Day and link to some RSS resources, or you can explain what RSS is and teach your readers how they can make the most out of RSS. You can even write a poem about RSS, there are no limitations here.
Use a badge or banner: We will be hiring a company (if you wanna help with the badges let us know) to produce several badges and banners that you can use on your site. You can use them throughout April or just on May 1st.
Help spread the word: see the section below.
Help spread the word and win prizes
Since the goal of the project is to get as many people as possible involved, we thought about giving out some prizes to people that will participate. Anyone writing about the RSS Awareness Day or using one of the banners until April 30 (May 1st won't count cause that is the event itself) will be included on a random draw for the following prizes:
6 $50 cash prizes via Paypal ($300)
3 copies of Landing Page Optimization: The Complete Guide ($300)
a 3-month enrollment to the SEOBook training program ($300)
3 single licenses to any iThemes Premium theme ($240)
3 $100 credit vouchers to buy links from TNX ($300)
5 copies of "Killer Domains: How to Find the Perfect Domain Name" ($100)
5 free banner designs from MiniBannersZen ($100)
3 single licenses to the Mimbo Pro Premium theme ($300)
Update: I will be creating a website on RSSDay.org so that everyone can link there on May 1st. I will include information about what is RSS and how people can use it.
Update 2: The prize draw was slightly altered as well. It was prolonger until April 30.

Update 3: I just published a new post updating the list of sponsors.