Killer Domains: My First eBook is Available Now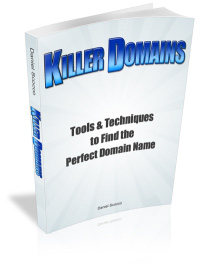 My first ebook is getting launched today. It is titled "Killer Domains: Tools & Techniques to Find the Perfect Domain Name."
If you tried to find some good domain names lately you know how disappointing the experience can be. It feels like all the marketable domains are already gone. And the problem is that the success of your website starts with the domain name.
If you use a structured research process with efficient tools and techniques, however, I am sure that you will be able to find dozens of good domains that are still available, or to find registered domains for sale that will represent an excellent investment.
Here is the table of contents:
Introduction
The 7 Characteristics of Good Domain Names
The Process of Researching Domain Names
Keyword Research
Prefixes and Suffixes
Tools and Resources
Registering and Managing Domain Names
The ebook has 55 pages, 30 of them for the content and 25 with the huge list of prefixes and suffixes (over 400). There is also a link included where you can download an Excel spreadsheet with the prefixes and suffixes to work with them more efficiently.
My experience with domain names
I started developing projects on the Internet more than three years ago, and on that time frame I needed to research and buy dozens of domain names. On the beginning I was not so sure about what I was doing, hence why some of my domains are not that good (DailyBlogTips.com, for instance, has 3 words and is quite long).
Over the time I learned some tricks and became familiar with the best tools around, so the quality of my domains improved as a consequence. Today I have a good portfolio of domains, probably worth over $20,000.
Some of the latest additions to that portfolio are TechCult.com, DailyBits.com and Freaked.com.
Money back guarantee
I am pretty sure that the ebook will be worth the $17 for the buyers. A good two-word domain name sells easily for $100, so even if you manage to find just one domain using the tools and techniques described you already recovered the money. If you end up finding a cool domain for your new website or blog, the ebook will probably be even more valuable to you.
That being said, if after reading and trying to use the described methods you arrive to the conclusion that this is not what you were looking for, just shoot me an email and I will refund your money.
Update: The eBook has been removed from the market because I will be using the information that it contained inside a larger project.
Browse all articles on the Domain Names category
144 Responses to "Killer Domains: My First eBook is Available Now"
jeanpaul

I think this book will be very good

Money Making Ideas ~ Suzanne

Daniel ~ do you have affiliates for this product? *SmiLes* Suzanne

Jean Boucher

@Jeremy & GolfSpy

It's a simple action in Photoshop, One click and you can create ebook Cover, Dvd Cover, CD Cover.
It's called – Cover action Pro

Sai

Very interesting site..Thanks for the tips.

GZ.Peter

I love the game….good book…

stephanazs

Interesting facts.I have bookmarked this site. stephanazs

Peter Szabo

Congratulations, Daniel! I always like reading your site and wish you all the best with sales of this e-book!

Alex Griffin

Nice one daniel, I hope all the hard work pays you a tidy sum..

chilli flakes

writing an ebook is a great idea. I could not find any teasers of it. I think those are imporant before too and should span in your website

Kazelpjp

Hi webmaster!

Paulo Martins

What about domains in other languages like Portuguese? Imagine http://www.managementlessons.com in portuguese: http://www.licoesdegestao.com. Both words had to be adapted and lost some pontuation. Is it a good ideia of a domain?

speed

I really want to know how this books really can help me up for my business.

Stefani

That is awesome launching your first ebook. I am working on my first report I will sell. I have created free ebooks and reports but nothing that I have charged for.

exgrafix

Every start is tough , one year ago when I ventured in the domain world I was having hard times finding a decent domain name. You just need to look out for tips.

The e-book is a great source of information, i am sure and good luck with it!

Tabrej

It's really heard to find a good domain name.
I am searching for a good domain name since last 2 months. 🙁
Wish me luck.

Dexter

I won this book and I am excited to get the copy. I have already send you an email 🙂

Pixel Head

This sounds like something I should look into Daniel, as it sounds like it will be a great resource. I would love to do a review on Pixelheadonline.

Yoh

Desire to buy yours. Wait a moment. But, any review price, please! 😀 just a joke it seem like DP's people before buy an offer.

Chaitanya VRK

Hi Daniel,

I heard of this book from David Airey, and purchased now.

I'm struggling for a couple of domain names for myself and for my clients, Now I hope I can figure it out soon with the help of your book.

And also with quite a busy schedule I haven't wrote any articles in my blog from past few days, Now after reading this book , I'm confident that I can post nice article about the 'Killer Domains'.

Thank you for the book.

fitzheim

Finally, I managed to advertise your e-book through my page. Hope it brings me luck!

🙂
Comments are closed.