KeepMeOut.com: Solve Your Internet Addiction Problem
As the Internet becomes almost ubiquitous, more and more people are starting to have addiction problems. Some are addicted to YouTube, others to FaceBook, others to Twitter and so on.
If you are a teen or a student, this can already be a problem. If you are a worker or an online entrepreneur, this can be an even bigger problem, because it will hurt your productivity and possibly your bottom line.
How to solve the problem? I believe that the most efficient way is to stop, think, and try to become more disciplined over time.
If that is not working, however, you can try a small tool that I came across today: KeepMeOut.com.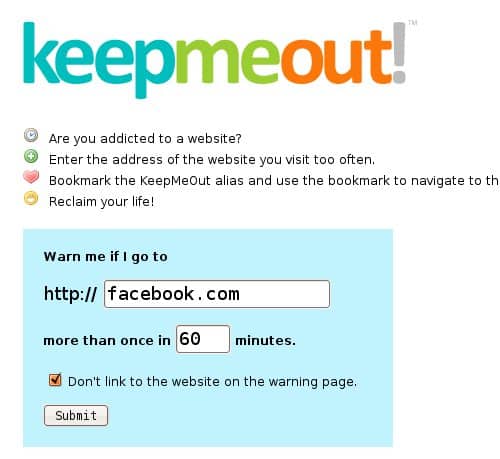 You basically add the URL of the site that is consuming your time, and then the service will provide you with another URL that you should use to access the service (ideally you should bookmark it and always use it). If you try to access the site more than once within a specific time interval, say 60 minutes, they service will block you and remind that you should wait some time before you can go there again.

Simple but effective.
Browse all articles on the Web Tools category
19 Responses to "KeepMeOut.com: Solve Your Internet Addiction Problem"
ravi

I know a lot of people who could benefit from this

kalem kamera

I'm on the internet all day at work, it's the last thing I want to do when I get home! Though some people could really need this!

xumb

hmm, 2 things;

1) some ppl would access the websites through rss subscriptions like iGoogle. the thing can't block rss.

2) what if we stay on the websites without logging out or closing the tab/window? the thing need's some sort of timer.

but cool idea though 😉

Vernon Decossas

Cool find. Some of my friends, like Sig Solares or Noah Lieske, definitly need it. Vernon Decossas

Tom Bradshaw

I'm on the internet all day at work, it's the last thing I want to do when I get home! Though some people could really need this!

Lauren

The internet's almost ubiquitous? I took the subway the other day sitting next to a guy on Facebook chat on his iPhone. More like "infinity & beyond"!

Seth W

Sounds like a great opportunity to discipline your online habits.

I find that I've had to limit myself on checking traffic and monetization and rather focus on planning, writing, and organizing my blogging. Thanks for the resource!

Claus D Jensen

LMAO!!

That's what I call good advice.

Could use it myself on a couple of sites!!

Greetings! 😀

Melvin

LOL, nice find Daniel. Although I doubt if that could really 'discipline' people. 😀

Sam Duvall

Allready using it on adsense and analytics 😀

Boerne Search

Me too. I am stuck online for work reasons. But if I had a real problem this would be a good program. I have heard that internet Addiction is a real problem for some people. Maybe more then we may realize.

Sakina Al-Amin

Things like this have never worked for me. You mentioned the word discipline, which is the only solution for me. I have been working a lot on 'doing the right thing', which is usually hard to do.

There is a saying by Ghandi: "The good that war does is temporary, the evil is permanent." Somewhere on the web I read another statement derived from this, "The evil that doing the right thing does is temporary, the good is permanent." This idea started me on the road of self-discipline. I started doing right things against my desire to do the more enjoyable things. It stopped being so hard after some time. Now, it always feels great when I reject a shiny idea for the better one (like choosing to do the laundry instead of spending 10 more minutes on facebook).

And when I do the things I enjoy doing, they feel much better. No guilt and more joy. 🙂

I believe that if we don't discipline ourselves, we get out of control.

Rarst

That's brilliant. Not for me, I am long lost cause and live online anyway. But seriously good self-control mechanism. 🙂

Dottie

I know a lot of people who could benefit from this…LOL

Christopher Ross @ Web Design

LMAO, I need this on weekends or during my kids school concerts etc. just don't hook it up to my wife's iPhone or I'd be a dead.

WebbyThoughts

I think it is a neat service.

Sometimes I find myself mindlessly cycling through a series of a handful of sites waiting for something new without even realizing I'm doing it.

A little kick to the get back to work/life every once in a while could be useful.

Writer Dad

Wow. A babysitter. I might actually need that.

Canadian Taxes

I am addicted to affiliate marketing, but that's a good thing. If I could get my wife to use this service with Facebook, awesome!

Barbara Ling, Virtual Coach

That might be a bit, ahem, maddening at times?
Comments are closed.