Interview With Leo Babauta About His New Book, Focus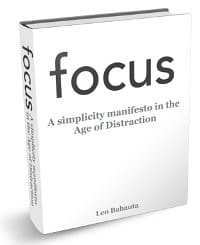 You guys know I am a big fan of Leo Babauta, and last week he launched a new book, titled "Focus." As you can guess by the title, it is all about learning to focus in order to improve your productivity and achieve better results, both personally and professionally.
The cool thing is that Leo is launching both a free and a premium version. If you just want to read the book, you can download the PDF version for free. The premium version, on the other hand, comes with a bunch of extras, including interviews and chapters written by other experts. It's a nice model, and I expect that more authors will use it in the future.
I sent Leo some questions via email about the book, and below you'll find his answers.
1. You wrote this book publicly, online, with the feedback of your readers. How did that work in practice? (i.e., did you have a blog for it, how long did it take to write, and so on).
Leo: My idea was to a) get instant feedback from readers instead of only after the book was published, and b) motivate myself to keep writing instead of writing for (say) 6 months in isolation with no accountability or feedback.
Those both worked out really well and I plan to keep doing it. Basically I just created a simple site and posted short chapters as I finished them. After 4-5 chapters were done, I'd post an update on Twitter and ask for feedback. So most people didn't follow every chapter as it was published, just the different "versions" of the book as it was updated in chunks.
It took about 9 months to finish, but I didn't work on it continuously — I did it in little bursts as I felt inspired.
2 .Why did you decide to write a book about focus?
Leo: It's becoming increasingly difficult to find focus with so many distractions these days. More and more people tell me they have this problem, and it's something I struggle with myself. I decided this was a huge need for our society as a whole, and if I can contribute to the discussion and help people find that focus so they can create and reflect, I think that's a good thing.
3. What tips do you have for people who are addicted to the Internet and its distractions?
Leo: I learned a lot about addictions when I quit smoking and then quit other bad habits (junk food, for example). One important thing is learning what your triggers are — what events happen just before you do the addiction? Start to study this if you're serious about ending your addiction. Then replace the addiction with a positive behavior for each trigger — drink water, for example, or go for a walk, or write. Finally, be aware of your urges to give in to the addiction, and pause instead of giving into the addiction. Instead, take some deep breaths, let the urge pass, and do the positive behavior instead.
4. In the book you talk about the importance of rituals. Do you have any blogging related rituals?
Leo: Sure. The most important thing in blogging is writing great content, so I focus on this more than anything else. What I'll do is clear away distractions, open up a text editor, and simply focus on writing the post. When it's done, I put it into WordPress and format, and hit publish. That's my ritual, and it works well.
5. How is your work routine? (e.g., where do you work from, at what times, what tasks you do first, etc.).
Leo: I work from home, and mostly do my writing in the morning. Email and other small tasks in the afternoon, though this can vary.
6. Do you use a to-do list, or have any tips in this regard?
Leo: I have a to-do list mostly as a reminder for smaller tasks. For bigger tasks, I generally think about what I want to accomplish each morning, and focus on those before any of the smaller tasks. What I want to accomplish is usually whatever I'm passionate about at that moment, so it's not hard to figure out. If you work like this, the to-do list becomes less important, because you just focus on what's most important.
Once again, you can grab the full PDF of the book for free, so go download it!
Browse all articles on the Strategy category
19 Responses to "Interview With Leo Babauta About His New Book, Focus"
Latief@Simple Blogging Tips

I always love a high quality book and this book is one of them that I need to read 😉
Thanks for sharing Daniel, I love the way to help your friend's book with the interview, you are so generous.

Samuel

Awesome interview! Staying focus need a lot of work. I will check out the ebook. Thanks a lot for sharing.

Web Marketing Tips

answer no 3 is simply awesome. This can really help.

Iwhenever i start any new task i note it down on paper in front of me and this one keep remindung me what i am doing and hence i never lost in the world of internet.

So far this one is really helpful to me.

Web Marketing Tips

answer no 3 is simply awesome. This can really help.

Iwhenever i start any new task i note it down on paper in front of me and this one keep remindung me what i am doing and hence i never lost in the world of internet.

Web Marketing Tips

downloaded free one let me complete this one than i will go for premium one. Index is looking quite great.

Santel

I always love what Leo's have written in his books, I think I will not miss this one. I already download the free version,

Web Marketing Tips

would love to know your favourite chapter.

jdward01@yahoo.com

Oh Leo, you are the king of simplicity. And Darren, you are the king of consistency. Cheers to you both!

Web Marketing Tips

yeah leo's blog design is very simple and easy to move.

About consistency that is the main mantra oss success of all successful bloggers.

Bamboo Forest – Tick Tock Timer

Leo's a great writer and I always marvel at his writing.

I'm sure his new book focus will be packed with value. I will download the free version and see what he has to say.

Web Marketing Tips

so far i go through only index of free book and this one really looking great.

John Soares

I'm looking forward to reading Focus.

Over the last few months I've cut back drastically on the amount of time I spend on the Internet. Both my productivity and happiness have increased dramatically.

Web Marketing Tips

at the begininning of the day if you know your task than believe me your task will be more easy. You will be more composed and more focussed.

Just fix a time frame for everything you start, this will also help you to be more focussed.

Mike @ Blog Success

I really love Zenhabits and looking forward to his "focus" book. What I like about it, that it has free and premium version! Way to go Leo and Great for you to get his interview!

Web Marketing Tips

yes this one is like giving spoon sample of icecream so that you can decide whetther you want to go for it or not.

Good marketing.

Winning Ideas

Thats awesome. Daniel, thanks a lot for sharing.

Web Marketing Tips

also copied this book to my mobile phoe. This way i can maximise the use of my time. Few free minutes and one page complete

Peter

Great interview, it's true distractions are great hindrance in today's life. This is the reason why I unsubscribe to emails that are offering too much products, too much sales especially with a threat that the price is going up soon (lol).

Another way I use focus is that I only read a couple of blogs and only the articles I think which are important, if not then I just skim, continue with my work and wait for new articles to come.

I'll download the free eBook later on… thanks.

Web Marketing Tips

hey peter do you manage any kind of to do list or similar stuff.

I always believe in to start the day with to do list.
Comments are closed.