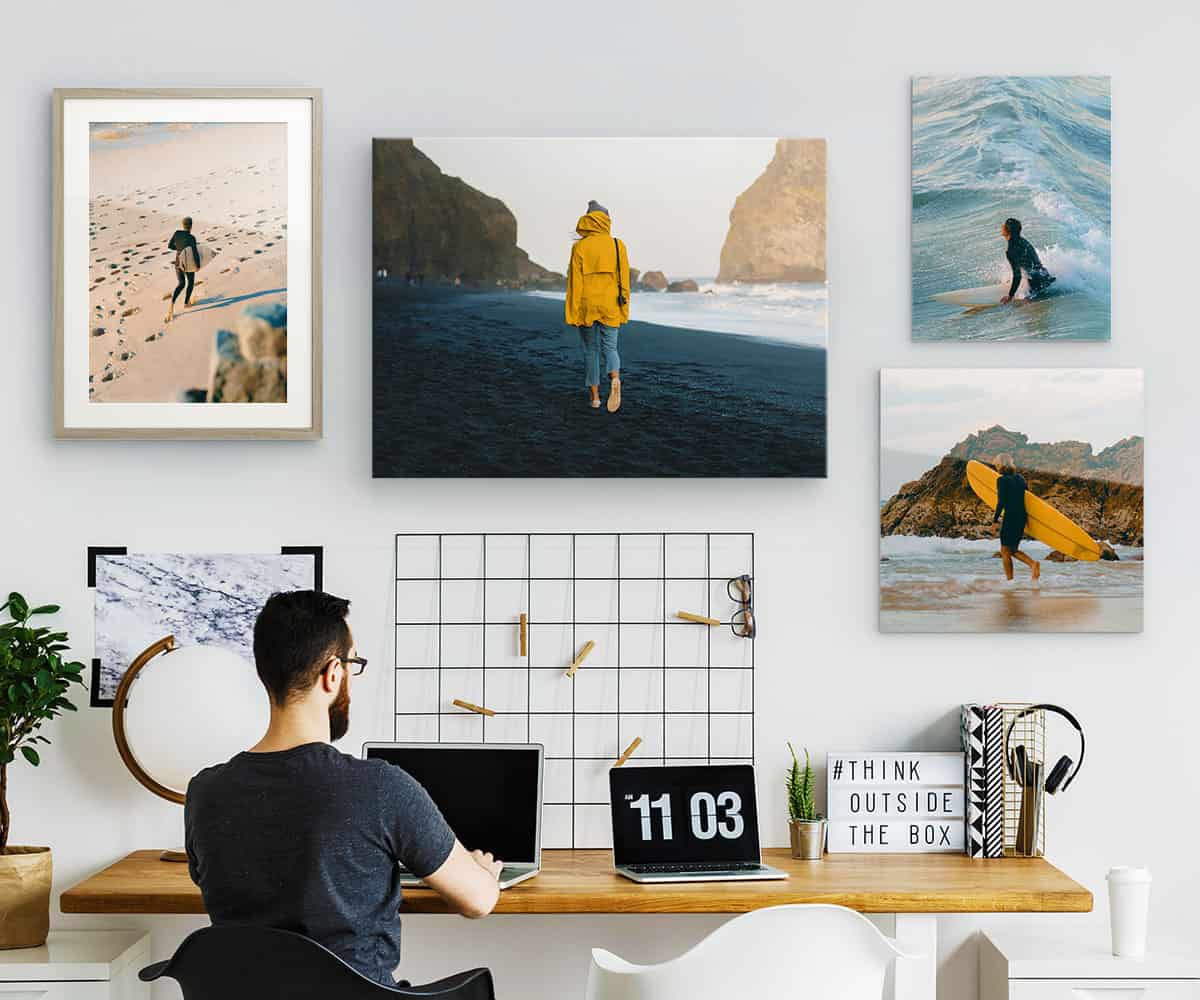 Stepping into the office, I'm immediately taken aback by the vibrant pieces of artwork that adorn the walls. Each piece tells a story, encouraging me to imagine what inspired its creation and how it resonates with my own values and experiences. It's inspiring to work in an environment where art is not just appreciated but embraced as an essential feature, allowing people to look up from their screens and gain some perspective on who they are as human beings and what they're working for. Art has always been capable of bringing together diverse people and ideas, so I'm proud to be surrounded by photo canvas prints that reinforce this shared humanity every day.
Why Display Wall Art in the Office or Home Office
When it comes to sprucing up the office with wall art, there are so many formats to choose from. Canvas prints, metal prints, posters – each of these have a distinct character that you can use to create the atmosphere you want in your workspace. The challenge is choosing which type of print format works best for your specific office and environment. On one hand, canvas prints give off a more traditional feeling and often look great hung above couches or desks whereas metal prints are more contemporary and vibrant. Whichever option you choose, make sure it fits with the overall space and isn't too overpowering.
What Wall Art is Tacky for Workspaces
As a general rule, wall art in workspaces should be professional and relate to the work itself. Images of celebrities or political figures are usually too distracting and tacky. The main purpose of wall art in the workspace should be to enhance productivity and contribute to an overall goal or mission statement. Imagine looking up from your desk, taking a break from work, only to be confronted with an image of a celebrity promoting consumerism, this type of artwork doesn't belong in professional building spaces. Choose decorations that don't distract employees and instead focus on themes or anything else related to enhancing workplace culture.
How to Find Budget Wall Art that will Fit Your Business's Budget
Finding budget wall art for your business doesn't have to be hard. If you're looking for something high quality without breaking the bank, consider using the services of a discount printing company such as CANVASDISCOUNT. With competitively priced canvas prints, framed prints, and home décor items such as tapestries, they offer great value and many options. Moreover, they also provide easy-to-use software tools that allow you to customize your order and adjust it until you're satisfied with the result.
Why Wall Art for Offices Shouldn't be Boring and How You Can Personalize It
If you've ever seen an office with walls that look bare and uninviting, then you know the importance of incorporating wall art. Office art should have just as much personality as the people in the office, not boring stock photos hung up out of duty. You can easily spruce up your work environment by personalizing it with art that reflects your company's values, a cityscape of the local area, or an inspirational quote. Shopping for prints from galleries and independent artists is a great place to start.
Believe it or not, but artwork on my office walls has motivated me and given me inspiration. Having art around the workplace changes the atmosphere and can be a source of energy that helps you stay focused. Although it can be difficult to find wall space for big pieces of art, displaying family photos or children's drawings is enough to inject any office full of life, brightening up the environment and making all sorts of tasks a bit more enjoyable. Big shout out to CANVASDISCOUNT.com for helping me create the perfect art pieces that keep me motivated & inspired.