Google Reader Now Reveals RSS Numbers for Any Feed
Bloglines used to be the only RSS reader displaying publicly the number of subscribers to a particular feed. That is the reason why the Bloglines API is widely used on advertising networks that need an indicator of how many RSS subscribers a certain website has.
Google is now moving in the same direction. If you log into Google Reader you are now able to see how many RSS subscribers a certain feed has, just by typing its name inside the "Add Subscription" form (type the "name" of the website and not the URL). Notice that this number refers only to people subscribing to that feed via Google Reader, that is why this number is significantly lower than your Feedburner count.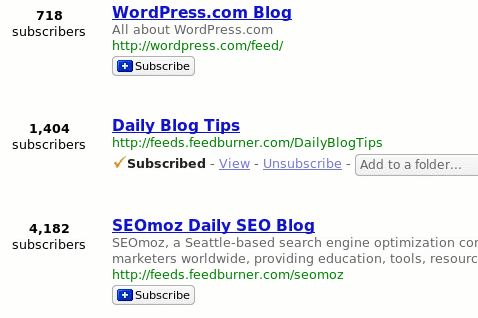 I think this is an interesting change. Google Reader is by far the most used RSS reader, and the ability to access these numbers for any website will provide a much better estimation of the RSS readership compared with Bloglines.
Via: Google Operating System
Browse all articles on the Web Tools category
14 Responses to "Google Reader Now Reveals RSS Numbers for Any Feed"
medyum

I think, Google Reader only shows the GReader subscribers. They don't show Bloglines readership or something else…

Vijay Teach Me $$

Thanks for the nice tip. This count is from Google reader, any idea about the feedburner etc.

Vijay

Daniel

Matej, sometimes you need to be able to estimate how many subscribers a certain website site has, the same way we estimate traffic with Alexa.

This is useful for rankings, ad networks and so on.

As a small blogger I would not fear that much though, not like people will go around checking the subscribers from everyone.

emijrp

Very interesting tip, I'm going to check it

Matej

That could be bad for new websites (like mine).
I don't like it, what's the point…

Daniel

Ruchir, I believe that difference comes from that fact that Feedburner lists iGoogle readers as well, while Google Reader does not.

Ruchir

Yeah, and you can also view the number of Google Reader Subscribers in Google's WebMaster Tools for your blog. However I've noticed that the number displayed by Google is slightly off the number that feedburner displays (number of subscribers using Google Reader)…So it's not that accurate…

engtech @ internet duct tape

Kind of interesting, and shows the importance of having all your subscribers on the same feed.

engtech.wordpress.com/feed has 308
internetducttape.com/feed has 50
I couldn't even find feeds.feedburner.com/engtech using Google Reader.

hi

this is also a question about google..;) does anyone know whether it's ok to place other ads than AdSense on Blogger?

Daniel

The numbers refer to RSS subscribes via Google Reader only, not the overall count.

Sorry if that was not clear, I will update the post.

Andreas (schweizweit.net)

I think, Google Reader only shows the GReader subscribers. They don't show Bloglines readership or something else…

The How-To Geek

The numbers are way off… which doesn't make any sense.

According to Feedburner I have 22909 Google subscribers as of this moment.

According to iGoogle, there are 11399 people using my feed on their homepage.

According to Google Reader, there are only 1188 people subscribed to my feed.

There's a disconnect somewhere… and I know from analytics numbers that I have a lot more than 1k readers using Google Reader.

aaron

I agree, I think feed owners should have that option. The numbers also don't seem to match up to my feedburner stats. Is there any way to hide this so that false information isn't disseminated?

Tibi Puiu

Not sure if this is a good thing or not. Feed owners should have the option to hide their feed count, it's a major turn down if the google reader points 3 readers :
Comments are closed.