Examining The Web's Top Blogs
Today while reading my RSS feeds I came across a really interesting post from SEOMoz titled Examining The Internet's Top Blogs: What We Can Learn From Their Success.
They basically carried a research with the most popular blogs around the web, and presented the results on several charts like the following one: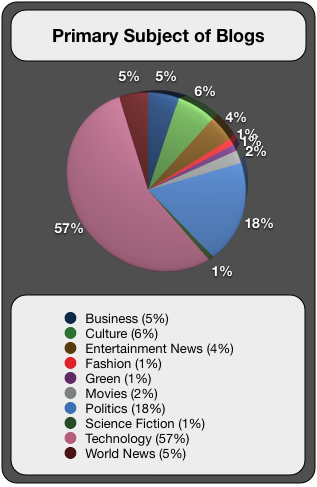 The cool thing is that they also made the raw spreadsheet available for download. I would recommend for anyone to grab a copy, I am sure it will be useful for you sooner or later. Thanks Rand and team for releasing this to the public.
Browse all articles on the Blogosphere category
26 Responses to "Examining The Web's Top Blogs"
HP van Duuren

Thanks for your Post,

I recently had a Post on my Blog about Super Electronic Gadgets for Writers and discovered in my Statistics that this Post had the most Page Views! Someting to keep in mind with Posting new Posts
So I also have put a somewhat similar Post on my Home Business Lifestyle Blog titled: Super Electronic Gadgets for Online Entrepreneurs and Look on which Blog are the People with the biggest Passion for Technology 🙂

All the Best,
To your Happy – Blogging – Inspiration,
HP

Dan N

Wow I wouldn't have thought tech blogs would be so disparaging from the rest. How about blogs about people who are famous for no reason? I wonder where those rank.

Frank Gil

Tech blogs take up the most spaces, then how about gossip ones?

Roschelle

***** don't want to admit…sorry for typo…it must be contagious

Roschelle

Most of the top blogs are fantastic. Then there are others that make you wonder ….WTF!!! But I know it's based on several factors.
I love blogging! Getting to the top (which some do want to admit) would be great. If for nothing other than the traffic that comes with it. The more your blog pops up in search engines and on other sites…the more likely you are to get readers to peruse that material you work so hard to provide.

CHARON

Thanks for this nice and useful information.

Kedoa

Wow, i can see you have done that with mac. Looks like technology dominates.

jennine

hmm… interesting… considering clothing sales trumped tech sales last year, it's interesting there isn't more fashion blogs up there.

team ray

tech is one of most overrated sector in blogging imho

Danny Dover

I am really happy to hear that all of you enjoyed my article. Daniel thanks for sharing it. A couple follow up answers for you all:

technotip.org – "Wonder what % of the "business" blogs consists of internet marketing and SEO blogs?"

None of them. I put all of those under technology/search engines

Indie Music – "Also interesting that "Green" wasn't colored green."

I know I know….!! 😉

tacogirl – "I was surprised that travel did not make it up as a category."

So was I. I talked to a group of travel bloggers and they suggested that it might be because travel is something people only think about for short period of time, thus they have no need to subscribe to rss. Also a lot of travel blogs are only intended for small audience (families and friends)

Thanks again and let me know if I can do anything else,

Danny

tacogirl

I was surprised that travel did not make it up as a category.

Lex G

Time to start a science fiction blog 😉

esvl

I would not easily of guessed that Tech is the leading category.

Kurt

Thats great. I would rather take it another way… Technologies blogs are very popular…I would rather try to blog on those which have less blog articles so that when someone search for the particular topic…the blog has a higher chance of being in the top 3.

Now there is also the very important part of why we blog. We would surely want to blog on topics we like or are interested in. I particularly like to blog about politics and some tech stuffs and also about everyday events and situations that occurs.

By the way am doing a small survey about bloggers. I would be glad if any of you buddies here would participate. I would give a backlink with the results on sunday. My blog is not that popular but am just doing it for fun and to see bloggers feelings and choice.

ThoaiOnline

But… where are the blogs about making money online? I think many of them are among the top.

stetoscope

Thanks, I was looking that piece of information for a couple a days.

Nick Stamoulis

Wow great stuff… loved the visuals. I like that it was assumed that blogging is more about ability than budget – so true.

Shoban

Thanks for sharing Daniel… I am proud to have 2 tech blogs 🙂

Victor

Well…

Don't be shame in improve your enterteinment statistcs.
🙂

SEO Genius

Thats a great article, amazing that tech blogs take up more than 50% of the overall statistics, what a world we live in 😀

Melvin

wow.. tech blogs are way way higher…

Jaan Kanellis

Wow what a blog bubble we live in.

Indie Music

Also interesting that "Green" wasn't colored green.

"Technology" seems like a very broad category and could easily overlap with another vague label "Business." Is daily blog tips technology or business?

PS: Hey DBT – I also used your RSS buttons on my blog. Hope you don't mind. Let me know if you have issues.

Sucker

That's pretty impressive "Green" warranted its own category. And also surprising that overall, there really aren't that many "make money online" blogs.

Wonder what % of the "business" blogs consists of internet marketing and SEO blogs?

Technotip.org

I wounder about the "Entertainment News" niche…its so small.

And http://technotip.org is proud to be a technology blog….

Anyway, thanks for the research and thank you Daniel for sharing with us..
Comments are closed.