Design With Intent: Free eBook
This is probably the best free eBook I have downloaded in a while. It doesn't require email subscribption or anything either, you just need to go there and download it. It's titled Design With Intent.
What is it about? The sub-title describes it quite well: 101 Patterns for Influencing Behaviour Through Design. The authors collected 101 examples of ways you can influence people to do what you want by adapting or changing the way you design things. These "things" range from car dashboards to web pages and product packages. Here is one of the pages to give you an idea: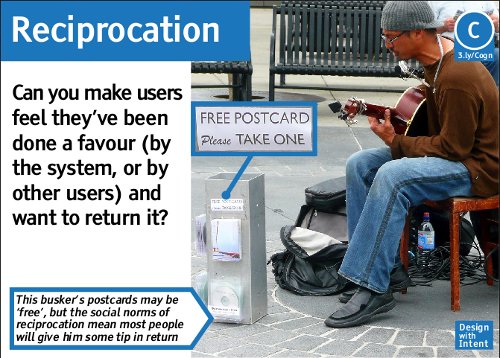 The eBook is a must have for designers, but it should be valuable to anyone else really. Check it out.
Browse all articles on the Blog Projects category
12 Responses to "Design With Intent: Free eBook"
Peter J

Thanks for recommending this, will download it now 😀

1skyliner

Daniel ! It could be of great value since recommended by you ! I liked reading it

Christian Guico

Downloaded the e-book. Checking it out now! Thanks for sharing.

Keith Davis

Thanks Daniel
I'll head over and take a look.
How much of it is dedicated to websites?
I'll only take up busking if all else fails. LOL

Daniel Scocco

The examples come from a wide range of contexts, but you can apply all of them to marketing and websites. Giving an ebook away is similar to what the guy is doing in the sample page above 🙂 .

Melvin

Well I've been into designs lately and although Im a horrible designer, I think I could benefit from this eBook

Winning Ideas

Sure Daniel ! It could be of great value since recommended by you ! I am a web designer also ,so might find good stuff in the book! Will comment again after reading ! Thanks for sharing !

Josh Garcia

Hey Daniel,

I will check this eBook out. Thanks for posting it.

Mike @ Tech and Biz Gadgets

Looks intriguing, will surely check it out. Giving away free things can do wonder for the business! I have seen it first hand.

Web Marketing Tips

Yes … if Daniel is sharing something than I am sure you should and you must check it.

Abhishek-seekersfind.com

Hi
This is great sure I will check it out

Thanks For Sharing
-Abhishek

Web Marketing Tips

Yes clicked and downloading now.

May be on coming weekend I will read this.

But I am sure you are sharing than this will be worth to read.
Comments are closed.