Deep Blue WordPress Theme Released
I am glad to finally release the first free WordPress theme by Daily Blog Tips. The plan is to release a new one every couple of months. All themes will be functional and optimized, since I know what bloggers are looking for when they download a theme for their site.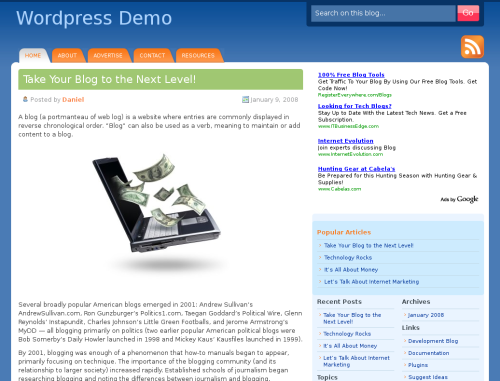 Deep Blue is an elegant theme created by Nathan Rice. The theme was specifically designed to include a 336×280 Adsense unit on top of the sidebar. Google confirms that this is the best performing Adsense format, so the layout should enable bloggers to monetize their site efficiently without compromising the user experience.
Nathan did an outstanding job creating many useful features for the theme, including:
Easy Adsense Integration: The theme comes with a ad.php file where you just need to paste your Adsense code and it will be displayed on the sidebar automatically
Search Engine Optimization: The meta and title tags are already optimized for search engines.
Easy Feedburner Integration: The "Theme Options" section inside the WordPress control panel enables the blogger to insert his Feedburner URL, which will be used all over the theme.
Customizable Sidebar: The sidebar already comes with a pretty "Popular Posts" section, and it splits automatically into two sidebars below it.
Expandable Menu Tabs: The tabs will automatically resize to match the size of the links on the menu.
Comments Styling: Author comments have a different style.
Update: Due to popular demand we have also included a theme version designed to display 6 125×125 ad blocks on the right sidebar. This version comes with an "Ads" folder inside the "Images" folder. You just need to place your banners there and update the ad.php file with their name. Below you will find a screenshot with the 125×125 ads.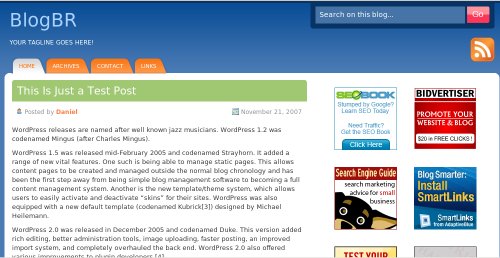 Visit our WordPress Themes page to download all our themes.
Browse all articles on the WordPress category
258 Responses to "Deep Blue WordPress Theme Released"
Daniel

Max, dont alter the lines that are already just, just add the Adsense code right below them.

max

my doubt is how the ad.php should stay .
like this?

or should i put the full code ?
and remove the
//
//
?

max

im using the adsense version

Daniel

max, are you using the adsense version or the 125×125 blocks one?

max

i ve been using this one , and i like it , but i cant seem
to get the ad unit to work ,
maybe im getting it wrong ..
how should the ad.php look like after i put the code?
should i put all the code ? or just the number id ?

Daniel

@Ahilosu, yeah you just need to delete this section from the sidebar.

@Lino, you need to create another "Page" inside the WordPress control panel, then this menu tab will be added automatically.

Lino

hello,
First of all thank you for this theme, it is very beautiful.

i have a question, i want insert a new menu tab, "contac me".
How can I do?

thanks for all.

Ahilosu

ok, I've managed to solve the problem. the theme looks great but is there any possiblity to remove the "popular acrticles" widget?

Ahilosu

I have made no modifications to the theme, so being my fault is kinda like out of the question…however, I have re-uploaded the files but the situation is similar.

luukmuu

thank for awesome design
Merry Christmas and Happy new year ……..God bless you

Daniel

Ahilosu, might be problems specific to your PC cause the theme was tested on different browsers and is working fine.

Ahilosu

Great looking theme but I'm having a few problems w/ it. If I'm using firefox to open the site, there are no margins to any page elements and the background is blue. If I'm using IE to open it, it appears to be working great, but in IE the second sidebar begins where the first one ends. what am I doing wrong?

Nikki

Thank you I was able to correct it and it now works perfectly.

Speedy

This is a good blog theme, clean and beautiful

Chess360

Hi, if I re-arrange the widgets from Presentation -> Widgets, the popular articles only show the latest 5 posts regardless of my choice of category as popular. And the resent posts only show 5 posts exactly the same as the popular posts.
Am I doing anything wrong? Or is it a bug of the theme?

Not John

Nice theme, I too would like to see a third column. I am learning how to blog and have been mucking around with wordpress. Each of these wp files seem a little complex to me and I have messed a few up at times. Having people like you that offer up better choices for themes is greatly appreciated.

Thanks,

Not John Chow

marco

Very nice theme – clean and straight forward. Excellent Ad placement.

Houndico

Love this theme, and I am now using it myself.

Daniel

BestDesi, this is something related to the hover effect of the tabs. The theme was tested on different browsers so I am not sure why the error is there. If you find any visualization problems let me know, but there shouldn't be any.

Daniel

Nikki, just put the adsense code below the text that is already there.

The codes you see when you click on the RSS feed are the lines of your raw xml file I suppose. Inside the WordPress control panel go into "Presentation", then "current theme options". Paste your Feedburner URL there and you should fix this.

Nikki

sorry my message was cut off, can you give a screen shot of exactly where to put the adsense code in ad.php

Thank you
Nikki

Nikki

I love this theme!!! Thank you for creating it, I was searching for a theme like this for about 1 week, and I stumbled upon this by way of google. So here is my problem, I am new to this so excuse my ignorance. But when I click on the rss chicklet it gaves me a page filled with codes, how do I get this to go to my rss feed instead?

One more question this is what is in the ad.php

Thanks : )
Nikki

BestDesi

Hi,

I am using your theme in my website. But i am getting this one error which Firebug (in firefox) shows up

missing ; before

hover.js (line 1)

What does the hover.js do? how do i fix that error as it is effecting the thickbox.js which is used by my images.

thanks.

Jasark

Daniel,

PERFECT!! I was adding the code in between the php tags. It worked! Thank you for the incredibly fast answer!

Daniel

Jasark, you need to add the code below the lines that are already there. That is, do not remove or change them.

Let me know if this solves the problem.

Jasark

When adding the adsense code into the ad.php I get the following error. Can someone please help?

Parse error: parse error, unexpected '

milet

nice template.

i'm using it now.

but can you teach me how to change the header. i wanted a different color. maybe light green or light pink 😉

charles

wow this theme is clean and pro looking. i will be using this soon. 🙂 thank you for this free wp theme.

Kenneth Elliott

I run this theme on a number of my website already and I am very happy with the results. I am glad you gave an option for 125 X 125 Ad blocks. I am going to run this one on my marketassociate.com website.

Kenneth Elliott

doniek

Very nice theme, good job bro 🙂
Comments are closed.