Deep Blue WordPress Theme Released
I am glad to finally release the first free WordPress theme by Daily Blog Tips. The plan is to release a new one every couple of months. All themes will be functional and optimized, since I know what bloggers are looking for when they download a theme for their site.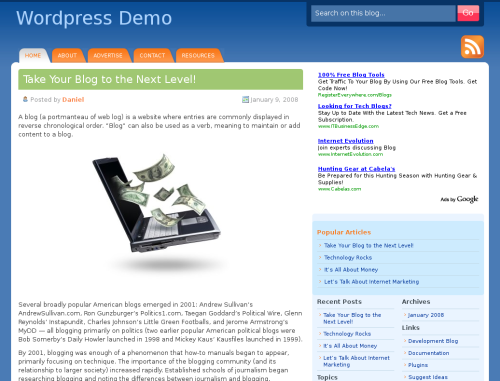 Deep Blue is an elegant theme created by Nathan Rice. The theme was specifically designed to include a 336×280 Adsense unit on top of the sidebar. Google confirms that this is the best performing Adsense format, so the layout should enable bloggers to monetize their site efficiently without compromising the user experience.
Nathan did an outstanding job creating many useful features for the theme, including:
Easy Adsense Integration: The theme comes with a ad.php file where you just need to paste your Adsense code and it will be displayed on the sidebar automatically
Search Engine Optimization: The meta and title tags are already optimized for search engines.
Easy Feedburner Integration: The "Theme Options" section inside the WordPress control panel enables the blogger to insert his Feedburner URL, which will be used all over the theme.
Customizable Sidebar: The sidebar already comes with a pretty "Popular Posts" section, and it splits automatically into two sidebars below it.
Expandable Menu Tabs: The tabs will automatically resize to match the size of the links on the menu.
Comments Styling: Author comments have a different style.
Update: Due to popular demand we have also included a theme version designed to display 6 125×125 ad blocks on the right sidebar. This version comes with an "Ads" folder inside the "Images" folder. You just need to place your banners there and update the ad.php file with their name. Below you will find a screenshot with the 125×125 ads.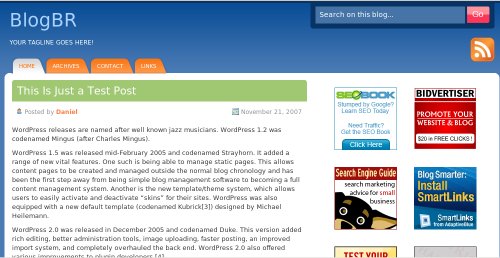 Visit our WordPress Themes page to download all our themes.
Browse all articles on the WordPress category
258 Responses to "Deep Blue WordPress Theme Released"
Young

Danie, I really love the design, so that I have to say that you did not get the point I mentioned. Take the post "Internet Retailer Names DelightfulDeliveries Hot 100 Website" on the demo for example, you can see the defference between

Bala Krishna

Excellent 125*125 column theme.. good to add sponsor links and more content in side bad..

Jomark

A really nice professional looking theme. Thanks. I'm using it now on one of my sites.

skarld

This series of posts promises to be a big hit, especially with theme releases like DeepBlue.

Rali

It's just great theme.

Youbeatme

I like the theme,thanks very much!

Richie

That's a nice theme,thanks!

Daniel

Nancy, you just need to log into the WordPress control panel, then Presentation, then Theme editor.

Once there you will need to open the index.php file and remove the following line:

<div class="date"><span><?php the_time('F j, Y'); ?></span></div>

After that do the same thing with single.php and archive.php.

Nancy Hendrickson

Love the clean lines and color combos. I just installed on a new site and am wondering what do I have to do to remove all of the date functions? This particular site needs to have all posts without any dates. Anyone know how I can do this?

Sharon Hurley Hall

Great theme! I've just switched my site to it and my readers are loving it!

Duane

Being new to WordPress, I've been looking for something simple, clean, and manageable. This is so easy to use even for a newbie such as myself. Many Thanks!

Daniel

Young, what is wrong with that? The only thing I see is that you get a header there specifying the category or archive, that is why the content gets shifted down slightly.

Todd Morris

I like this theme. I'm currently using one of Nathan Rice's themes on my site. And before that, one of Cory Millers. One day while surfing, I came across RockinThemes.com … and became hooked on their style. I did vow to myself that I wouldn't change themes again for at least 6 months. But, I'll keep this one bookmarked just in case. 🙂

Young

there are something wrong when you click the category and archives in the sidebar, the content do not meet it should be, you can see that in your See a Live Demo .

I would like to know whether you are going to improve that. Tks!

CaribWebDev

I like it! Will definitely consider using it on a current or future project…looking forward to future themes

Dave Starr — ROI Guy

very much appreciated. I've been using one of Nathan Rice's other offerings. Elegant Blue for about two minths now and have enjoyed both its looks and performance … this one is certainly a step up … thaks to you, Daniel and Nathan for making such an execellent package available for free.

Tejvan Pettinger

Looks very good. I may use one of those in the near future.

bakkouz

Don't get me wrong Daniel, I'm not saying it's not a good theme, it is a very good and practical theme, And I'm pretty sure it would load fast too, which is excellent. You've done a great, and much appreciated Job by the community 🙂

Chris Jacobson

I like that theme a lot. I may use it for one of my other sites.

Daniel

Bakkouz, no worries, it is a matter of taste.

I really like the design, and will probably even use it on some of my smaller blogs.

Other people seem to like as well, cause there are quite a few downloads already.

bakkouz

I can't say its "awesome", to be quite honest. there are very few WordPress themes that I can call awesome, like K2 and its derivatives, now That, is a truly awesome theme. this theme is nice and all, but its pretty standard, nothing really spectacular about it. and its too minimalistic for my taste.
Sorry, had to be honest 🙂

bmunch

That's great….

Wow, that was a fast reply.

Daniel

bmunch, I had thought of that, it is coming!

bmunch

Great choice of colors. Especially the red button on the search bar.

Is it possible to change the adsense integration to 125×125 banner block?

Kevin Muldoon

Very nice theme. Good work 🙂

Wayne Liew

A simple and great theme.

What I like about it is the white background for the main contents which will open the compatibility of the theme with pictures and widgets of any colors.

A third column option will be a great add-on to this theme.

Michael

That theme looks absolutely awesome. The adsense integration looks neat and tidy, the styling looks polished and web 2.0-esque.

It sounds crazy, but the dedication you guys put into the community is astounding. I wish that I would someday have the time to contribute like you guys do.

Great theme, even though I'll stick to my current one at the moment, I'll be using it in the near future.

Thank you so much.
Michael.

Dave Davis

This theme is awesome. VERY adaptable. Been playing around with the CSS and due the the simplistic nature it is very easy to change and make look different. I think something like this should be included by default with WP.

Daniel

I think that the right sidebar looks nicer, but a left one with a adsense unit on top should perform quite well on the monetization aspect.

Vikram Kinkar

Its a good theme Daniel! Very Clean and minimalist!
And its great that you gave an option of selecting the option to go for either the right or left sidebar. Thats quite innovative!
Comments are closed.