DarkZen WordPress Theme Released
Most of our previous WordPress themes used light or vivid colors, so I thought that a darker design was needed on the portfolio. DarkZen comes with a dark header and a gray background, packed on a clean and minimalist design.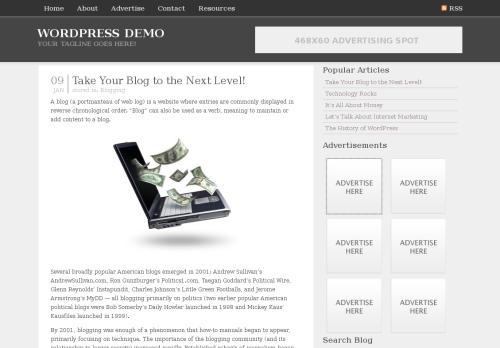 Here is a complete list of the features of the theme:
Advertising Ready: The theme comes with a 468×60 banner spot on the header, as well as six 125×125 ad blocks on the sidebar. The blogger should also be able to insert other AdSense units without problems.
Widget Ready: The theme supports widgets. Just drop the ones you use and you are ready to go.
Social Bookmarking Icons: Both the Homepage and single post pages already come with social bookmarking icons integrated. You can also remove or add new ones at will.
Customizable Sidebar: The sidebar can hold full width and split sections, so that you can customize your fields easily.
Search Engine Optimizated: As usual the title tags and internal pages are already optimized for search engines.
If you have any suggestion or question about this theme, just drop a comment below and we will address it.
Visit our WordPress Themes page to download all our themes.
Browse all articles on the WordPress category
90 Responses to "DarkZen WordPress Theme Released"
Susan

Daniel, this theme looks GREAT! I'm considering changing my theme now!

One question: For the popular articles, I noticed in the php that you have to manually add the links to the "popular" articles. For this DailyBlogTips theme, did you manually add the links or use a plugin for the popular articles?

I've been looking for a good plugin to show popular articles. I couldn't get Popularity Contest to work on WordPress 2.5.1 despite all the fixes found. Meanwhile, was wondering what everyone else is using to auto-generate popular articles.

Marcos A.T. Silva

I understood, Daniel. Thank you very much. 🙂

Daniel Scocco

@Marcos, easiest way to do this is to remove that code and add the menu links manually one by one. That way you have complete control over the links.

Marcos A.T. Silva

Sorry.

Complementing my above post, I tried to change:

php wp_list_pages('title_li=');

To:

php wp_list_pages('exclude=258, title_li=');

Sorry.

Jummy

This theme is gorgeous, Daniel. Thanks for answering the questions so far…I'll definitely be downloading this.

Cheers!

a husband

Wow! That theme is amazing and makes me wish I was using WordPress. But for now, I still can't beat the free hosting from Blogger.

But this theme is so cool it makes me want to!

Daniel Scocco

@David, open the header.php file, locate the part that is outputting the WordPress blog name, and substitute it with an image tag for your image.

@Elaine, open the sidebar.php and you will see clearly the 6 ad blocks. Just delete that and the header "Advertisement."

SATISH

oh oki..

Daniel Scocco

@Satish, we provide support for the premium themes, not customization.

That is, if something is not working as it should, I will help. But if you want to customize the theme that is on your own.

SATISH
FREE One-Way Back-Links

Your theme is very clean and professional looking!

I will have to try it out on one of my blogs.

Dan Cole

SATISH,

Daniel is not selling premium themes. This is a free theme and so are all the others he gives away.

As for your question on comment number 6. Yes it is possible to add ads if the page grows in length, but I don't think it has been done before and released as a WordPress Plugin. It would require some knowledge in PHP and WordPress Codex to create.

Hope this helps.

Elaine

Oops, forgot to say "Thank you".

Elaine

Daniel,
I love the theme, but I don't use the 6 blocks ads. (I don't know how and for what, and hope to learn it one day). How do I remove it?

David

Excellent looking theme. I am a little new to wordpress customization so forgive me if this is rudimentary but how would one change the header to display an image rather than the title & slogan?

spidro

Beautiful theme gonna use it on on of my blogs
thanks

SATISH

Please read my comment(@ comment number 6).

@Daniel,

Will you be helping to do this when we buy your premium themes( will these kind of things come under your 30 days support ? ).

Daniel Scocco

@MrCooker, the aim of this theme was to be clean and subtle, that is why I opted for a small RSS icon on top of the header.

You can't have a big subscription section on all themes, and sometimes it is not even necessary.

MrCooker

@Daniel

About the RSS icon. I think the non tech savvy people wouldn't understand why'd you put a little orange icon on the to right of your screen. So that kind of bothers me. But hey, you're the professional here 🙂

And about the bookmark icons. It makes sense, thanks for clearing that up.

Michael

Great looking theme, I absolutely love the header color.

You know, themes seem to be getting better and better and better, at this rate we'll be getting custom themes for free in about 6 months!

Daniel Scocco

@MrCooker

1. On the video I was talking about the subscribe section below the single post page, because the blogger in question made that section almost equal to the normal body text, so it was confusing.

I like the RSS position on this theme. Most people tend to look on the header when they are trying to find it.

2. It depends on whether the user has full posts or excerpts on the homepage. On the video review the guy had excerpts, hence why having social buttons on homepage was useless.

Many people still use full posts on front page though, that is why you have the icons on the theme. If you use excerpts you can just remove it.

MrCooker

Even though the theme looks nice, I noticed two things.

1. You mention on your blog and videos that you should make the subscribe area loud and clear. But looking at the theme, all I see is a little rss icon.

2. The Social Bookmark buttons. In a Video you did recently, you told that you shouldn't have social bookmark buttons on your front page. And looking at your new theme, it does have them.

Apart from those 2 points, I think it's a lightweight and clear theme.

Daniel Scocco

@Satish, that is possible, but would require some PHP customization on your part.

Farfield

Wow I really like this one. It's clean and simple. As long as it's not loaded with ads of course 🙂

I decided to go with a darker theme for my blog too. I really like clean white designs but when I saw mine for the first time I immediately liked it very much!

SATISH ACHAR

Again a great work Daniel.
Really looks like premium.

But, I have a question…..

Blog posts will be variable in length…
Now is that possible to make a theme which shows some extra ads in the right side when a blog post is longer (or when there is more number of comments in comment section) and the usual things when the post is normal or small in size?

Hope my question is confusing.I am not able to express my point here.
Please ask me again, if you are not able to understand!

Marcos A.T. Silva

Thank you Daniel. 🙂

Daniel Scocco

@Hussein and Napster, thanks!

@Marcos, of corse.

Marcos A.T. Silva

Beautiful theme! 🙂

Can we edit it color scheme, maintaining, of course, all the credits? 🙂

Napster

Great stuff!

Hussein

WOW. Great theme. It's good that it is free cause it looks like a premium one. I personally like it. I might use it now in my other blogs 😀
Comments are closed.