Daily Blog Tips Theme Released
Update: Unfortunately we are no longer supporting the themes below. You can find new and better ones on our WordPress Themes section though.
Daily Blog Tips was redesigned recently and I decided to release the old version of the theme since many people were asking it. The theme is very clean, letting the readers focus on the content. It displays the RSS feed icons both on the header and at the bottom of individual posts.
It is also very search engine friendly. The title tags display only the name of the blog or the post title for single post pages. Archives, search results and category pages display only post excerpts to avoid duplicated content penalties.
Below you will find the theme with the first color variation, more colors will follow. If you have a suggestion for additional features feel free to contact me.
Daily Blog Tips 1.0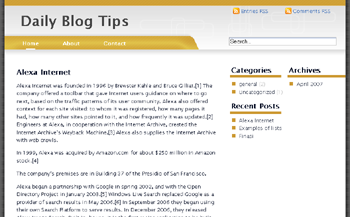 Daily Blog Tips 1.1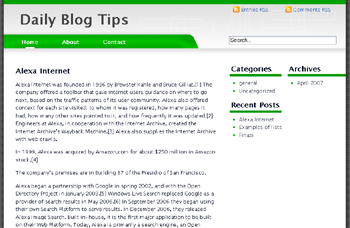 Daily Blog Tips 1.2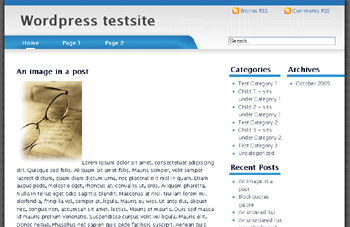 Daily Blog Tips 1.3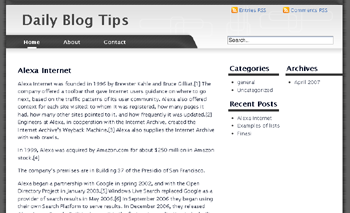 Browse all articles on the WordPress category
59 Responses to "Daily Blog Tips Theme Released"
Bang Kritikus

1.2 natural theme

indonesian in indonesia

i wish i can have one of those, green looks nice i think

sağlık

Good to hear Daniel

redseejokere

were told for a while, most we just they had were the best,

Jagannath A

Thanks a Lot!

Rich Blumer

Great themes! I am using DailyBlogTips 1.0. Has anyone figured out the footer issue in IE7?

Keep up the great work!

Michael

Thanks Daniel, I'll experiment with some code changes myself as well. Please let me know if there's anything you think I should try.

Daniel

Michael, sorry about that, I will try to fix the issue one I get time.

Michael

Sorry to post again so quickly: the footer also behaves strangely in IE7.

Michael

Beautiful themes. One problem though: the post date and comment count don't show in IE7.

Narendra.s.v

thanks a lot 😀

Daniel

Ryan, the released theme is narrower, and the sidebar and content widths are different. But the look and feel is pretty much the same.

RyanB

I may be a little dense, but looking at the screen shots and what is live, I don't see any difference, other than lack of bullets.

Daniel

Trakin, it does not support widgets, sorry about that.

trakin

Does it support Widgets ? I tried adding widgets and it does not add anything to sidebar, so I suppose it does not..

Madhur Kapoor

Thanks for releasing it Daniel . Will try it out sometime .

Daniel

Sujan, thanks a lot for the feedback, I will fix it right now.

Sujan Patel

Very clean theme. Daniel I just wanted tell you that your rss subscription and email subscription on your current theme is to close together. I would be wise to space them out a bit just so your readers can easily choose. Thats just my two cents

Bret

I've always liked the design of your site. Glad to see you've made it an available theme for download.

Mark

Hi Daniel
I always thought that your old theme was very clean and simple and particularly liked the 'in your face' prominent RSS subscription buttons so thanks for making it available to the masses.

Daniel

Francesco, right now I am integrating plugins, but if I get some free time on the near future we can talk! Thanks for sharing, I will check your plugin anyway.

francesco mapelli

hi Daniel,
If you're intrested in integrating my category cloud plugin in your theme, just let me know 🙂

f

Daniel

Rishi, I checked it out and seems to be working, I will ask some friends to test it as well.

Rishi

Hey Daniel,

It is showing error in the Archive page when I tried it on my blog.

Any tip?

Rishi

Hey thank Daniel. I'm also waiting for the blue colour comb.

Melt du Plooy

Fantastic Daniel, I may just change my blog theme to look like yours, haha

Armen

I can see this being very popular. Very nice of you to release this Daniel.

egon

Good to hear Daniel, thanks for the follow-up.

Daniel

egon, I will release the blue color as well, just did not have time to fix the details yet.

egon

Can't wait to see some more colors. I personally liked blue the best. I know you don't blogs using your exact old theme, but maybe a blue shade variation?
Comments are closed.