Update: Unfortunately we are no longer supporting the themes below. You can find new and better ones on our WordPress Themes section though.
Daily Blog Tips was redesigned recently and I decided to release the old version of the theme since many people were asking it. The theme is very clean, letting the readers focus on the content. It displays the RSS feed icons both on the header and at the bottom of individual posts.
It is also very search engine friendly. The title tags display only the name of the blog or the post title for single post pages. Archives, search results and category pages display only post excerpts to avoid duplicated content penalties.
Below you will find the theme with the first color variation, more colors will follow. If you have a suggestion for additional features feel free to contact me.
Daily Blog Tips 1.0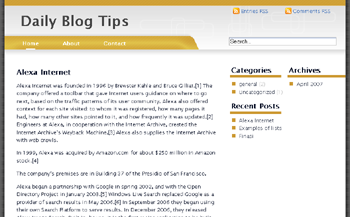 Daily Blog Tips 1.1
Daily Blog Tips 1.2
Daily Blog Tips 1.3
Tips and tricks to improve your site
The latest trends and opportunities
Useful online tools
It's free!