Corpvox WordPress Theme Released
All right guys, it has been a while since we released a WordPress theme. I will try to stick with the schedule this year, releasing a new one every month. Corpvox is the January one. It is a very clean and simple theme, ideal for someone wanting to have a minimum number of elements on his blog.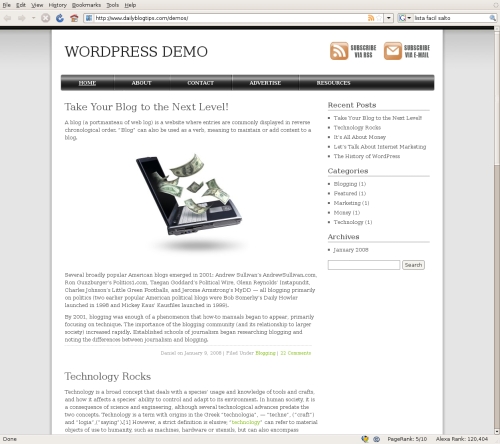 Here are the features of the theme:
RSS and Email Subscriptions: The theme comes with two icons on the header that can be used to offer RSS subscriptions via RSS and email.
Gravatars Enabled: The comments section of the theme already comes with support for Gravatars.
Search Engine Optimization: All the title and meta tags are already optimized for search engines. Secondly, the category and archive pages will only display post excerpts to avoid duplicate content penalties.
Given the theme layout it should also be very easy to create a logo and integrate it into the header. If you have any suggestions or find any problems while using it let us know.
Visit our WordPress Themes page to download all our themes.
Browse all articles on the WordPress category
30 Responses to "Corpvox WordPress Theme Released"
James Collett

I get the home page link duplicated in the navigation bar at the top.

I thought maybe an additional home page had been added by the theme, but that's not it. I tried deleting my home page but that does not work: If I do that, I get one link to the home page but if I try to "edit this page" WordPress tells me to take it out of the trash first!

Is this caused by the fact that I already had a page called "home" before I installed the theme?

Can anyone suggest a way to fix this?
Thanks.

Brian D. Hawkins

I've been using the Corpvox WordPress Theme for about six weeks now and I'm very happy with it. Other than a couple of people saying the sidebar was at the bottom in their browsers I haven't have a bit of trouble.

ravi

Definitely like it. Simple but professional.

Keith Davis

Looks good.
Clean and simple… not lots of bits and pieces to catch your attention and detract from the main elements.

With a theme as uncluttered as this, it shows how important the images you use on your posts are.

Nouman

now this is a gentle theme

Grant

Great theme anyone know how to add a graphic header instead of the Text header

FallOutBoy

Looks good and simple, I'll test it!

Blogger Instinct

Simple and Nice, but it'll be great if you add other column.

thwing

Nice theme… You mention that all title and meta tags are already optimized for search engines, but I'm not seing that this is the case. The description meta tag seems to work, but how about the keyword tag… I don't see any keywords in place. Is there a setting I need to update somewhere?

gendut

I will test…. hope simple but very powerfull

Michael

This is just what I was looking for! I was using the DarkZen theme but this is much better for my needs.

Thank you so much!

Courtland Santos

I love this theme. I've just downloaded it. I'll play around with
it and keep you updated.

Daniel Scocco

It should be compatible with wp 2.7 yeah.

munawar am

Great theme, but I am still use with lovely StudioPress Green theme.
thanks for sharing and your newsletter giving to me.

Wii Fit Games

Damn I like it a loot! Really simple and nice design good work!

jitendra

is this compatible with wordpress 2.7

Steven Finch

Another great theme!!

Netalytics

Nice theme. i like the name especially.

@daniel: is this theme wp-2.7 compatible? Wish to see magazine and minimalistic themes in future. cheers!

joe gelb

wow that is a nice theme. i like how it is highly functional yet looks professional enough to front a blog business. i deffinitely want to give it a test drive on my online business community

Susan

Simple and crisp!

Shueqry

Thanks Daniel!

I love this design, looks simple and elegant. Thank you..

E-Business Blog

Nice theme, I think 3 column will be better 🙂

Len

One of the better themes I've seen in some time. I prefer themes are crisp and clean and light on graphics which are very easy to customize. This one certainly fits the bill.

topen

thanks already download its, nice simple elegant theme

Jen

Very crisp and clean. Completely professional. Will definitely be using it on a new blog

SEO Tips

Simple and straight to the point I like it 🙂

Reminds me of yours.

DKumar M.

Nice and simple one… Thanks for sharing !!

Cananito

Omg!, I just felt in love with this theme, love it, nice job!

Utah SEO Guy

Definitely like it. Simple but professional.

Ikki at Bloggers blog

It looks simple but elegant at the same time. I'll download it to play with it for a while!

Thanks Daniel!
Comments are closed.