Check Your Historical Search Data with Google
Google is quite busy these days implementing new features on the Webmasters Tool section. The most recent addition, under the "Statistics" tab, is a feature that lets you access the top search queries on your website.
For each search query you can see its position on the SERP (search engine results page) and the percentage that it represents from the total queries where your pages appeared. Additionally, as the Google Operating System blog reported, you can also see the top clicked search queries. This information is quite useful to determine the headlines that work and the ones that do not.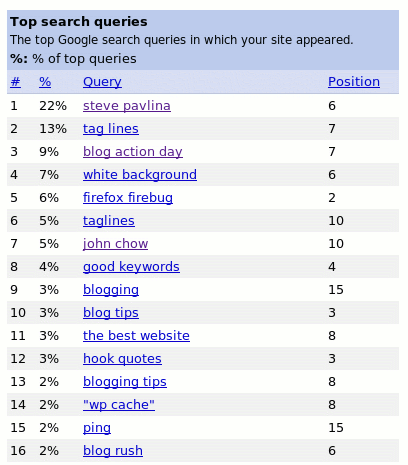 Finally, you can also filter the search queries for specific periods (e.g., one week ago, two weeks ago, one month ago and so on) and for specific regions (e.g., Google India, Google Canada and so on). For a more complete review check out "The Blogger's Guide to Google Webmaster Tools."
Browse all articles on the Web Tools category
9 Responses to "Check Your Historical Search Data with Google"
medyum

thank you
nice article

engtech @ internet duct tape

I'm number 1 on Google for 'romantic movies'

I should tell my girlfriend.

Shark Girl

Cool. I didn't even know I had this option with Google. I forget it's more than a search engine. Thanks for the article. Now I'll have to compare to statcounter.com.

Sergio

Great!!! thanks for the tip

Ruchir

How come that evaded me when I checked my account just now. Hmm…got to check it again.
Comments are closed.