Bloggers Face-Off: John Chow vs. Matt Coddington
The first edition of the Bloggers Face-Off was quite a success, featuring Problogger Darren Rowse against Internet Marketer Jeremy Schoemaker (click here to read). A lot of people suggested that a voting system would add to some salt to the challenges. While the initial purpose of the Bloggers Face-Off was only to provide an interesting reading for everyone I recognize that a voting system could make things more funny. Secondly it will also make it possible to create second rounds where we match the winners of past challenges against each other! Since there was no voting session on the first edition both Darren and Jeremy will receive a free pass to the second round.
This edition of the Bloggers Face-Off will feature two bloggers that help people make money online. The first one is the personification of evil itself, also known as the Dot Com Mogul, John Chow. The second one, Matt Coddington, started blogging only a couple of months ago but he is already gaining a lot of popularity in his niche. Let the battle begin!
| | John Chow | Matt Coddington |
| --- | --- | --- |
| 1. How long have you been blogging? | 1 year and a few months | 2 months |
| 2. How many hours do you dedicate to your blog daily? | 2 hours | 4-5 hours |
| 3. How many RSS feeds do you read daily? | I have 31 blogs on my Google Reader but only a few update everyday. I would say 10 | None, I'm a bookmarker! |
| 4. What is the average number of daily posts on the blog? | 3-5 posts | 2-3 posts |
| 5. Have you ever invested money in promotion? | Yes. I've send Google IM ads to other bloggers, PayPerPost and ReviewMe reviews. | I've bought 2 paid reviews |
| 6. How many page views the blog generates daily? | 10 K | 3-4 K |
| 7. What is your favorite social bookmarking site? | Digg, but I'm starting to wish they didn't unbanned me. | Does MyBlogLog count? |
| 8. What is the blog's monthly revenue? | $7,011.05 for Feb (details here) | $1k – keep in mind it's only 2 months old |
| 9. What is the main revenue generator? | ReviewMe, Text Link Ads, Affiliate sales and Google AdSense | Direct ads |
| 10. Is Alexa a reliable measure of traffic? | It's about as reliable as Apple taking over the PC in market share | For the higher traffic sites I'd say so – not so much for lower traffic ones |
| 11. If you could read only one blog, which one would you pick? | NetBusinessBlog.com | Problogger.net and BlueHatSEO.com tied |
| 12. What is the secret of your success, expressed in one word? | Evil | Turbo-awesomeness |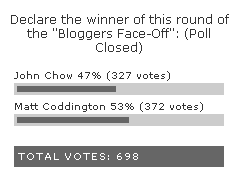 Browse all articles on the Bloggers Face-Off category
86 Responses to "Bloggers Face-Off: John Chow vs. Matt Coddington"
ScorpionGod

I found johnChow in April this year.. I love that site too

Bora Paris

Really interesting Face-off till now. My vote goes for John!
How he earns money? He weigh each and any word and combination of word. His power in John Chow John Chow John Chow. Got idea? NO? then read it again.

Mobile Solution Blog

i'm surprice that John Chow earn a lot of money from internet, how can he did it?

51 Grand

Still interesting post.

Earnings update for John Chows blog – April 2009 – $40,000 per month.

I created a list of Johns earning reports month by month if someone is interested in his progress.

http://www.51grand.com/john-chow/

Anyway my vote goes for John!

Market Secrets Blogger

MyBlogLog definitely counts ❗

kings young

i was watch a interview with johny chow in it i was great and he told it how it was but i love this idea bloggers vs bloggers real neat but yeah hello i'm new to the blogging world so check me out please i just need to edit some post and I'll be sailing

agshin

ã'なたのã'¯ãƒ¬ã'¸ãƒƒãƒˆã'«ãƒ¼ãƒ‰ã®ã'·ãƒ§ãƒƒãƒ"ンã'°æž  現é‡'化ã''最短5分でã€'公安å§"å"¡ä¼šè¨±å¯ã€'å®‰å¿ƒã¨ä¿¡é ¼ã®ï¼'8年のå"ªè‰¯åº—ã€'
高級レギンス専門店。お買い上げ金額5000円以上で送料無料!レギンスとカラータイツの専門店です。
ウェディングドレスオーダー、ウェディングドレスのトータルコーディネートまでサポートします。
ã'·ãƒ§ãƒƒãƒ"ンã'°æž  現é‡'化がお勧ã'ã§ã™ã€'
オリジナルマグカップ制作、オリジナルTシャツ プリントのプリントショップは神戸市・三宮のP-ART!
чанартай веб сайт, вэб хуудас, хийнэ веб сайт, вэб хуудас,
日本語・モンゴル語にの翻訳・通訳に専門の会社

02millions

this VS. thing is a great idea, I need to think of something to create public interest on my site.

Andrew Pavelski

Nice comparison — very enjoyable to read!

Justakid

great post Daniel…

i love you Matt.. you're the real winner..!!!

clai

I would like to say that Daniel (dailyblogtips.com) is a winner because he is a creative blogger.

Contamination

I say John is the winner. Money Talks and he has it.

spanish seo

Awesome final. I though that John Chow could have been the winner.

sagun

How did u compiled all that stuff.

angie

And the winner is….. who said that?

Daniel

Matt is.

Jhon Hebrink

and then who is the winner?

Adsense Tips

John Chow is building steam, afraid he is the weiner.

solbadguy

oh yeah great, not another site worshipping john chow chow. that self proclaimed "dot com sicko" must love himself so much.

master of evil, not bad, how about master of con? his picture back at his chow site looks stupid as well.

oh yeah btw chow, i just filtered your shitty john chow ad at adsense

Bookmarking Social

Si, ya lo he dicho antes, muy bueno el post de comparacion entre esos dos blogueros.

Daniel

Eric, voting ends on Friday 9th.

Eric

Whens the voting closed?

Thilak

I wonder why John Chow hates Digg so badly!
Comments are closed.