Bloggers Face-Off: Jeremy Wright vs. Nandini Maheshwari
Ever considered joining a blog network? Well, then you will probably like this edition of the Bloggers Face-Off. Those bloggers created two of the biggest blog networks on the Internet.
Jeremy Wright is the founder of b5media, a very successful network that includes some flagship blogs like Problogger.net and Copyblogger. Nandini Maheshwari, on the other hand, is the mind behind the Instablogs community, a blog network that is growing very fast. Enjoy!

Jeremy Wright

Nandini Maheshwari
1. How long have you been blogging?
4 glorious, heartbreaking, wonderful, fun-filled, tear-jerking years 😉
1.5 years
2. How many blogs does your network have?
We're at about 200 now, give or take
133 blogs and growing
3. What is the main advantage of joining a blog network?
It takes most of the stress of blogging away (design issues, software
updates, finding advertisers, etc)
Great community, traffic, exposure, higher revenue potential, and technical expertise
4. How much money does the average blogger on the network make?
With our new pay system, most of our bloggers will earn 150-250$/month
doing 4-5 hours work a week
Instablogs, being a large community, it varies a lot from person to person
5. What is your favorite social bookmarking site?
To be honest, I don't use any social bookmarking sites
Stumble Upon
6. What is the main revenue source for the network?
Banner advertising through premier partners, without question
Private Ad sales
7. Do you think AdSense units make a blog look unprofessional?
It depends. But even the "most professional" AdSense unit will rarely
pay as a low-end inventory banner (50c-1$)
Yes, if you overdo them
8. Does the network invest money into promotion?
We invest back into our bloggers. We have 2 people full time (Shai and
Darren) training other bloggers
So far, we have not spent any money but in coming days, we are planning few ad campaigns for our upcoming community features
9. How many RSS feeds do you read daily?
Probably 40-50. But I spend a lot of time on TechMeme
200+
10. If you could give one advice for a novice blogger, what would it be?
Find your passion and never lose it. No matter what anyone says, if
you're having fun and expressing yourself, that's what matters
Go read Problogger.net. However seriously, best advice would be to have patience, be consistent, and network with fellow bloggers in early days
11. If you could read only one blog, which one would you pick?
No question, it's Savage Chickens
My own (http://www.bornrich.org)
12. What is the secret of your success, expressed in one word?
Community
Passion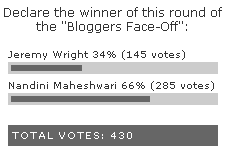 Browse all articles on the Bloggers Face-Off category
52 Responses to "Bloggers Face-Off: Jeremy Wright vs. Nandini Maheshwari"
Daniel

Gayla, that is right, the voting session is just to add some fun to the interviews. The face-off is more about getting insights and getting to know better the bloggers.

Gayla McCord

Enjoy the challenge for the fun it's supposed to be. I don't think it's meant to be taken too seriously 🙂

Is it?

Daniel

Kate, I think most people that said they voted for Nandini because she is beautiful were actually joking.

Also, regarding the answers from the bloggers, I think they were quite succinct, not sure where you got the idea they were "marketing-speak". For instance neither of the bloggers nominated a blog of their own network on question #11.

Kate

My goodness, what a lot of sexist nonsense.

I hardly think Enright is losing because he's not good-looking enough.

Maybe popularity has something to do with how the votes are being handled, but both bloggers answers are full of vague marketing-speak that I am quite shocked to see among people who are respected for their honesty.

Bharat

She's beautiful and she's smart and that makes for a deadly combination! So Jeremy watch it, WRIGHT!

Al Carlton

For me Jeremy won with his answers to 2, 8 and 11 (Savage Chickens is class) whilst Nandini won with answers 1, 10 and 12.

So by way of the photo my vote goes to Nandini (and the fact that she's nagging me on IM may be a factor 🙂 )

Daniel

Haha Jeremy, actually you are making quite a comeback now! The poll is open until Friday so lets see how it goes.

jeremy wright

If it helps the voting at all, my dad is Sri Lankan 😉

Gayla McCord

I heart b5media! Go Jeremy!

Shannon

I think it is only a wonderfully positive thing that we are so passionate about our networks. It can only be a great thing for social media in general. 🙂

b5chad

I almost voted for Nandini with the Savage chicken answer Jeremy

Jason

It's got to be a good thing when you competition recommends your blog as the number one blog to read for a novice blogger.

Jonty

1. Nandini is beautiful (we all agree, don't we?).

2. Instablogs is beautiful too. Check our homepage and decide for yourself.

3. Instablogs doesn't look like any chock-off-the-block networks. It has evolved in a way that no other blog network did in its small gestation period

Once again, Nandini is not only gorgeous, but a great thinker too. (Who doesn't agree?)

Kimmono

I remember when Instablogs launched and people were giving them a hard time. Its payback time for Nandini and her crew! They started with no money and have build an impressive media company.

Nishtha

Instablogs is way too cooler than any other blog Network..
My vote goes to Nandini and Instablogs…

Kanchan

Guys when you talk about Online Media,
Remember its INSTABLOGS not b5media.

Go Nandini go, Instablogs Rocks…

Jeanne

Go Jeremy! Yes, she's beautiful but b5media rocks!

Daniel

Shannon, yeah I noticed that Nandini mentioned Problogger also hehe.

This Face-Off is surely one of most heated ones, a lot of supporters on each side!

junger

Nandini made me Cool Geek of the Week, so she gets my vote!

Raghubir

Instablogs! Instablogs!
Go get them…

Doug Savage

Jeremy's got my vote, of course!

Pooja K

Not only is Nandini beautiful, she runs a better designed and more functional blog network amongst the two.

Why don`t you check both network's homepage.

Shannon

Nandini is definitely beautiful…but I am more inclined to men…Jeremy you are not so bad, but if you had the shot of you here wearing Christina's pink hat, you would look better. lol.

Also–Nandini says to read Problogger.net, doesn't that just say it all who the better network is? 😉 Darren is the reason I started blogging.

Busy Mom

Jeremy! Jeremy!

Sean Kelly

Jeremy's answers were more specific, his b5media network is on fire, he likes Savage Chickens, and he writes my checks… hmmm

How important is "face" in the "face-off" vote? And can they tell which way we voted?

kellys

She is definitely pretty, but can she dance a jig with the best of 'em? You go, Jeremy!

Jeremy Wright

I've always regretted being born a guy 😉

Shawn

Yeah, Daniel. But the thing is she is actually beautiful, and running a big blog network competing with B5media.

This is cool and interesting.

Daniel

Shawn, looks like many people are thinking like you :). Well it a bloggers face-off, any weapon goes!

Shawn

B5media is a great blog network, but my vote goes to the beautiful founder of Instablogs network.
Comments are closed.