Bloggers Face-Off: John Chow vs. Matt Coddington
The first edition of the Bloggers Face-Off was quite a success, featuring Problogger Darren Rowse against Internet Marketer Jeremy Schoemaker (click here to read). A lot of people suggested that a voting system would add to some salt to the challenges. While the initial purpose of the Bloggers Face-Off was only to provide an interesting reading for everyone I recognize that a voting system could make things more funny. Secondly it will also make it possible to create second rounds where we match the winners of past challenges against each other! Since there was no voting session on the first edition both Darren and Jeremy will receive a free pass to the second round.
This edition of the Bloggers Face-Off will feature two bloggers that help people make money online. The first one is the personification of evil itself, also known as the Dot Com Mogul, John Chow. The second one, Matt Coddington, started blogging only a couple of months ago but he is already gaining a lot of popularity in his niche. Let the battle begin!
| | John Chow | Matt Coddington |
| --- | --- | --- |
| 1. How long have you been blogging? | 1 year and a few months | 2 months |
| 2. How many hours do you dedicate to your blog daily? | 2 hours | 4-5 hours |
| 3. How many RSS feeds do you read daily? | I have 31 blogs on my Google Reader but only a few update everyday. I would say 10 | None, I'm a bookmarker! |
| 4. What is the average number of daily posts on the blog? | 3-5 posts | 2-3 posts |
| 5. Have you ever invested money in promotion? | Yes. I've send Google IM ads to other bloggers, PayPerPost and ReviewMe reviews. | I've bought 2 paid reviews |
| 6. How many page views the blog generates daily? | 10 K | 3-4 K |
| 7. What is your favorite social bookmarking site? | Digg, but I'm starting to wish they didn't unbanned me. | Does MyBlogLog count? |
| 8. What is the blog's monthly revenue? | $7,011.05 for Feb (details here) | $1k – keep in mind it's only 2 months old |
| 9. What is the main revenue generator? | ReviewMe, Text Link Ads, Affiliate sales and Google AdSense | Direct ads |
| 10. Is Alexa a reliable measure of traffic? | It's about as reliable as Apple taking over the PC in market share | For the higher traffic sites I'd say so – not so much for lower traffic ones |
| 11. If you could read only one blog, which one would you pick? | NetBusinessBlog.com | Problogger.net and BlueHatSEO.com tied |
| 12. What is the secret of your success, expressed in one word? | Evil | Turbo-awesomeness |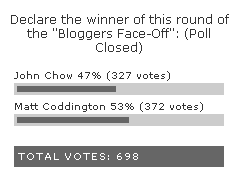 Browse all articles on the Bloggers Face-Off category
86 Responses to "Bloggers Face-Off: John Chow vs. Matt Coddington"
derrich

I GET WINNER!!!

*runs & hides*

Leftblank

Go Matt, go Matt! 😉 I agree with the above though; Matt has realized a lot in a very short timespan making it more adorable than Johns (very nice) but long term efforts.

Daniel

Yeah Matt is in the lead right now. Voting session will be open until Friday, so lets see if John will be able to make a come back!

Jonix

Totally agree with you dawud

Dawud Miracle

Personally, I'm pretty impressed with what Matt's been able to do in such a short time. For me, he's the winner.

Jonix

Daniel, i see. If you want you can delete my comment, it was just to warn you about this. I found that because, i clicked one vote for john, and then for curiosity click another to matt, and the system have count both.

Let me say that this kind of posts are superb, great idea and work, daniel.

Daniel

Jonix, the poll should block repeat voters (yeah there is a workaround, but I hope people will not be that eager to cheat on a simple funny interview hehe).

Some WP Poll plugins mess your database, that is why I am using a Java Script one, but I will test some other plugins for the next voting session.

Jonix

Daniel, the system have a problem, you can vote infinite times on the same person and that will be cheating. Can't you use another plugin to vote? Try the WP-Polls Widget, you can download it here:

Shane

I feel a bit like an impulse shopper right now.

I thought I was going to vote for John Chow, but Turbo-awesomeness gets me every time!

ian

I voted for John Chow, only heard of matts blog from a post on johnchow.com

Marc

One for evil right here! Turbo awesomeness is no match for pure evil.

Lars-Christian

I'm voting for Matt because he responded to an email I sent him, whereas John never took the time to do that 😉

DJR

Just wait, here comes john's army!

Jake

Evil sticks together…One vote for John..

Jonathan Jiang

I would vote for Matt because he's hosted on an awesome web host, but I do read stuff in the Chow TTZ network.

I feel torn.

Meg

Since John is inciting multiple votes, I did just that – for Matt. Hoping that "good" will triumph over "evil" 👿

Meg

Since John is inciting multiple votes, I did just that – for Matt. I'm hoping "good" will triumph over "evil" 👿

Jason

So hard to choose … pure evil vs. turbo awesomeness

May the best man win!

Daniel

Roland, apart from extravagant posts like expensive dinners and cars John does have some great content on his site, he is very open about his money making strategies, and a lot of people learn from it.

MeTheGeek, strange people should also be able to vote on Firefox (I did). Maybe was a temporary glitch.

MeTheGeek

Had to open Internet Explorer to vote 🙁

I just voted for John Chow in the hopes he'll tell me how's my English, and I'll be pissed if he doesn't. I didn't know Matt till this day. Seems like a good site.

Thanks for the fun!

Roland

well, i just can say that the blog of matt have much more juicy and interesting content than johchow. The content of johnchow is nothing compared to matt (light years difference). It irritates me, people at johnchow blog, round about posts saying "ahh he'll make $8000, no he will make $10.000", hell!!!! What kind of posts is that??

Long live matt, you blog is much much better!

ilker

I voted for the devil!

Daniel

Maki, you should voted on any criteria you think is suitable 🙂

The purpose of the face-off is to give an interesting reading to everyone (as you metioned and I agree both bloggers are very succesfful so we can just learn from them). The voting part is just to add some fun to it!

Nomar

Great Face Off !!! I voted (A)

Maki

What criteria should I base my votes on? Personal liking for the blogger and his blog? Or perhaps the value of their content as it relates to making money online?

I didn't vote, because I thought it was a little silly. Both of them are great bloggers with excellent blogs worth reading.

🙂

Daniel

Anthony, I will check that plugin, I had used Democracy Pools but it was messing some Database queries that is why I decided to use PollDaddy.

Gary, Matt is doing pretty well so far (17 votes our of 48), I guess people can consider the difference on the time they have been blogging. John Chow is bad ass though you can not deny 🙂

Lionel

Replace Matt's picture with a supermodel…then we'll see who wins.

Gary Lee

Isn't there a way to take sheer traffic power out of the equation? There's no way Matt can compete with John if this is a popularity contest

Anthony

Excellent article. Might I suggest, WP-Polls by GamerZ. I just recently started using his plugin and it has been a lifesaver.

Matt Coddington

Aww sorry John I feel like an ass now. I didn't know we were supposed to slyly mention each others' blogs in #11! If it weren't for the weird fine dining posts you know your blog would be the only one for me.
Comments are closed.