Best Firefox Add-ons: NoScript
As you probably know there are hundreds, if not thousands of exploits and threats around the web these days. Website based threats usually require an script to run (e.g., Javascript or Java), which means that blocking these scripts is a method to create another layer of security.
In the past I had seen tools and plugins to completely stop any and all scripts from running, but this was a drastic fix, because on some sites and situations you might want to run scripts.
Is there a better solution? Yes. It's a Firefox add-on called NoScript.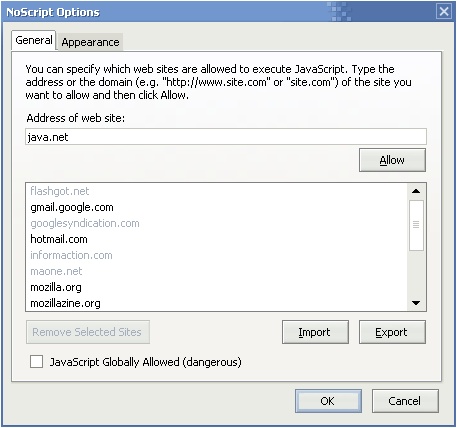 The add-on will block all scripts by default, but you can customize it extensively to make sure you'll be able to run the scripts you need or want. For example, you can pre-define a list of domains that should be allowed to run scripts, or you can allow and disallow sites and pages on the fly, while you navigate.
Browse all articles on the Software category
12 Responses to "Best Firefox Add-ons: NoScript"
Daniel | Facebook Messages

Is it just me that finds it slightly ironic that one of the favourite additions to Firefox is an add on that removes functionality?

Alan @ Work From Home

Thanks for the heads up, Daniel. Never hurts to have another layer of protection especially when browsing.

Harsh Agrawal

I personally find this script very useful to keep your laptop/PC secure…
Specially when facebook phishing used to happen every other day.. This was one of my fav addon….

Octav

why not better use AdBlockPlus?

illz

I used to use it, but I found it that it takes time to set it up. Almost every website has 3 cookies. If you block certain ones it can break the display of the website. I use it sometimes to block google analytics when I visit competitors website. I don't want them to know this certain visitor stays on my website more then others. 🙂

Alex Dumitru

This sounds good for a paranoiac, but I wouldn't use it for me, because it breaks almost every website.

Gary

I've been using NoScript for over a year now and it's great. I don't mind at all the bit of time it takes to unblock scripts essential to what I want to see.

Himanshu Chanda

I might be wrong but this is not so good add on. Blocking all the script by default is bad… You keep on adding them to your list to see the whole site and experience it as it should be. Any ways netizens are impatient and switch sites in seconds, if this add on is used it might spoil the experience. Wont it?

Daniel Scocco

It takes time to set everything up, but in my opinion the added security is worth it.

Johny

this is much more useful ad on.. or you'll get your cookies (etc…) exposed

Tom | Oral Answers

Good tip, Daniel. It seems like you've been posting a few more "tech tips" here since you've sold DailyBits.

I've used Noscript in the past, but I found it too cumbersome to keep answering the questions of whether or not to block scripts on pages or if I blocked them all of the time, it would reduce the functionality of the website.

Does anyone know if noscript blocks Google Analytics?

Thanks for the post!

Daniel Scocco

The add-on blocks AdSense, but you can easily fix that by allowing any scripts from Google.com to run.
Comments are closed.