AdSense Is The Main Revenue Source for 45% of Our Readers
Last week I launched a poll asking our readers what was their main revenue source. Among the options to vote you had AdSense, affiliate marketing, selling one's own products and so on. I was expecting that the results would be quite balanced, but that was not the case.
It turns out that over 45% of the readers who took the poll rely on Google AdSense as their main income source. Freelancing and consulting services appeared in a distant second position, with 17.8% of the votes.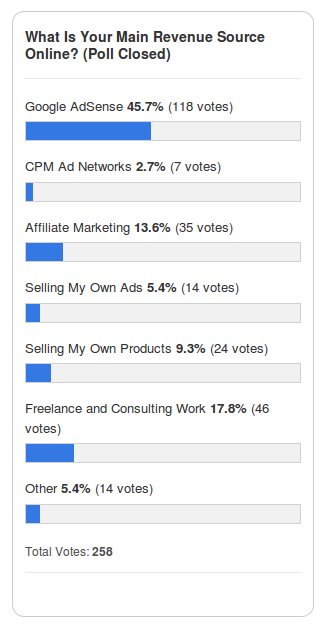 Affiliate marketing appeared in the third position with 13.6%, and selling one's own products in the fourth position with 9.3% of the votes. Another curious point was the small percentage of people using direct ad sales as a main income source, since this has been one of the most profitable methods I have used. Only 5.4% of the participants voted on it.
Browse all articles on the Monetize category
31 Responses to "AdSense Is The Main Revenue Source for 45% of Our Readers"
Maya ada

Adsense is slow but most long term revenue stream in online earning. Unfortunately i missed this poll but i also use adsense for my main earning source.

Web Marketing Tips

Hello Daniel

If you are using direct ad sales as a main income source than there is a valid reason and this is your reputation and people approach you.

At this stage you do not have to approach any one and I think this saves your good time.

What do you say ?

Umesh

One thing I forgot to mention but People who use Google Adsense to make money, also have to think about layout of google adsense. When i started adsense, it was not making much money. But I change it's style and layout in my post. Now I am very happy with it.

It's like my extra job.

Umesh

Personally I also use Google AdSense in my blog. and 100% or my profit is only from Google AdSense.

Google Rocks!!!

Web Marketing Tips

You are saying this because you have not used other methods. Once you will try than google earning will be pea nuts to you.

steve

I didn't realize Adsense was so popular. All those $0.23 days must be pretty awesome. I vote of affiliate marketing.

Glen

Very interesting indeed.

May be it's just a phase. I think Adsense would tend to perform better in new blogs compared to affiliate marketing.

Affiliate marketing requires trust and it's not something you can gain very quickly.

Web Marketing Tips

Yes and knowledge is also important in affiliate marketing where as this is not the case in adsense.

Stylo

Adsense is the Main Source but becuase they all of them are not monetizing their web well.

cmdweb

I'm really surprised as well. I would have expected affiliate sales and selling own products would have been first and second on the list.
Although Adsense is very prevalent, I never get the impression that the earnings are that great, and certainly would have though that sales of some kind would have outstripped it easily.
…wrong again I suppose.

Web Marketing Tips

Seems to me that maximum people who vote here are at the beginning stage.

But however Daniel still using adsense (though in inner pages) and I am sure he is making decent amount from adsense.

Arun Basil Lal

Adsense is like the default money maker for blogging, I think most people think that way.

And its not surprising that Adsense is the major source, I have to guess that most of them dont make much.

Adsense wasn't working well for me, I went to Affiliate and now thats working 🙂

Web Marketing Tips

So Arun …

Which affiliates you are using ?

I saw that you provide your service as well at really affordable price.

Chris

I have used (and still use) Adsense extensively, but am moving to more of an affiliate profit model.

John Soares

I tried adsense for a while on my northern California hiking blog, but I eventually took it off. I wasn't making much money, and the money I did make sent my visitors away.

I also have links to my hiking books on the site. If people are going to click on something, I'd rather it was for my own stuff.

Alex | Blogussion.com

I'd like to never have to resort to AdSense to make money, just because I hate putting ads on my blog. I wish I saw this poll when it was still up, because I would have voted up for products, as it's my biggest income source (then affiliate marketing, which I'm surprised didn't have more votes).

Web Marketing Tips

Alex you have the quality and knowledge of thesis and because of that you voted for products. But this is not the case with every one.

And for them Adsense is the best way. I always believe that adsense is the first step to earn more money.

Dana @ Blogging Tips Blog

I think it is because many blogger think that AdSense need less work if compare with affiliate.

Mokibobolink

Wow, that's actually really good to know. I was wondering if I should be putting my efforts into doing something other than Adsens but so far, it's what has been working best for me too. Good to know that it's working for others as well.

Web Marketing Tips

I think you are not using your adsense perfectly.

If you will arrange them perfectly than your earning can be increase.

Peter Carr

I find this very interesting, does adsense work on all sites, no i don't think it does, it will work better for some niches than others. Also when i visit some sites i am overpowered by adsense ads, can make the site look ugly i think.
Pete

Roshan Ahmed

Oh, this is so sad….I am banned from adsense! 🙁

What am I gonna do…???

-Roshan Ahmed 🙁

Daniel Scocco

Try affiliate marketing.

Lee Ka Hoong

If you're still interested with Google Adsense, you may try to register everything else new such as email address, beneficial name (you may use your parents' name), and use different IP address to apply Google adsense.

Regards,
Lee

Web Marketing Tips

May be god giving you an opportunity to earn more.

So try affiliate marketing … but before starting study at least for 3 months.

KimC

I missed this poll, but your results prompted me to share my own: for my personal blog my main source of income is affiliate advertising, perhaps because readers feel like friends and they trust my opinion.
For Frugal Hacks, my income comes entirely from direct ad sales.
I tried Adsense on both blogs several times over the years and never made more than pennies/day, while both blogs make far, far more with the methods I use.

Men's Online Magazine

Adsense is still the dominate advertising platform because it generates the most revenue per click

Roshan Ahmed

Yeah,
Advertisers and publishers likes them well. because they pays publishers well and there is very less possibility for having frauds since Google is very strict with adsense publishers, which obviously attract more advertisers.

Also when newbies search 'make money with a blog', everyone will be talking about PPC, especially adsense. So everyone sticks with Adsense right from the beginning.

Dev | Technshare

May be because they are in other niches. 🙂 !!

For MMO Blogs.. adsense revenue is very less. !!
I think affiliates marketing should on the first position.

Thanks for sharing this great post.

Josh Garcia

Hey Daniel,

Google Adsense leads the pack. I was thinking maybe affiliate marketing would.

Josh

Roshan Ahmed

I thought Affiliate Marketing would catch second position (I was sure Adsense grabs the first). Anyway, As Daniel said I thought 'Selling my own ads' would one of the main income stream for bloggers!!
Comments are closed.