15,000 RSS Subscribers Milestone
Daily Blog Tips is just over 15,000 RSS subscribers, and I wanted to extend a thank you to all the readers, subscribers and supporters. I have a lot of fun writing here every day, and the fact that people take the time to read my words is flattering.
I remember when I started blogging in 2005. I saw some blogs with 1,000 RSS subscribers and thought to myself: "Man, the day I get 1,000 subscribers I will one happy guy." Funny when you look backwards.
Anyway to celebrate the milestone I am pulling another big RSS icon, just to remind YOU, yeah you that come here once in a while but have not subscribed yet, that you should click there and join the other 15,000!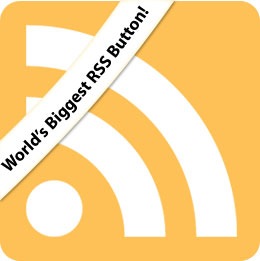 P.S.: I know that RSS icon is probably not the biggest in the world, but I thought it was a cool one. If you want see an even bigger one, check out this post I did a while ago.
Browse all articles on the General category
46 Responses to "15,000 RSS Subscribers Milestone"
Weightloss Products

Congratulations. What is your RSS goal for the end of the year?

TechZoomIn

Congrats Daniel,

Am waiting for my time to post an article like this 🙂

Maeve

Daniel,
Congratulations on your Daily Blog Tips milestone.

I've finally decided to subscribe to DBT. I don't know if it had anything to do with the giant button.

I do know that I want to get serious about my American English Doctor site and your tips will help me.

Do you use Feedburner? I do, and find it very erratic. My posts don't show up in the RSS feeder until the next day. And as for my pitiful two-digit subscribers' list, some days it shows in the Feedburner analysis page, and some days it's gone and I have ZERO subscribers. And then, a day or so later, the subscribers are back.

What am I doing wrong?
Maeve

Norhafidz

congratulations on this achievement, keep up the good works

Ujank

Congratulation brother, you have a good attitude of doing blog. Recently I have post article about most famous dofollow forums with high page rank.

Please visit here

Linda

It's nice to know that all your hard work has paid off. Your genuine desire to help others comes across in your posts.

Peter van Veen

My congratulations, Daniel!

I love reading your articles every time.

Learning Chinese Online

Congratulations Daniel!Thanksgiving wishes for you and your family.

Daniel Scocco

Thanks everyone!

Michael Aulia

Wow 15,000?! Nice job man! Keep it up

Kurt Avish

Congrats and keep it increasing.

Ruchir Chawdhry

Congrats!

Kevin Muldoon

Congratulations Daniel. That's a great achievement. 🙂

all top blogs

Daniel great job.

Dean

Nice one mate! Well deserved.

Tom – StandOutBlogger.com

Congratulations Daniel! I'll catch you soon 😀

Matt Gio

Congratulations Buddy!

Ramses

Congrats man, just saw it at the beginning of this evening. But 'just' over 15,000? You have over 15,200! I'll be glad as soon as I have 200 subscribers ;-).

Matt Caldwell – 15 Minutes to Riches!

Congrats on this incredible achievement!

Dan @ PowerDosh.com

An incredible achievement, well done. I'd be happy with just 50 RSS readers. 🙂

Ryan McLean

I have just over 300 RSS subscribers. The day I get 1,000 RSS subscribers I will be one happy guy. But I am not going to stop at 1,000 RSS subscribers. I am going to go for the 15,000
Congratulations on reaching 15,000
Im sure it will continue to grow much quicker from here on in.

ArpitNext

congrats man!

Adam Singer

(oh, and congrats!!!)

Adam Singer

"Man, the day I get 1,000 subscribers I will one happy guy."

Yes this sounds about right =)

Keith Dsouza

Congrats on this huge milestone, I was probably one of the first few subscribers to this blog and have thoroughly enjoyed all the posts, have fun and may it grow even bigger in future.

Christian

Congratulations, this is a really nice numer of subscribers!

Andrei

Haha, i must have been the 15.000th because i just subscribed 🙂

Guillermo

Congrats on you milestone Daniel. You deserve it… By the way, I played around with that "big RSS icon" advice you gave the other day… and it worked! I may reach mi first 1k soon!

Brian

Daniel, your blog is one of the few that I always check in my reader to see if there are new updates. I love your posts because they are always so helpful and actually relevant to what I am doing online.

Congrats with the site, and best of luck on the stretch to 30k subs!

SATISH — Technotip.org

Congrats Daniel..

Actually your blog deserves much more.
I enjoy every article and discussion going on in DailyBlogTips always.
Comments are closed.