DBT is research-focused. When you buy through links on our site, we may earn an affiliate commission. Learn more
Pros & Cons:
Although there's a lot to like, WP Engine also has a few downsides:
Practically all web hosting providers cater to WordPress users to some degree. However, certain options design their entire hosting services around WordPress exclusively.
Often called WordPress concierge services, they promise faster loading speeds, easy customization, and improved performance for WordPress users.
WP Engine is an early pioneer of this type of hosting, and they're currently the most popular provider. Still, just because they're widely used doesn't mean they're the ideal fit for your needs.
What benefits does WP Engine offer compared to traditional (and often cheaper) shared hosting? Is this the type of service you should consider for your sites?
Your complete WP Engine review starts right now with the good, bad, and everything else you need to know:
About WP Engine
Founded in 2023, WP Engine is one of the first WordPress cloud hosting platforms (technically, Pagely is the first). In just over a decade, they've grown from an early industry innovator into the most popular WordPress-centered hosting platform around.
Businesses of all types and sizes use their service, including National Geographic, PBS, MyFitnessPal, and Yelp.
WP Engine Hosting Features
So, what do you get with WP Engine that you can't find with shared hosting? Here are the highlights:
WordPress Optimized Servers
Don't worry if you see the phrase "shared hosting" on the WP Engine site. It's not the same type of shared hosting you'll find offered by ultra-cheap hosting providers.
Instead, WP Engine uses servers optimized for WordPress. Independent tests consistently show that WP Engine's server speeds are very much comparable to SiteGround and similar big-name providers.
Free Access to Genesis Framework
In July 2023, WP Engine purchased StudioPress, a company responsible for a huge array of well-known WordPress themes.
Because of that acquisition, today, all WP Engine customers have unlimited access to 35 StudioPress themes plus the Genesis Framework, a user-friendly code library that allows for fast and easy site-building.
With all the available themes, you should have no problem finding options suitable for practically any type of business.
Of course, if you want a more custom look, you can all use any other WordPress theme.
Automatic Updates
WP Engine handles all core WordPress updates for you. It's an easy way to ensure you're always using the current version of WordPress, which can have important benefits to performance and security.
Additionally, the platform can automatically update all of your plugins.
Development Environment & Staging Area
WP Engine provides three production environments for your website. To start, the Development environment creates your pages.
Then, you transfer them to the Staging Area, where they can be shared with clients or team members. Finally, you place them in Production to take them live.
WP Engine Hosting Plans & Pricing
WP Engine offers three service categories:
Each plan is broken down into three pricing tiers.
Managed Hosting is the cheapest plan. It's well-suited for a variety of general sites.
Startup ($25/month or $300/year) – Provides hosting for one site with up to 25,000 monthly visitors and 10GB of storage.
Growth ($95/month or $1150/year) – Hosting for ten sites with up 100,000 monthly visitors and 20 GB of storage.
Scale ($241/month or $2900/year) – Hosting for 30 sites with up 400,000 monthly visitors and 50 GB of storage.
All Managed Hosting plans include daily backups, free SSL and SSH, access to the staging site, and advanced security features.
If your site uses lots of plugins, consider upgrading to the Plus plan. It features everything from the standard plan plus automated plugin updates.
All updates are first tested by an AI to help ensure stability, with automatic rollback if any issues are detected after installation.
Hosting Plus tiers offer the same site, visitor, and storage as Managed Hosting. You're paying slightly more for the plugin features:
Startup - $28/month or $340/year
Growth - $104/month or $1,250/year
Scale - $258/month or $3,100/year
Secure Hosting is ideal for eCommerce sites. These plans include additional security features such as DDoS protection and a WAF security firewall. They also come with the plugin features from the Plus plan.
Startup - $44/month or $530/year
Growth - $125/month or $1500/year
Scale - $291/month or $3500/year
FAQ's
Now, let's answer some common questions we often get about this web hosting platform not previously answered in this WP Engine review.
Yes. The service delivers a winning combination of speed, security, and reliability for WordPress sites. Most users experience a noticeable improvement over discount shared hosting platforms.
However, it should be noted that WP Engine does cost more than most shared hosting plans.
That's another yes! WP Engine can handle many processes on its own, including keeping WordPress and installed plugins updated.
As an added service, they offer custom plans with white-glove on-boarding, where a customer service specialist will walk you through the initial setup. They'll then help prepare your site to go live with a Launch Readiness Assessment.
Every aspect of WP Engine is designed to work with WordPress—and only with WordPress. This is considered a "WordPress concierge service."
There's no benefit to using it with sites built with Wix, Joomla, or any other content management service.
WP Engine offers a robust selection of server locations, mainly centered in the US, Canada, and Europe. North American locations include Iowa, South Carolina, Oregon, and Montreal.
European locations include London and the Netherlands, with Asia/Pacific options limited to Taiwan, Tokyo, and Sydney.
You can switch between servers, although accessing some locations requires additional fees.
Who Should Use WP Engine?
WP Engine is ideal for WordPress users who want to increase the overall performance of their sites and don't mind spending a bit more. Owners of eCommerce sites will also find many features designed with their needs in mind.
Moreover, it's excellent for anyone who likes to tinker around with their WordPress sites. The automatic backups, staging area, and plugin updates combine to simplify changing elements of your site at will without risking functionality.
Conveniently, it can be a great platform for those who use WordPress but aren't particularly interested in the details of how it works. Indeed, automatic updates and AI testing allow your site to run smoothly without requiring your input.
Final Verdict
It's easy to see why WP Engine remains an industry leader in managed WordPress hosting. They offer secure, fast, and reliable hosting that fully integrates with WordPress, automating numerous processes and giving you easy customization options.
Although the relatively high prices do present a drawback, many users consider the platform a superior value.
After reading this WP Engine review, if you'd like to learn even more about how this hosting provider can benefit your online presence, click here for additional information.
WP Engine is a WordPress-specific web host that offers enhanced speeds, increased security, and multiple other features specific to the WordPress platform.
---
WP Engine vs. Competitors
There are no reviews yet. Be the first one to write one.
WP Engine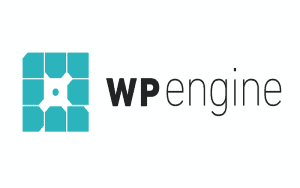 WP Engine is a WordPress-specific web host that offers enhanced speeds, increased security, and multiple other features specific to the WordPress platform.
Product In-Stock: InStock