Want To Write Better Blog Posts? Check The Problogger Scorecard
Yesterday I was browsing on Problogger and I came across a post where Darren was announcing the Copywriting Scorecard for Bloggers.
It seemed like a good resource to have, so I went ahead and purchased a copy (normal price will be $14.97, but for the next two weeks you can get it for $9.97).
In a nutshell it is an ebook with pointers you can use to improve your blog posts. There are 63 pointers in total, divided in four sections: writing quality, scannability, search engine optimization and grammar.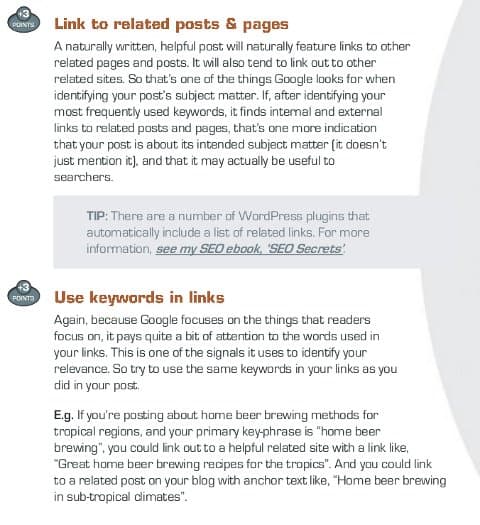 What I liked most if the fact that each pointer gives you one simple and effective thing to do in your blog post, so you can follow along and implement things right away.
At the end of the ebook you'll also find the scorecard, which you can use to grade your post from 0 to 100. I am sure most bloggers will find this useful, so check it out (I am not an affiliate, so I won't earn anything whether you buy it or not).
Browse all articles on the Blogging Basics category
11 Responses to "Want To Write Better Blog Posts? Check The Problogger Scorecard"
Robert Latchford

You have some fantastic tips all across your website.
Well done on maintaining such a strong focus over a long period of time. Would love to come and see your speaking slot at BlogWorld but can't make it out to Vegas at this time of the year.

Hope it goes well.

Robert

Virtual Agent

Thanks for sharing this post. I better read reviews first before purchasing. I hope it will work for me.

cmdweb

I love the idea of using a scorecard. We use balanced scorecards for business reporting in my day job, but I hadn't thought of applying the same approach to a blog post. Inspired!

Tinh

I knew this ebook just released and I have ordered it yesterday. Thanks

Sally

Hi Daniel,

For once I think I can actually say I do the above!

FAINT ha ha.

Will check out the book because I love following check lists, makes life so much easier.

sally 🙂

jason

A rubric, or a checklist, is always a great way to verify what you are doing correctly with whatever it is you are trying to accomplish. Glad you brought this to my attention.

Josh Garcia

Hey Daniel,

I purchase the book and for the cost….Heck I spend $10 on stupid stuff that wasn't going to help me at all.

Have a great weekend…
Josh

Josh Garcia

In other words, It is worth the purchase. It is full of valuable content that can be implement ASAP….

Juan

Daniel,

You wrote:
What I liked most if the fact that each pointer

and I think you meant:

What I liked most i"s" the fact that each pointer

Regards,

Nabeel | Create Your First Website

Hi,

I like the concept of 'checking' your score through a score card, as this makes you more accountable and directs you to take action.

Darren did a smart move with this!

Kindest,
Nabeel

Web Marketing Tips

Darren always come with few great ideas and this is always love to read him.

I mean he is one of the oldest player of blogger league and still he is going so strong.
Comments are closed.