DBT is research-focused. When you buy through links on our site, we may earn an affiliate commission. Learn more
Green powders—freeze-dried or cold-pressed fruits and vegetables designed to promote vitamin intake and boost overall health—have become an increasingly common nutrition trend in recent years.
Multivitamin pills are packed with micronutrients, but in that form, your body actually absorbs only a small fraction of what they include.
While powders aren't quite as easily absorbed as whole foods, you're getting substantially more than you would from a traditional multivitamin.
Unfortunately, many green powders taste like dirt and are limited in terms of their overall nutritional value.
If you're simply trying to make sure you have a sufficient baseline of vitamins, there's nothing wrong with that.
But if you're looking for holistic health benefits, you'll want something more.
One green powder that does take a more holistic approach is Vitauthority Daily Greens.
Vitauthority isn't just packed with vitamins and minerals, but also a wide array of antioxidant-rich superfoods and enzymes.
Let's take an in-depth look at what it has to offer in this Vitauthority Daily Greens review.
What is Vitauthority Daily Greens?
An up-and-coming, well-reviewed daily green powder, Vitauthority Daily Greens is specifically designed to help detox, on top of providing your body with a baseline of micronutrients and immune support.
Not only does Vitauthority Daily Greens contain loads of nutrients, but it's also designed to help get rid of everything your body doesn't need.
The recipe includes 13 powerful antioxidants that work to eliminate toxins from your body.
The central part of the recipe is a greens blend, a superfood matrix, and a few other supplements, all of which we will discuss in greater detail momentarily.
Vitauthority Daily Greens comes in a water-soluble powder; mix one scoop of daily greens with 6 to 12 ounces of water and stir, once or twice a day.
Vitauthority Daily Greens Ingredients & Nutrition Facts
The Vitauthority Daily Greens recipe is highly curated, specifically designed to boost immunity, energy, overall health, and fight toxins.
Each serving has just 15 calories, only 2g of carbohydrates, 1g of protein, and no fat whatsoever.
The recipe is vegan and vegetarian, gluten-free, soy-free, and non-GMO. Vitauthority Daily Greens is made with all-natural, all-organic ingredients.
Let's take some time to break down each group of ingredients:
Greens Blend
The greens blend contains 5,600mg per serving of spirulina, cracked-cell chlorella, kale powder, matcha green tea, wheatgrass powder, barley, moringa oleifera, spinach leaf powder, and broccoli sprout extract.
Many of these greens powder products are superfoods that fend off free radicals and help the body manage stress.
Superfood Matrix
The superfood matrix contains 650mg per serving of a blend of coconut water powder, turmeric root, and blueberry extract.
Coconut water is not only an antioxidant, but it is also an excellent source of potassium, vitamin C, and fiber. It's also great for hydration!
Turmeric is a potent anti-inflammatory, and blueberries have one of the highest antioxidant levels of any natural ingredient.
Ashwagandha Extract
Vitauthority Daily Greens also contains 300mg per serving of ashwagandha extract.
Ashwagandha is a powerful adaptogen, which helps the body manage stress while also boosting brain function and supporting a healthy weight.
Amylase
The final main ingredient in Vitauthority Daily Greens is amylase, of which there is 100mg per serving.
Amylase is an enzyme that helps break down the ingredients and increase absorption. That means you're sure to get the most out of this greens blend.
Nutrition Facts
Per serving (scoop), Daily Greens contains:
Calories: 15
Dietary Fiber: <1g
Total Carbs: 2g
Protein: 1g
Sodium (as Sea Salt): 82mg
KSM-66: 650mg
Amylase: 100mg
How Much Does it Cost?
Pricing may vary, but at the time of writing, Vitauthority Daily Greens is available on their website for $34.99 for a 30 serving tub.
That comes out to almost exactly $1 per serving.
What Does Vitauthority Daily Greens Taste Like?
Many prominent green powders overlook the taste and wind up with a rather unfortunate flavor.
That is another area where Vitauthority separates themselves from the pack. Vitauthority Daily Greens focused heavily on the taste, doing months of research.
Vitauthority Daily Greens comes in two different flavors: lime mint and hint of orange.
They are both subtle but tasty flavors. Hint of orange has notes of citrus, while lime mint is a bit sweeter.
One of the big perks is that Vitauthority doesn't use any artificial sweeteners. Both flavors are created with all-natural ingredients.
While some people may be willing to choke down a flavor they don't like because they know the value of the nutrients included in the recipe, it's certainly easier and more enjoyable when it tastes good.
With these great flavors, taking your daily greens isn't something you have to do; it's something you get to do.
FAQ's
Now that you know the basics of Vitauthority Daily Greens, let's take some time to answer some of the most frequently asked questions about this supplement.
Vitauthority Daily Greens produces excellent results. Dehydrated powder supplements are typically much more conducive to absorption than supplement pills.
All the better, Vitauthority Daily Greens features amylase, an enzyme which makes it easier for your body to absorb the nutrients in the supplement.
One of the main things that sets Vitauthority apart from its competitors is its emphasis on detoxing; the antioxidant blend is designed to clear toxins out of your body.
Another factor that makes this supplement different from the rest is the focus on taste. Vitauthority Daily Greens is available in two delicious flavors.
Aside from cold water, you can also mix Vitauthority Daily Greens with milk, almond milk, or incorporate it in a smoothie.
No, Vitauthority Daily Greens does not have any artificial sweeteners. It is made with all-natural flavoring.
Yes, Vitauthority Daily Greens is safe to use with other supplements. In fact, Vitauthority offers a Lipo Nourish product that is designed to be paired with their daily greens.
Green powders typically contain a wide variety of chlorophyll-rich vegetables, grasses, and herbs.
Some of the most common vegetables include:
Broccoli

Spinach

Kale

Tomatoes

Beets

Collards
Green powders may also contain probiotics, seed or tea extracts, and antioxidant-rich fruits.
Final Thoughts
Vitauthority Daily Greens is a perfect supplement for people looking to boost their holistic health, while detoxing their body.
We hope you learned a thing or two about this incredible health-boosting supplement in our Vitauthority Daily Greens review. Order yours today!
It's the ultimate detox drink—the fastest way to a healthier, fitter, & more energetic you.
---
---
Vitauthority Daily Greens Reviews
There are no reviews yet. Be the first one to write one.
Vitauthority Daily Greens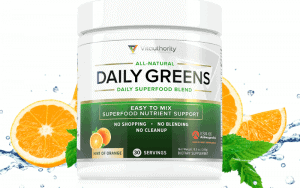 Daily Greens contains everything good for you and helps get rid of everything that is bad for you. It's the ultimate detox drink.
Product Brand: Vitauthority
Product In-Stock: InStock