To Do List App for Android
Around three months ago I started working with mobile apps. I handle the Android side of development, my brother the iOS side (iPhone and iPad), and there's a designer that takes care of the visual aspects.
We already shipped a couple of simple apps (here's the website of the company if you want to check it out, though it's in Portuguese), and we are working on some complex ones too that will take a while to get completed.
Last week I released an app that I think you guys might find useful: it's called To Do List Simplified.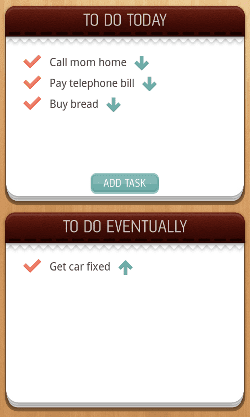 Basically I was tired of the complexity of most to do list apps and managers, and I decided to create a really simple one for my own use. In fact I was not planning to release it, but a friend of mine tested the app and really liked it, so he convinced me to make the app public.
On the app you have only 3 actions:
Add a task (either to the "To Do Today" section or to the "To Do Eventually" one)
Remove a task you already completed
Move a task from "Today" to "Eventually" and vice-versa.
That's it. There's only one screen as well, as you can see on the image above.
The app is available for Android devices so far, and if people find it useful we'll make it available on the iPhone as well. If you download and like the app make sure to give it a positive review!
Browse all articles on the Software category
4 Responses to "To Do List App for Android"
Ehsan Ullah

Thanks for sharing that app here Daniel. That is something which every Android user should check out. Will tweet it.

Trent Dyrsmid

Everybody needs a to do list app. Thanks.

Manoj Rawal

Excellent apps.
nice list of android apps list! Just what I'm searching, free apps are my favorites!

Ian Eberle

This is really awesome, Daniel! Thank you for creating and sharing this app with me. I recently switched from iOS to Android and I miss the Reminders app that my iPhone had. I tried many other to-do apps on the Android market, but they were all to clunky and hard to use. Thanks for making this simple – I will definitely recommend it to my friends.
Comments are closed.