DBT is research-focused. When you buy through links on our site, we may earn an affiliate commission. Learn more
Still on the fence about whether Thrive Architect is right for you?
We dug into this powerful WordPress platform to identify what's great about it, and what's not so great.
Whether you run a blog or personal website, or you're a digital marketer who needs to manage hundreds of different websites and landing pages, it's safe to say that maintaining your sites takes up huge chunks of your time.
Wouldn't it be nice to have someone in your corner who could handle the heavy lifting of coding and design, so you can instead focus on managing your business, or dare I say, enjoying some free time?
Thankfully, that's precisely what Thrive Architect can do for you.
Thrive Architect is a smartly designed drag-and-drop editor for WordPress that makes it easier than ever before to create beautiful and professional-looking websites, landing pages, and blogs without having to spend hours coding.
Today, we're going to take a closer look at this powerful software to help you decide if it's a solid fit for your business in our Thrive Architect review.
What is Thrive Architect?
If you're familiar with WordPress, then you know that creating new pages for your site can be a bit of a crapshoot.
While WordPress is by far the most powerful and useful blogging platform in the world, it was never intended to deliver the beautiful and polished design that you need.
Not without hours and hours of coding, at least.
Today, 35% of the entire internet runs on WordPress. Imagine all the time those site owners spend on maintaining their sites.
But with Thrive Architect, all that time spent coding and building pages can be a thing of the past.
Thrive Architect allows you to take all the heavy lifting out of the equation, instead relying on a simple and intuitive drag and drop editor to make changes.
Before you know it, Thrive Architect spits out a beautiful page that's built with conversion in mind.
Thrive Architect Features
Let's take a look at Thrive Architect's most notable features.
Over 300 Templates
Thrive Architect offers over 300 beautifully designed templates that work across every WordPress theme, so there's no concern for whether or not the template you fall in love with will work on your site.
Whether you're creating sales pages, a funnel builder, a new blog post, or anything in between, you'll have plenty of great choices.
Page Elements
The platform offers no shortage of page elements, and there are tons of different options to help you tell your story.
Here are some of the page elements you can make use of with their drag-and-drop editor.
CTAs

Click-to-tweet

Buttons

Content boxes

Social comments

Countdown timers

Testimonials

Lead generation forms

Split Testing
A/B testing is one of the most critical functions for digital marketers, and without it, it's virtually impossible to identify what's working and what isn't.
With Thrive Architect, you'll be able to split test page designs directly from the editor.
Drag-and-Drop Editing
We can't stress this feature enough. The drag-and-drop functionality of Thrive Architect saves time and frustration while allowing you to create pages that exceed what you ever thought would be possible on your own.
Mobile Responsive Themes
All of Thrive Architects 300+ themes are mobile responsive, so you'll never have to worry about your page not displaying correctly across multiple devices.
Plus, the editor allows you to see exactly how the page will lay out across four different screen resolutions, which makes it easy to make adjustments, so your pages display precisely how you want them to.
Thrive Architect Pricing
Thrive Architect offers two different pricing structures, so you'll be able to find a plan that fits your needs, whether you prefer to own the software outright, or pay for a subscription.
Here are your options:
With the single license plan, you'll pay a one-time price of $67, and that provides you with all of the features of Thrive Architect for use on a single website, and one-year of support.
If you run multiple sites, their 5-license pack provides you with the same great features and support, but you can install it on as many as five websites.
Or, if you prefer the SaaS model, Thrive Membership will run you $19 per month, and it includes all the features of the platform, plus unlimited service for the life of your subscription.
Who Should Use Thrive Architect?
Thrive Architect is ideal for any website owner who is frustrated by how time-consuming and difficult it can be to produce great looking landing pages for their WordPress site.
This platform is especially suited for digital marketers who need to be able to crank out tons of landing pages, funnels, or blogs.
FAQ's
Below you will find answers to some of the most frequently asked questions concerning Thrive Architect.
Absolutely. Thrive Architect is the original WordPress page builder, and they have a reputation for being the best, too.
Check out other Thrive Architect reviews on G2, where they have an impressive 4.4 of 5-star rating.
Yes! Regardless of the theme you have installed, Thrive Architect is compatible with it, and you'll be able to take advantage of all of the features of the platform.
Unfortunately, Thrive Architect only works with WordPress.
If you don't run your site on this platform, you'll need to find an alternative.
Final Verdict
Thrive Architect is a god-send for time-strapped marketers who are looking to produce incredible landing pages that convert without spending half their day coding them.
This powerful page builder is also packed with features marketers are sure to love, like lead building forms, conversion tools, and A/B testing.
After checking out our Thrive Architect review, you should have a much better idea of how this powerful page building software can help your business.
So, what are you waiting for? Check out Thrive Architect today!
A visual page builder for WordPress that is built from the ground up for business and conversion focused websites.
---
Thrive Architect vs. Alternatives
---
There are no reviews yet. Be the first one to write one.
Thrive Architect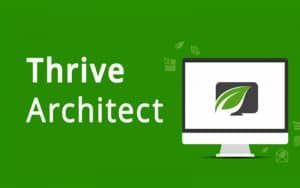 Thrive Architect is the original WordPress landing page builder, and it's still one of the best options.
Product Brand: Thrive Themes
Product In-Stock: InStock