The Revolution Theme Goes Open Source
You probably have come across the Revolution theme once or twice right? Created by my friend Brian Gardner (who also designed the first custom theme for Daily Blog Tips long time ago), it was a huge success around the blogosphere.
The themes used to sell for $79, and they were selling like hot cakes. Just think that Brian was able to quit his full time job thanks to the online revenues he was making.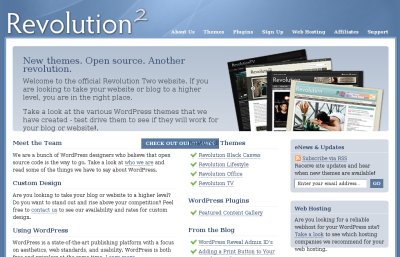 Brian is now shifting the direction of his project though. He wants to be more aligned with the open source mentality behind WordPress, and therefore he will be launching a whole new set of Revolution themes under an open source license. In other words, you can download and use them for free.
Currently they have 14 themes available, and I believe more are coming soon. You can visit the site on RevolutionTwo.com (a bit slow at the moment, probably due to the high load they are seeing).
If you need support with the themes, Brian will also be providing a subscription plan that will come with all sorts of perks and assistance.
I applaud Brian for taking this route. It is a good thing for the whole WordPress community given his design talent, and I am sure it will be another home run for him.
Browse all articles on the WordPress category
31 Responses to "The Revolution Theme Goes Open Source"
merapuland

it is not free anymore. checked and double checked. looks like they changed their minds to give the themes for free.
Comments are closed.