Test How Your Website Looks On The iPhone
A couple of weeks ago I came across an interesting tool that aims to help website owners and developers to see how their websites look on the iPhone, called iPhoney.
The problem with that tool is that it's a desktop application, and that it only runs on OSX. I am a Linux user, so that was a bummer. I figured there would be something similar available online, though, and after some research I found it.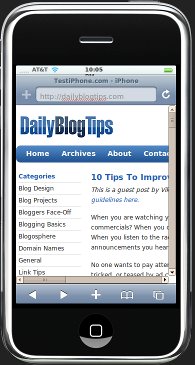 It's called TestiPhone.com, and it pretty much allows you to load any web page and see how it will look on the iPhone. The only thing missing is the touch screen (but you can use the scroll bars to move horizontally and vertically).
If anyone decides to test the iPhoney tool as well let us know how they compare.
Browse all articles on the Web Tools category
23 Responses to "Test How Your Website Looks On The iPhone"
Moki's Fanfiction Blog

TestiPhone worked great for me. I don't have an iPhone or any kind of smart phone so it was nice to get a peek of how both of my sites look on them. Thanks for the links!

Phil

Just looked at my site on this and on my iphone…..it gives very different results 🙁

Sathish @ TechieMania

This tool looks really cool. I will give this a try for sure. Thanks for sharing.

Robert @ Techinfo-4u.com

Now there's something handy! Cheers for that, good to see that all my sites work grand!

Brent Stangel

That's pretty cool. My main sites work perfectly.
Good to know.
Thanks for this interesting post.
Brent

Jason Bridgewater

Testing on multiple browsers and platforms should be common practice by now anyway.

I recommend testing on as many of the latest popular gadgets as you can realistically manage.

I used web visitor stats from benchmarking tools as a guide.

I had visitors coming from Firefox, IE, Safari, PS3, other mobiles so i tested on iPhone, Samsung Wave or Android based phones. Maybe overkill for some people but depends on the purpose of your website and how many visitors you realistically aim to get.

jason

I've wondered what my blog looks like on the iphone. Hopefully, someday I will find out.

Rahul @ MazaKaro

that absolutely helps, and lots of benefits , i loved that it works even on linux !!!!!

Dan

I don't have an iPhone, but I have an Ipod Touch and my website looks a lot different than what TestIPhone produced. It doesn't seem to resize properly.

Sleepless Blogger

Sorry, but this is rather useless.

When you load a page on a real iPhone, it is zoomed so that the whole width is visible. The user can then zoom in. This is a key factor to be considered when designing a website targeting the iPhone, and this "simulator" does not reproduce that.

It would also be cool if it would declare itself as an iPhone when loading the page. There are wordpress plugins that override the standard theme when the browser is an iPhone and something to test it (other than a real iPhone) would be cool.

Nice try, though.

Web Marketing Tips

This one is simply superb and I am sure this is going to be more beneficial in coming days.

Template Faerie

I tried both iPhoney and TestiPhone.com—they both work nicely and my blog previews great, but according to what people are saying here, it's not accurate.

Thanks for sharing! 🙂

ajaxus

It is not really working at all. All my sites are iPhone-ready but not according to this simulator.

Nice try and maybe next time check what you write.

Regards

Nick

Tried it.

Doesn't look anything like it does on a real iPhone. Sorry…. I did compare it, not even close lol.

If you're a web designer and you want to test to see what your web pages would look like on the iPhone, don't use this site cause it's not even comparable to the real thing.

Daniel Scocco

The iPhoney one should work closer to the real iPhone though. Did you try it?

Nick

No, Because I don't have a Mac, but I compared the second on with my Dad's iPhone and it's just not comparable.

Winning Ideas

Great. My Blog also works fine 🙂

Thanks Daniel for the tip.

Manuel Ignacio López Quintero

The best way to test your web application is using the Apple device. Especially if you make rules based on touching.

Anyway, if you use static pages these tools are sufficient.

Congratulations on your blog!

Josh Garcia

Hey Daniel,

That is a cool tool to use. Thanks for sharing it!

Senthil Ramesh

Thats wonderful buddy. I was looking for such a tool for long time 🙂

Web Marketing Tips

yeah as more and more people are going for mobile using so this kind of thing is really useful

Jon Clayton

I am also a Linux user, but the TestiPhone.com worked pretty well. Thank you for the tip!

Web Marketing Tips

yes we are really thankful to daniel for providing this kind of information everytime.
Comments are closed.