Reading Books Is Still Necessary, But Are You Reading Them?
Last Monday we had a poll asking the readers whether or not they still consider reading books to be necessary for personal and professional success. Over 250 people voted, and the results are illustrated in the image below: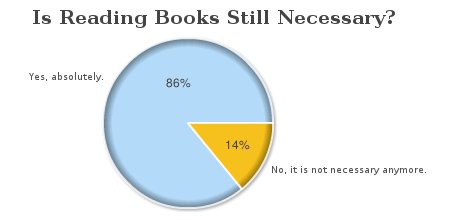 As you can see, the vast majority of people still consider reading books essential. My personal opinion goes on the same direction. We also had plenty of insightful comments on that post.

Here is one from Alex Iskold (Alex is a really successful web entrepreneur):
Reading books is important because information consumed via a book is different from the one online. Book consumption is systematical and complete. The online consumption is search-driven, interruptable and overall attention-deprived.

The whole notion that you can understand the world in byte-size chunks without giving it deep thought is pretty broken, in my opinion.
Here is another one from Madeline:
Reading books for "personal and professional success" is more important now than ever for (in my mind) one main reason: empathy.

It's so easy to read a tidbit of information and judge others quickly. I think it's important, now more than ever, that we try to understand other viewpoints: cultural, business, religious, and more.

Reading a book written by a person who has a completely different viewpoint and set of circumstances, and feeling by the end of the book that you understand where they are coming from and why they would act the way they did is a priceless, mind-opening experience.

And I can't think of another way to accomplish it, apart from having good friends who can impart it to us – which I'm guessing most of us don't.

Examples of people I've learned to relate to by books alone:
– orthodox Mormons
– mothers of stillborn children
– mother of serial killer
– hermaphrodite
– someone living in a communist country
– someone living in a violent relationship

I don't know any of the above except through books, but I feel I can empathize, even though I may not truly understand or agree.
Even the people who answered "No, books are not necessary" pretty much agreed that books have their value.
So reading books is important and necessary, but are you reading them?
I can speak for myself and say that I read much less than what I feel I should. Despite setting ambitious goals at the beginning of every year, I always end up reading 12 or so books, so one book every month.
This is what I consider to be the very minimum number of books that anyone should read. People that are top of their game usually read a lot more, say 30 or even 40 books every year.
This year I am aiming for 20 books. We will see how it goes.
What about you. Are you reading how much you think you should? If not, why not?
Browse all articles on the General category
33 Responses to "Reading Books Is Still Necessary, But Are You Reading Them?"
Tyrone – Internet Business Path

Books are treasures that authors have written for knowledge and wisdom to spread. With a book, you can just read a chapter or two and travel around the world within its pages.

Though you'll get nauseous of sitting in front of a book with a number of almost 700 pages, the book, apart from experience is the best teacher.

Although at times, it will depend on the book that you chose.

NO matter how muh you hate reading books, in the end, you will have to read one to search for knowledge that cannot always be found online or by mouth.

Ibrahim | ZenCollegeLife.com

Reading is essential, not only for blogging, but for your own growth, and strength of mind. It's one of those things that will never go out of style.

Damon

I used to read books voraciously. Then I stopped for two years. I honestly believe I am a less intersting person for it.

I stopped because I got caught up in an online computer game and blogged about it with some success.

I have recently quit the game and stopped writing that blog.

In the past 3 days I have read 2 books and my brain is swimming with ideas again. I have also started a new blog that I won't be afraid to share with my professional contacts once I get more content out there.

julius

Oh yes I read them. It is my favorite past time during my dialysis sessions, not to mention that I really LOVE reading. I always go to bookstores or book sale clubs whenever I could. I like Egyptology, Cooking, Archeology, Courtroom Drama, Computers, and almost anything that would impart knowledge on how things work, for I am an enthusiastic person by nature.

SEM Specialist

Yes book are really a good source of info. Every time there was a new one which I think could be insightful I always make it a point that I get a copy. Now that I have venture on internet marketing I also found that reading a good Ebook is also fascinating. Some just really wanted to make a sale and promote their product but are just full-packed with useful info which you can use how to expand your online business farther.

Cheyenne

Simone

I don't think it's a matter of books being a better medium for information. The problem is that contents of books are checked by reviewers (both linguists and matter experts), and they are developed with a logical flow.
If a blog or tech site applied the same degree of accuracy there would be no difference between online vs books.

Zaheen Bagasrawala

Hey Daniel,

This post was more interesting than what I expected. The reason: I had voted too…! Thanks Daniel, I really feel as a part of community now…

Suzanne Franco

Daniel (and others) … this has been a fascinating topic to follow – thanks for the thought provoking post and comments.

I'd love to know some of the books that have made their way to your reading list for this year Daniel – Care to share some of them? *SmiLes* Suzanne

Tumblemoose

Wow.

I have to say that I'm a little shocked (and dis-heartened) to see that 14% of folks think that books are unnecessary.

That is a scary percentage.

Bummer.

George

Fatin Pauzi

Maybe every knowledge is jut in your fingertips as you are only could find it by online. But, in a certain topic such as motivation, I prefer to read it from book.

Ben

Sorry guys, I quit reading books whenever I needed to get bifocals 6 years ago. The print in most books is too small and I'm too cheap to pay a premium for large print books.

Personally, I think you can get enough info from the internet that reading books is just about obsolete. One of the reasons newspapers are going down the tubes.

make money from home

I think people should read more books, I am part of a book club and we review books every month or so. I think it helps you to read, as I found I was just doing it for work based projects but now I read personally as well for my book review and I enjoy it, it helps me. Really recommend anyone reading a few books a year, don't set yourself targets.

Bamboo Forest – PunIntended

I'd like to read two books a month. I think that is a good aim.

Small Steps to Health

Before I discovered blogging, I was reading a good 35-40 books a year. Now it is more like 20 books a year. I just spend more time in the evening working on my blog or visiting other blogs. It is not that I do not like to read anymore, the nature of blogging requires more reading and writing than before, just that my focus on reading books is a lot less.

-asithi

The Word Seeker

I am aiming to read 10 books and 5 Ebooks. Reading to me is educational and fun. I learn more when I read and I feel that much more smarter, that is a very good thing.

Sheila Atwood

I love books. I have been a reader all of my life. I never go to bed without reading something. Now I have added study time every morning.

I can not imagine missing out on value I get from reading books. Frazier's Cold Mountain is pure poetry, Barbara Kingsolver's Poisonwood Bible changed my life. The Tortilla Curtain by T.C. Boyle gave me a new vision.

Right now I am reading Atlas Shrugged, by Ayn Rand. WOW!

Sheila

Ether64

I'm glad that it ranks high, because that's the arena I'm in. I don't like reading online except technical stuff, cause I can click it off when it makes my eyes blur. Peace.

Mary H.

"however, these days if I really love a book, I will only read about 1/4 to 1/2 of it. You really can get the main ideas within a 100 pages of any book."

@Meds

depends on the book. with most books, you definitely can get the main ideas of the story line and plot within 1/4 to 1/2 of the book.

However, with many well written works of fiction, the author is carefully weaving character development, theme and other story elements throughout the life of the novel, and much understanding is lost by not reading the entire book.

Even most works of non-fiction, I think the author often uses the entire book to build up arguments, and chooses to present certain facts in certain ways at certain times.

Of course, I'm not talking at all about books used for reference-type purposes, where the reader is only interested in a certain section of the book.

Mary H.

Mary H.

at the end of 2007, I read a blog post where someone had set a goal to read at least 50 books for the coming year (or, approximately 1 per week).

I decided to do this last year and actually kept a log of what I read and managed to make 50+.

I find many people will say they have no time to read, but really, it's a matter of making a bit of time here and there. If you have a really good book, it always seems to be easy to make the time. 🙂

It reality, though, given the incredible amount of time Americans spend on the internet and watching TV, I think people do have time for reading, they're just choosing other ways to spend their time.

I do what Jodith does, and usually read for a little bit every night before bed. Even if I just read a bit every night, the time adds up pretty fast. I also commute by train 2-3 days a week, which gives me several more hours a week for reading.

cheers,

Mary H.

RB

I read a lot and make it a point to read more when I find myself doing other things with my spare time. I especially read nonfiction.

Nate @ Debt-free Scholar

I review books on my blog, which is nice because it forces me to read at least one book a week.

Thanks,
Nate

Jodith

I generally read at least one book a week, sometimes more depending on how much time I have and how fast a read the current book is. Most of the time, I read for around 30 minutes when I get up in the morning and 30 minutes to an hour each night before bed.

What can I say, I've always been a very avid reader.

Visalittleboy

I love reading books, but I love reading paper books more than reading books on computer. Reading on computer for long makes my eyes full of pain. I still need reading whenever I still need knowledge…

Nikhil

I just love books(Really).
I have also subscribed for the computer magazine so if i dont have book I just go through the magazines.
Currently I am reading The Google Story and after completing this I am going for The Warren Buffet Way.
I love to read mostly inspirational books, it helps to keep my energy level high all day….

Daniel Scocco

@Juan, this year was "Wikinomics." I still got finish it, but it is a really nice book. Maybe I should write a review here.

Juan

Daniel, which one is the best book you have read this year??

Meds

I don't like reading books on the computer at all. I fond the traditional books more enjoyable, however, these days if I really love a book, I will only read about 1/4 to 1/2 of it. You really can get the main ideas within a 100 pages of any book.

super affiliatez

I'm a big avid reader and I suggest that there is nothing that would replace book even for centuries to comes if you will! And the information you get from books are complete and different from the one you get on the internet.

Everyone already aware that, there are changes yet to come about how the information written in a books are now gaining more ground in the form of electronic books world. But that don't mean that you can replace it with something else. That's my opinion!

Daniel Scocco

@Chetan, paper or electronic is just a matter of preference. As long as you are reading them you are fine.

Chetan

I also agree that books are still the best way to get knowledge. However, I don't prefer reading paper books. 🙂 Reading ebooks is my choice.
Comments are closed.