PSD to WordPress Project Still Going Strong
Back in 2009 I wrote about a company that was developing a software to convert PSD files (i.e., the Photopshop formar) into functional WordPress themes automatically. They only had a beta version, and at that point I wasn't sure if the project would go forward or not (as it represented quite a technical challenge).
It looks like they pulled it off, and the official product has already been released. Called Divine Elemente, it's a Photoshop plugin that will convert your PSD files into WordPress themes on the fly, without the need to touch code.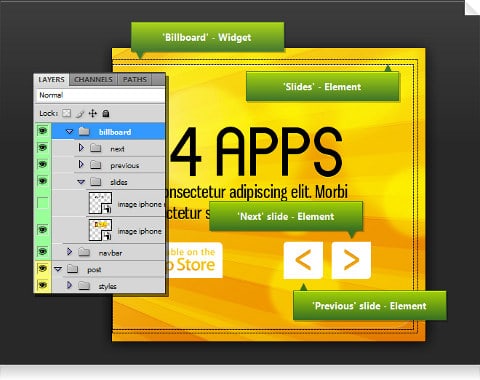 Apart from the actual conversion feature the plugin also comes with a bunch of tools to help theme designers, including the possibility to create several pages from the same layout, typography tools and a system called "960 Grid", which aims to facilitate the create of themes for beginners.
How much?
The product costs $199, and there's a 30-day free trial for you test it out. It's not the cheapest Photoshop plugin around, but if you think that you could use it to start selling themes or creating some free ones to promote your website/business it becomes an interesting investment.
If any of you guys are using it please share with us your feedback.
Browse all articles on the WordPress category
8 Responses to "PSD to WordPress Project Still Going Strong"
Swamykant

Seems interesting. Let me try it.

Web Marketing Tips

With this plugins I am sure many designer will be able to fly their imagination.

This one is sounding great … but would love to know which language they will use for wordpress theme.

Daniel Scocco

@Raj, theme frameworks like Thesis or Genesis have their own child themes, so I don't so.

@Dave, code should be WC3 valid according to their site.

Sudheer Ranga

This is a good plugin but lessens our coding knowledge. Its not that difficult to convert PSD to WordPress if you first convert PSD to HTML and then to WordPress.

Dave in Belize

I just wonder how much the "automagical" conversion will add bloated and useless code, causing slower load times and resulting slight google penalties

Raj

I have doubt in my mind.. do they support wordpress theme frameworks..?

Irfan

Now this is something great for us (graphic designers). We designs but we can't code, we are good photoshop but we are bad at coding. Divine, you guys have made something awesome. Thanks a ton! 🙂

Blake @ Avid Local Marketing

There is another plugin like this called Site Grinder that I tried using. They rely very heavily on their own system of tags within the layers of your PSD. Since anyone worth their own weight in graphic design uses layers like crazy, that aspect shouldn't be a big deal.

With Site Grinder, the learning curve was kind of high and the code was a little bulky and slow. Also, there were lots of imperfections when making the conversion (text, spacing, alignment, etc.).

At the end of the day, my company ended up deciding that learning to slide and dice PSDs to convert into html and then to wordpress was better because the code was more lean and the design matched more accurately. At first it seemed like it would take longer to develop this skillset, but when you consider the learning curve of the custom tags and then having to go back and tweek everything to make it look good after the psd->wordpress conversion, it didn't save much time at all. 🙁

Lynda dot Com is a great place to learn how to do PSD->wordpress conversions if you want to have a solid foundation (instead of hacks that don't always work).
Comments are closed.