DBT is research-focused. When you buy through links on our site, we may earn an affiliate commission. Learn more
Have you ever had a fantastic workout but felt tired and sluggish for the next day?
Would you love to know how it feels to work out without feeling run down?
Branched chain amino acids can help with muscle recovery, which can help you avoid excessive fatigue.
If you want to take those amino acids, consider Promix BCAA, which has everything you need, and it comes in a line of flavors.
Keep reading our Promix BCAA review to learn more.
Promix BCAA is a protein powder that uses branched chain amino acids (BCAAs) to maintain muscle mass and help with protein synthesis.
Your body can absorb the powder, and it can help increase your endurance during a workout.
After a workout, the BCAAs can help your body recover, which can reduce the amount of time you feel sore.
Both men and women can take advantage of the protein powder, and you can easily mix it with a glass of water.
The best time to drink it is right before or during a workout, but you can also drink it between meals.
Depending on how much you exercise, you can use 8 to 20 ounces of water with a serving of the Promix BCAA powder.
Promix BCAA Ingredients & Nutrition Facts
Promix BCAA contains crystallized lime juice, non-GMO cane sugar and whole leaf Stevia extract.
It also uses natural flavors and fruit juices, but the specific ones will depend on the flavor you choose.
You can choose from flavors such as cherry limeade, lemonade and raspberry lemonade.
If you don't want to have a flavor, you can get Promix BCAA in unflavored capsules.
One serving of the powder contains 5 grams of branched chain amino acids and 1 gram of carbs.
Each serving only contains 5 calories, and the formula is perfect for everyone from professional athletes to people working out at home.
Promix BCAA doesn't contain any artificial colors or flavors, and it's also free from dairy, soy and gluten.
The powder is corn-free, and it is a non-GMO product. It only uses Stevia as a sweetener, so it's a great choice if you want something all-natural.
Nutrition Facts
Per serving (scoop), Promix BCAA contains:
Calories: 5
Total Carbohydrates: 1g
Vitamin C: 67% DV
L-Leucine: 2.5g
L-Isoleucine: 1.25g
L-Valine: 1.25g
How Much Does it Cost?
A 10.58-ounce tub of Promix BCAA costs $29.99 if you buy it one time. But if you want to subscribe, you can save $3 per tub, so each one will cost $26.99.
Each of the flavors cost the same, so you don't have to worry about the flavor you want costing more.
If you want to try the unflavored capsules, you can get a bottle of 400 capsules for $19.99.
With a subscription, each bottle will cost $17.99.
What Does Promix BCAA Taste Like?
Promix BCAA tastes different depending on the flavor you choose. While the capsules won't taste like anything, all of the flavors taste like their names.
You can expect that the cherry limeade flavor will taste like you're drinking cherry limeade.
However, you may want to consider your sweet tooth since the powder can be a little sweet.
You can adjust the flavor level by adding more or less water, so you can choose how strong you want the flavor to be.
The lack of artificial flavors means that it probably won't taste like other flavored powders. But it can taste cleaner and more natural than the competition.
Also, the more you drink it, the more your taste buds will adapt, no matter what flavor you choose.
First, try a flavor that you already enjoy in other forms to increase the chances that you'll like Promix BCAA.
FAQ's
Promix BCAA is an excellent protein powder to use during a workout. But if you're still not convinced that you should try it, you may have some questions.
Any new product that you try can be scary, especially when it comes to your health.
So consider these common questions that people have before you try Promix BCAA.
The branched chain amino acids in the Promix powder are what make it effective.
BCAA supplements are useful because they contain amino acids that our bodies don't produce naturally.
When you take BCAAs, your muscles break them down and use them for energy.
You can also use them to build protein in your muscles.
If you take BCAAs before or during a workout, you can reduce the fatigue that you might feel otherwise.
One study with general BCAAs found that people taking the supplement were able to exercise for longer than people who took a placebo.
While you have to test Promix BCAA to see if it works for you, odds are it works.
One serving contains a bit of all three BCAAs that you need, and it doesn't have any unnecessary ingredients.
Taking BCAAs can help you be healthier by reducing exercise fatigue and muscle soreness.
When that happens, you can exercise for longer without feeling as tired or in pain. And if you can exercise more, you can enjoy the benefits of getting active.
If you feel sore, you may not want to work out, which can keep you from reaching your weight loss goals as easily.
But if you don't have that same tenderness the day after working out, you won't have to take a day off.
BCAAs can also have a direct effect on your weight by helping you reduce fat.
According to one study, people who consume more BCAAs have a lower chance of being overweight or obese.
Yes. Studies show that BCAAs help with muscle recovery, and they help prevent muscles from becoming tired during workouts.
Final Thoughts
If you want an easy way to increase your energy levels during and after a workout, consider taking branched chain amino acids.
In our Promix BCAA review, we considered what the powder is and how it can help.
Almost anyone can benefit from mixing it with water and drinking it during a workout. But before you try it yourself, don't be afraid to consult a doctor.
And be sure to try your favorite flavor of Promix BCAA to see if it works for you.
The perfect intra-workout refresher to sip during training. Give your body the building blocks it needs to stimulate protein synthesis and decrease muscular breakdown.
---
Promix BCAA vs. Alternatives
---
There are no reviews yet. Be the first one to write one.
Promix BCAA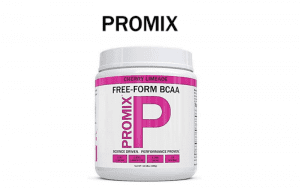 The perfect intra-workout refresher to sip during training. Give your body the building blocks it needs to stimulate protein synthesis and decrease muscular breakdown.
Product Brand: Promix Nutrition
Product In-Stock: InStock