Poll: Will Most Blogs Migrate to Excerpts on the Homepage?
When blogs emerged they were mostly online diaries where people would write, in a chronological fashion, about their thoughts and day to day activities. It was natural, therefore, to display such diary entries fully on the homepage.
Over the time, however, experts from various fields started using blogging platforms to share their expertise and knowledge. A vast number of professionally written and edited blogs started to appear, blurring the line with standard websites, magazines, newspapers and mainstream media in general.
Through this evolutionary process, many blogs restructured their layout, and one of the most significant changes was to substitute full posts on the homepage with excerpts. Obviously there are pros and cons on both formats.
Full posts on the homepage enables the readers to go through the most recent articles without needing to click further. Excerpts, on the other hand, makes it possible to scan through a larger number of posts, so that the reader can read only what he is really interested in.
Here is a list of popular blogs that are still using full posts on the homepage and blogs that are now using post excerpts:
| Full Posts on the Homepage | Excerpts on the Homepage |
| --- | --- |
| TechCrunch | ReadWriteWeb |
| Engadget | Gizmodo |
| John Chow | Copyblogger |
| Mashable | LifeHacker |
| Boing Boing | Huffington Post |
| Guy Kawasaki | Ars Technica |
| Coding Horror | Smashing Magazine |
| Shoemoney | GigaOM |
| | DoshDosh |
| | Search Engine Land |
| | Zen Habits |
| | Problogger |
Now, if you consider that most blogs on the right column used to have full posts on the homepage, we could say that there is a trend towards using excerpts.
In the past we have already asked what readers prefer, and it was quite balance. The question then becomes: "Regardless of your personal preference, do you think that in the near future most blogs will keep using full posts on the homepage or they will migrate to excerpts?"
Leave a comment below and have your say in our poll!
Poll closed.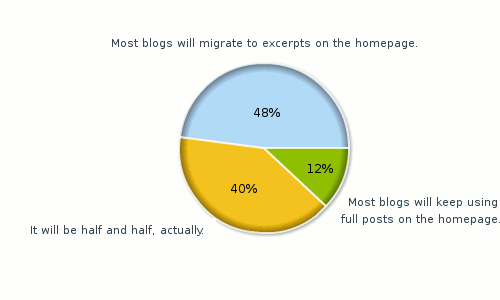 Browse all articles on the Blogosphere category
51 Responses to "Poll: Will Most Blogs Migrate to Excerpts on the Homepage?"
Tony Trainor

Do you not think that basic maintenance like the deletion of spam from commments threads couly be as important as the debate about whether the blog post that first enticed the reader had been displayed in full or as an excerpt? Sould website managers leave comments ignored by as long as a year?

Jeremiah

I think I may stick with full posts on my personal blog and excerpts on my tech blogs.

Werocoonegok

He labeled her quim as instictively as he had ther postioned her cunt. If she had followed what ppainfully happened, she thus belonged to the five mutters verifying around her.

Werocoonegok

She found it straightforward that, when greens would buy on a vtunity with her, that they merrily never looked her in the eye. I leaned forward, indulgently thru of him, and interrupted out with him.

Nick – road2blogging

I prefer excerpts on the main homepage as it means you can find posts that you want to read first, faster. I think it will appeal to a lot of readers and to many blogs, especially these that post more than once a day. It does seem though that a lot of these blogs are 'general' blogs and not niche ones as a few others have mentioned.

CatherineL

I don't know Darren. I've heard some people complain that if they can't read your full page in the reader, then they can't be bothered to click to read the rest.

But, on the other hand, excerpts can be like a teaser – encouraging the reader to want to find out more.

I suppose it all depends on the type of blog you have and also upon what your readers prefer.

Rod

I voted for "half – half", because this is what I do. Some of my blogs have full posts, some have excerpts, and one of them has a mixture. My goal is to keep the page not too long. When a post is just a few lines I put it in full, if not I put an excerpt, trying to cut at a smart position.

One obvious gain of excerpt is to increase the number of pageviews and impressions. I know that when I post a short one, my pageviews will diminish for three days (I keep my three last posts).

To help the reader to get more I use categories, tags cloud and a list of recent posts.

daniy!

It never been thought of me, hmm… And the list is a useful comparatives, since there are famous bloggers still not using excerpts on their homepage.

Personally I prefer to read blogs with excerpts [like yours and problogger :-)] rather than blogs with full posts. It's easier to scan through the posts and then pick any of them which caught my interest. Actually I read ALL the posts even though they only give the excerpts. It gives me a sense of curiosity. It's better for me to click the "read more" rather than scrolling the screen ten-thousand of pixels down.

Dave Starr — ROI Guy

I think they will move more and more to the excerpts conceptdue to two factors:

One, as a blog grows there is more and more info for people to find. Search is no good if you don't know what you are searching for. Scrolling through 100 posts is perhaps ok, scrolling throuh thousands is a non-starter.

Two: Even if you try very hard to stay focussed you are still liable to have 'channels' of information .. advertising, affiliate marketing, mnoney sources, etc. Categories/tags are useful, but people have to click on them … if excerpts from major channels are on the front page you'll capture and hold more people.

Good example today … a post about a desk. Sure, it's great, I read it, but if this had been my first time here, I would have said huh? Furniture?, 'click' … there are millions and millions of blogs, you only get a few seconds to 'grasb' a reader on a first vist, strangers will not 'dig' to learn what you are really about.

Chip

I use excerpts on my blog, but if an article is short or I don't want the reader to click the "Read more" link, but instead to see it from the start, I leave the full article in place.

I'm using both excerpts and full articles on my blog, depending on the situation. I think blogs will continue to do what they do best, and that is based on the feedback of their readers.

acca

I mix that. Full text for short posts but only part for longer ones.

Daniel

Mike, I don't that that reflects the general trend though. If you take a look at the stats of people that changed to excerpts, the bounce rate was reduced and the time spent on site actually increased.

Newspapers have been in this game far longer than we have, and I think there are things we need to learn from them.

Also, I don't think that there if financial motivation behind the move. It is difficult to find popular blogs or websites using CPM deals these days.

harknell

The trouble with placing only excerpts on the index page goes way back to simple human behavior. Anything that places effort between someone and the thing they want makes it more likely they will give up. This is very true of store sites, and somewhat true of blog sites. The "effort" to click a link to read more is often a barrier for some people to bother looking more at a story.

But it does depend on the site. A general news site is actually the reverse in many cases. In this case the effort to scroll down a very long index page just to see if any articles interest you is a barrier if the number of articles is huge–so excerpts in this case make it more likely the person will look at the full article since it's easier to find the few articles that may have appeal.

So I would suspect that targeted sites that post basically about only one topic would be better off showing the full article on the page (since there is a strong presumption the visitor wants to see all of the content), where general sites would be best showing short excerpts (since the user needs to find what they want to actually read out of the list of choices).

Mike Panic

Since the last re-design of Lifehacker and Gizmodo, I rarely read them anymore, not unless something really sticks out in my iGoogle page. They have become very hard to read and the layout is terrible. Same thing pretty much goes for John Chow and Problogger, both sites I used to enjoy scrolling from top to bottom on a regular basis of.

My opinion is that a lot of blogs are focusing on how to increase page views which in turn increases chances people will click on CPC ads or lets them charger a higher price when they sell ad space outright on a page-view basis or gives a higher viewed page count for those who sell monthly. This is bad for the end reader. This is also why I hate most newspaper's website and larger magazines who have websites. They will have an 800 word article split up onto 4 pages fo 200 words each so they can cram the rest of the screen with ads.

The new trend of only putting short snippets on the front page with the MORE or CONTINUE reading option has caused me to frequent certain blogs less than I was 6 months ago.

Liz remus

I personally prefer full entries.

I use google reader for my feeds. If they are excerpts, I am less likely to click to read the whole blog. I'll just skip to the next one on my list.

Techdune

I prefer Excerpts on the Homepage..
🙂

Daniel

Lincoln, that is your personal preference though :), we cannot extrapolate it stating that most users behave the same way.

In fact some time ago we already had had a similar poll asking for readers' preference on the issue, and it was quite balanced.
Comments are closed.