Poll: Will Most Blogs Migrate to Excerpts on the Homepage?
When blogs emerged they were mostly online diaries where people would write, in a chronological fashion, about their thoughts and day to day activities. It was natural, therefore, to display such diary entries fully on the homepage.
Over the time, however, experts from various fields started using blogging platforms to share their expertise and knowledge. A vast number of professionally written and edited blogs started to appear, blurring the line with standard websites, magazines, newspapers and mainstream media in general.
Through this evolutionary process, many blogs restructured their layout, and one of the most significant changes was to substitute full posts on the homepage with excerpts. Obviously there are pros and cons on both formats.
Full posts on the homepage enables the readers to go through the most recent articles without needing to click further. Excerpts, on the other hand, makes it possible to scan through a larger number of posts, so that the reader can read only what he is really interested in.
Here is a list of popular blogs that are still using full posts on the homepage and blogs that are now using post excerpts:
| Full Posts on the Homepage | Excerpts on the Homepage |
| --- | --- |
| TechCrunch | ReadWriteWeb |
| Engadget | Gizmodo |
| John Chow | Copyblogger |
| Mashable | LifeHacker |
| Boing Boing | Huffington Post |
| Guy Kawasaki | Ars Technica |
| Coding Horror | Smashing Magazine |
| Shoemoney | GigaOM |
| | DoshDosh |
| | Search Engine Land |
| | Zen Habits |
| | Problogger |
Now, if you consider that most blogs on the right column used to have full posts on the homepage, we could say that there is a trend towards using excerpts.
In the past we have already asked what readers prefer, and it was quite balance. The question then becomes: "Regardless of your personal preference, do you think that in the near future most blogs will keep using full posts on the homepage or they will migrate to excerpts?"
Leave a comment below and have your say in our poll!
Poll closed.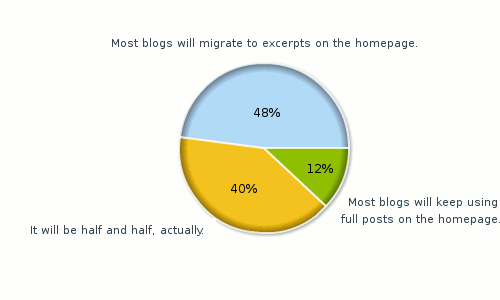 Browse all articles on the Blogosphere category
51 Responses to "Poll: Will Most Blogs Migrate to Excerpts on the Homepage?"
Paulo

Looks like the poll is quite balanced between excerpts and half and half.

Thilak

I think it really depends upon the type of blog. Personal blogs will prefer full posts, whereas professionally edited blogs will opt for excerpts on homepage.

Unless blogging platforms like WordPress start pushing excerpts on homepage, I think full posts will stay

Lincoln

I noticed when I surf from blog to blog that I get extremely annoyed when the blog's home page only includes excerpts to posts. I usually like to read more than one to get a good feel for the blogger, and having to click up new tabs for each post rather than simply scrolling down the page is quite simply an aggravating experience for me. If I'm a regular reader and I'm a few days behind, I sometimes click back and forth just so I can avoid opening up a dozen new tabs.

Really wish bloggers would stop acting like the sky will fall and the world will implode on itself if they don't use excerpts on their index page. 😛

marco

Sometimes excerpts – sometimes full – simply switching when it makes sence.

Olanrewaju O LEWIS

I use excerpts on my web blog and believe this would be a trend in the nearest future because, it helps to captivate the attention of your audience, especially if you have a very good introductory paragraph for you post.

Dan Cole

On my blog, I have the first post full length and all of other posts are excepts. I did this because I post once a day and it allows visitors to read my newest post without clicking.

Michael Aulia

I thought excerpts posts are better.. rather than seeing a big chunk of text with vertical scrollbars on the main page

Daniel

Yeah size of posts are a factor. But there are very few blogs that have such short posts as to justify full posts, gadget blogs are the main ones I can think of now.

Ash Haque

You also have to take into consideration the size of the posts, if Smashing Magazine ever moved to full posts it's height would probably be more than every single blog on the left side combined.

David Airey

Thanks Daniel. I appreciate that.

Inge

Interesting question. As stated above, the main motivation to go from full length to excerpts is to emphasize the type of blog you want to be. We publish on average 4 messages per day (a group blog of +10 writers), originally resulting in (full length) messages to disappear below the fold in no time.

With our new homepage (with excerpts), we could go to 2 column for news (one for highlights and one for 'normal' messages), since everything looks less cluttered. It really seems to me the way to go if you just have a lot of content to present, and if your frequency of updating is high.

Now some statistics from Google Analytics, in order to support my view that working with excerpts can help certain blogs work better. We started in december with the new homepage (excerpts), and used the old homepage in november (full length messages).

Statistics of the homepage (with 9,401 views in december and 8,373 in november; total visitor number (15.000) for the entire site is roughly the same for these 2 months):

9,401 Pageviews
Previous: 8,373 (+12.28%)
-> good: with a similar total amount of visitors, the number of homepage visitors is higher than last month, which means that more people see all our content.

00:01:49 Time on Page
Previous: 00:02:14 (-18.62%)
-> the lower number makes sense, since the real messages are on another page.

29.48% Bounce Rate
Previous: 42.02% (-29.85%)
-> excellent! apparently, people stick longer and are better teased to click further and not leave at once.

25.05% % Exit
Previous: 33.49% (-25.21%)
-> again, excellent! less people leaving, more people clicking through.

I hope this can inspire some of you to re-think the homepage you currently have. This goes two ways: if your homepage is better suited for full length, then try it and see if the numbers support your choice!

Daniel

Congrats your recovering your domain by the way David.

David Airey

Interesting observations Daniel.

I can see more high traffic blogs moving towards excerpts on the homepage.

For me, I still enjoy using your 'homepage excerpts' plugin, showing the latest post in full, with the next 4 as excerpts below.

Daniel

Benny, as far as feeds go, I think that the discussion is quite one sided: 80% of the bloggers use full feed, and 80% of readers only subscribe to full feeds also.

Unless you have an outstanding content people will not subscribe to your partial feeds, so why risk to lose subscribers?

murphyz

I've noticed some blogs on my feedreader are displaying excepts only – and can't establish if this is a blog specific thing, a feedburner thing or just a random thing.

example. I have two blogs, both going through feedburner and both with the 'full posts' checked in the wordpress rss section. One displays the full posts, one displays excerpts.

They are different versions of wordpress, but don't see any other changes between the two.

I feel most blogs, if possible, will display excerpts on their blog, but full post in the RSS.

TzuVelli

I know I have seen this strategy in several places, but, off the top of my head, I cannot think of another blog that uses both. It is not something that I normally take a solid note about. I will have to keep an eye out for it.

You are probably right about the difficulty. It would require a good understanding of the PHP you are working with.

Benny_A

I wonder if part of the reason for excerpts is based on monetizing advertisements and pageviews. If I tease someone with an enticing article enough to get a click out of them to view the full article, I just got 2 impressions from what normally would have been one.

Another poll we could discuss is full articles vs. excerpts in feeds. I love reading my blogs through a reader; and I don't have time to go check out each blog individually to keep up. But, probably 40% of blogs I subscribe to "tease" me with excerpts, which then I have to click to read the full article.

Is this for convenience and lighter feeds to serve? Or is this because these blogs aren't monetizing off my reading when I'm browsing their feed?

Shawn

My blog is a personal business soapbox marketing sales idea generating diary. I'm not competing with ProBlogger or Daily Blog Tips, but I am working hard on it… don't dismiss personal sites. I don't try to monetize my site through ads, but I do sell a lot of the merchandise I make, so… yeah… it's (almost) a living.

Having said all of that allow me to step off of my soapbox and say that I certainly hope that excerpted pages do not take over. I rather prefer having the whole story and not having to dig through layers to find the headline I want to read.

On the other hand, the information provided by Patrick regarding reduced bounce rate is interesting.

Daniel

Patrick, that is an interesting figure indeed.

Daniel

TzuVelli, that is a nice solution, but a difficult one to implement. What other blog has both versions available?

I only know Problogger.

Dee Copeland

I moved to using shorter posts on my homepage and then linking to the full article. It's definitely helped readership. My blog is limited since it's Typepad.

My web guy noticed that I hadn't been receiving many comments and thought it was because you don't really prominently see the comments screen until you click on the title of the article. That wasn't very intuitive, so we moved to excerpts for three reasons.

1. We were able to have more posts on our front page.
2. If readers didn't connect with the first few stories, they had more choices since posts were shorter.
3. When someone read the entire article, they'd see a more prominent and easy-to-access comment box.

Result: higher readership and more comments.

TzuVelli

Daniel,

Blogs like ProBlogger also have the standard Blog page as well – problogger.net/blog/. I think having the blog page that shows full articles as well as a front page that shows excerpts is a nice balance that will appeal to a broader array of readers. An excerpted front page also enables the blogger to showcase more of their work etc.. to new visitors.

Maybe you could add to your poll an entry for using both an excerpted front page and a standard blog page.

That would be the one I would vote for. A blended style of excerpted front page and a full article blog page is the style i will be using on my blog.

Patrick Altoft

The bounce rate for the blogstorm homepage is down about 10% since I changed to a magazine layout last week. This translates to a lot more people who decide to stick around than before.

Daniel

David, I agree with you, I also used the WP optional excerpt.

Gregory, when i refer to personal weblogs I am talking about people writing about their personal lives on the majority of the posts.

David Zemens [1955 Design]

I like to use *optional excerpt* on the home page for two reasons:

1. I can keep the content relatively short and thus have more posts per page, so to speak.

2. I can still have extra XHTML code and images, etc in my excerpt if I use the optional excerpt. Using the standard excerpt prevents these features.

Gregory Pittman

What constitutes a "personal" blog? Is it a blog that recounts one's life, essentially an online diary, or is it also a niche, subject-specific blog (like mine, which is focused on worship) written by one individual?

Are personal blogs and non-personal blogs differentiated by whether or not they earn money?

Not arguing. Just curious.

Bogdan

I would have to say excerpts, since it minimizes the loading time of the website. It shows more articles, leaving the readers to decide which is more interesting.

Daniel

Yeah personal blogs are not concerned here, I also agree that they can keep full posts without major concerns.

Robert Hruzek

I think the determining factor is more likely related to the category of blogs. Those with a "magazine" or "news" format are probably right in migrating toward excerpts. Personal or writing blogs, for instance, might not.

I can also see length of posts being an important factor as well.

Ben

Looks to me that those blogs using excerpts are trying to appeal to a larger audience instead of a niche audience. Nothing wrong with that, because in theory you should have more traffic.

Personally, I think those using excerpts should limit them to 7 or less. More than 7, seems like overload and I usually don't scan past 7. On my blogs, I prefer to use the full post and think a majority of bloggers will continue to do so.
Comments are closed.