Poll Results: 55% of Bloggers Prefer .org over .net Domains
Last Monday I launched a poll asking our readers if they trusted more .org or .net domains. If you ever searched for domain names you probably know that the .com extension, albeit being the best one, is most of the times taken already. People therefore are left with two main options: a .net or a .org version of their wanted domain.
Which one should you pick, however, if you want to maximize the number of people that will trust your website? According to our poll, a .org is slightly more trusted than a .net extension. The result was 55% against 45%.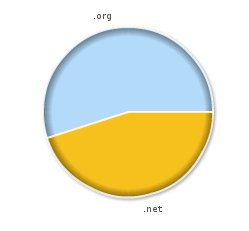 The total number of voters was 217, where119 voted for the .org extension and 98 for the .net.
The final result was more balanced than what I would have expected initially. At some point during the poll the .org extension had almost 70% of the voting preferences in fact, but .net made a come back on the last couple of days.
Some readers commented that each extension serves for a different purpose, and that people should respect that. When the web was conceived, it is true, people wanted .com domains to be used by commercial websites, .net by networks, .org by organizations and so on.
The problem is that over the time they stopped monitoring and restricting who were able to purchase the domains with those extensions, so even a 15-year-old boy in Sri Lanka could pretend to be an organization and buy a .org domain….
In my opinion, the practice of using a specific domain extension depending on your whether you a commercial entity or a network or an organization has been completely eroded, and does not make much sense anymore.
To complicate things even more, ICANN recently also approved the creation or any type of extension whatsoever, like .sex, .microsoft or .shit.
So my rule of thumb remains: always go with a .com!
If you really can't find a free .com that you like, go with a .org, as our readers suggested.
Browse all articles on the Domain Names category
17 Responses to "Poll Results: 55% of Bloggers Prefer .org over .net Domains"
nomad

55% of bloggers ? You mean 55% of your those who voted on your web site, there's a difference you know.

I hate web polls because they make it sound like 55% of the world agree or disagree with something.

55% of your viewers is a tiny spec of the world wide web so no 55% do not prefer .org over .net.

55% = how many actually voted on your blog which doesn't say much.

rufus

I prefer .com to others.as you said,com has always been taken.some times I have to choose info extension

Social Media Marketing Blog

I prefer . COM over .NET or .ORG …

Miss Gisele B.

I always go for a dot com, but if I had to choose another extension, I would have gravitated toward a dot net domain.

Your survey is quite interesting. I've always seen dot org domains as more non-for profit.

Miss Gisele B.

odtaa

The trick with a .net suffix is to pretend that you delibrately went for the .net by calling your blog the something network and bolt a bulletin board on the site – possibly using it as a direct link from the comments.

Keep talking about the network and community of people interested in your topic(s).

I'm suspicious of a .org that does not do good in some – like a contestant in a beauty contest – for cuddly puppies, getting people to be nice to each other, world peace etc. I've seen .org 's used to promote traffic by being the non-commercial side of another site. eg you could be offering a free forum to talk about a topic that is on another site.

I'm sorry to be going on about forums, but I'm just looking at developing one.

Martin

Wow, that is interesting. I had the .net and thought this was great. Now with these results i've bypassed the .org and have just managed to buy the .com. It has to be the best way forward.

Joel Drapper

I much prefer .net to .org.

Potato Chef

I think my knee jerk reaction is to think that .org is a organization that deserves trust. Don't know why I think like that.

.net is lower on the food chain. But still though of higher than .com

All that being said…I would only go with .com Nobody thinks of typing in .org or .net

.gov is thought of but not very highly (that is a joke)

Simon from Otooo

Haha, I'm a 15 year old boy in Australia with a .org 🙂

Rajaie AlKorani

.shit

Nice. How about bull.shit?

Haha, I bet it's already taken!

I agree with you, Daniel. Each of the domains is for a different purpose, but now that anyone can buy a .org, that kinda beats the purpose.

I didn't vote (or did I?), but I would vouch for .org! (Go for the cause!)

Mark Frost

Didn't vote, but would have chosen .net and if it was a site I was planning to dedicate too, I'd pick up .org as well. However, if .com isn't available I usually don't go on to buy the .net (with the exception of my name which I plan on acquiring the .com for sometime).

Ruchir Chawdhry

I always go with .com now. I've made the mistake of going with .net before… .com just looks more professional, if you will.

And another thing is that when people like a site/blog, they remember the name but not necessarily whether it's a .com or a .net. So the next time they want to go to the site they just enter the name with a .com – and they end up on a different site. That the primary reason why I always stick with .com domains…

Destination Infinity

I have a feeling that tech and anything related to tech sites should go with a .net

If it is a general site, .org could be a better option.

I would rather prefer a .co.uk or .in website relating to the geography or the country of origin in case .com is not available…. sometimes even if .com is available….

Destination Infinity

Daniel Scocco

@Blogging Magazin, I have just reported the numbers. Whether you consider a 55%-45% result to be a tie or not is up to you 🙂 .

Himanshu

same as SE7EN. I would also prefer .net over .org just for the fact that net sounds closer to inter-net.

Though I agree that .org came into existence before than .net but I believe that there's not much difference between both of these TLDs

SE7EN

I didn't vote on time but I'll choose .net over .org because it's easier to pronounce 🙂

Blogging Magazin

Such a bare result doesn't mean anything at all. With a 5% better result it is a tie – I would say so!
Comments are closed.