DBT is research-focused. When you buy through links on our site, we may earn an affiliate commission. Learn more
Bottom Line: Patagonia backpacks are long-lasting backpacks that are environmentally friendly. They come at a great price, and you can repair them instead of sending them to the landfill! If you're looking for a top-notch backpack at a great price, Patagonia is sure to have an option for you.
Pros & Cons
Let's take a look at a few pros and cons of Patagonia backpacks:
Are you tired of spending tons of money on backpacks that don't last?
We were too, and that's why we took the time to research one of the best backpack companies on the market and develop the most comprehensive Patagonia backpacks review you'll find.
Here we will introduce three of our favorite packs made sustainably and durably by Patagonia. Within these three backpacks, you may find something that suits your needs, so keep reading if you're looking for a great and reliable backpack.
About Patagonia
Founded in 1973 in Ventura, California, Patagonia has established themselves with their iconic brand and activism.
They pride themselves in their environmental activism and product sustainability and would much rather you send them an old product for repairs than purchase a brand new one!
With Patagonia, it's about a culture. They want to help build a sustainable planet while delivering high-quality and durable products that you can use year after year.
3 Best Travel Backpacks
Patagonia offers tons of backpacks and other products for you to choose from. That's why we took the time and did the hard work for you by narrowing down their massive selection to our top three choices.
Check them out below, then pick the perfect backpack for you.
Midsize classic backpack with two main compartments and one external stash is perfect for managing your daily grind.
The Refugio backpack by Patagonia offers several advantages. It comes in tons of color options and has several convenient storage compartments and pockets for all your supplies.
The padded laptop compartment can fit computers up to 15," and Patagonia made it from comfortable and breathable materials.
---
Great organization for daily use but the right size and features for day hikes, too.
The Chacabuco backpack is similar to the Refugio in many ways. However, this backpack is slightly larger with a 30-liter design and offers ways to store additional gear on the backpack's exterior.
Patagonia made the Chacabuco backpack from a breathable mesh material that keeps you from overheating or sweating while wearing this backpack loaded up with your gear. Finally, it has a padded laptop compartment that can fit most laptops up to 15".
---
When you expect to spend a full day in the mountains, this pack carries everything you need in comfort.
The Nine Trails pack is just what it sounds like – a backpack built for the great outdoors. They offer five different sizes to choose from, so whether you're looking for a small backpack for your child or an extra-large backpack for the parent, they have what you're looking for.
They also built this bag from heavy-duty nylon ripstop, so you don't have to worry about the backpack tearing the first time you get snagged on a branch. This is a trial pack and doesn't come with a padded laptop or tablet compartment like many school bags come with.
Materials & Aesthetic
Patagonia uses 68% recycled fabrics and products on all of their goods – including their backpacks. Furthermore, all of their products have multiple color options to choose from.
Patagonia prides itself in making both sustainable and stylish products that you can use for years to come.
Their backpacks are made primarily of three materials – fluorinated DWR, nylon, and polyester. The fluorinated DWR acts as a water repellant, but it does not entirely waterproof the bag.
The nylon and polyester blend creates a durable and high-quality backpack that you know will last.
Backpack Features
Not every one of their backpacks is the same, but they all come with a few of the same features. For instance, all of their backpacks are made from breathable mesh materials along the back and shoulders for extra comfort.
Furthermore, all of their backpacks have a large storage compartment and easy access exterior pockets so you can easily store and access your gear. Moreover, they offer different straps and padding to make the most comfortable backpacks around.
While each backpack is slightly different, they're all high-quality and sure to last year after year.
FAQ's
Before you spend a ton of money on a backpack, you're sure to have a few questions. That's why we took the time to break down some of the most common questions in our Patagonia backpacks review.
The answer to this question is almost always yes. Patagonia builds their backpacks to last. So, while you might spend a little more upfront, when your backpack still looks brand new after a few years, you'll be happy that you bought a quality product the first time.
Patagonia backpacks last far longer than your typical backpack. In fact, most Patagonia backpacks will last anywhere from 10 years to 15 years. Even then, Patagonia will repair your backpack for you (for a fee), so you don't have to replace it.
If you're looking for a backpack to take as your carry-on luggage, you're in luck. Almost every Patagonia backpack meets airline carry-on dimensions.
Absolutely! According to Patagonia, you should wash your backpack in cold or warm water with mild powder laundry soap for best results.
Yes and no. As long as the tags are still on the product and it is in new condition, you can return it at any time. But once you remove the tags, it's your backpack to keep. If the bag starts to fall apart due to defects in craftsmanship, they will repair it for you.
Why Purchase Backpacks from Patagonia?
Whether you're looking for a travel backpack or something to take to class every day, Patagonia offers a great selection of backpacks for you to choose from.
Most people choose a backpack from Patagonia for one of three reasons. First, many people choose a Patagonia backpack because they love the culture and the sustainable brand that Patagonia has developed.
Second, many people choose Patagonia because they love the long-lasting designs that you don't have to worry about breaking down on you after a year or two.
Finally, some people choose Patagonia backpacks for their style and functionality. They are great backpacks that can do everything you need – and they look good too.
Final Thoughts
If you're still wondering if a Patagonia backpack is right for you after reading this Patagonia backpacks review, rest assured that it's an excellent investment for years to come. Since their backpacks last so long, they are well worth the initial cost.
Not only are you getting a great deal on your backpack, but you're also helping to protect the Earth while you're at it. If you're tired of replacing your backpack every year or two, buy your last backpack for the decade today!
Patagonia is a designer of outdoor clothing and gear for the silent sports: climbing, surfing, skiing and snowboarding, fly fishing, and trail running.
---
Patagonia vs. Competition
Patagonia Backpacks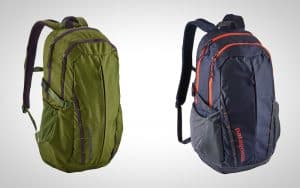 Patagonia is a designer of outdoor clothing and gear for the silent sports: climbing, surfing, skiing and snowboarding, fly fishing, and trail running.
Product Brand: Patagonia
Product In-Stock: InStock