DBT is research-focused. When you buy through links on our site, we may earn an affiliate commission. Learn more
Are you concerned about your sleep or find it hard to relax and unwind? Perhaps you've been looking for a drug-free solution to boost immunity and reduce inflammation?
If this sounds like you, then we are seeking the same source of peaceful revitalization. Living in the city makes it difficult for me to get great sleep. And with an autoimmune disease, this adds more stress to my mind and body.
Ancient healing properties found in supplements made from "superfoods'' aid in sleep and relaxation naturally.
Organifi Gold
contains ten superfoods to help ease you into a peaceful state for a good night's sleep while providing other health benefits.
What is Organifi Gold?
Organifi Gold is a dietary supplement powder that can be added to hot water or milk of your choice to make a cozy cup of soothing delight that promotes relaxation and boosts immune system protection.
Naturopathic doctor
Christina Bradshaw
-- who specializes in digestive conditions, autoimmune disorders -- recommends it to her patients because its ingredients help support restful relaxation.
Ingredients & Nutrition Facts
As a person with an autoimmune condition and food allergies, the first thing I have to do is check the label. It's no use investing in something that causes more harm than good!
Thankfully, Organifi Gold is gluten-free, dairy-free, soy-free, USDA Organic, Keto diet-friendly, and 100% vegan.
Turmeric
Turmeric has been used by people from the Indian subcontinent and Southeast Asia for at least 6,000 years daily as a cooking spice, beauty aide, and in ayurvedic medicine.
It's anti-inflammatory, antioxidant, antiviral, antifungal, and antibacterial qualities have been used to control oxidative stress-related pathogenesis. These properties are beneficial for conditions such as anemia, cancer, diabetes, digestion, food poisoning.
Ginger
Ginger is one of the most widely used natural remedies worldwide. It's been used in traditional Chinese medicine for hundreds of years, and modern naturopathic doctors recognize its benefits. The sensual spice aids digestion, supports immune health, and reduces stress.
The anti-inflammatory properties of ginger can also ease symptoms of arthritis, rheumatism, cramps, and muscle aches. It blends well with other natural remedies, such as turmeric.
Reishi Mushrooms
Reishi mushrooms are primarily used as a health supplement and immune system enhancer. Their bioactive components have treated conditions and diseases like insomnia, hypertension, diabetes, and asthma, among others.
Turkey Tail Mushrooms
Turkey tail mushrooms are edible fungi that are renowned for their immunity-boosting abilities. They also contain qualities that improve circulation, support liver function, and benefit the lymph, digestive, and cellular systems.
Acacia Fiber Prebiotic
The acacia dietary fiber's prebiotic qualities allow for all of the benefits to your gut without requiring any dairy ingestion for those who cannot or choose not to consume it.
Cinnamon
Cinnamon has been used in traditional medicine and folk remedies for thousands of years.
Perhaps one of the most critical yet surprising benefits of this bark is that it has been shown to
improve blood glucose regulation
for those dealing with obesity and diabetes by promoting healthy blood sugar levels.
Coconut Milk
Coconut milk has been used in Asian cuisine far before its newfound popularity and availability in the west. Three main benefits are: improving heart health, contributing to weight loss and control, and bolstering the body's defenses and immune system.
Research has shown
that coconut milk has calming, cooling properties and can aid digestion and nourish the skin.
Black Pepper Piperine
Black pepper piperine has been used in folk medicine for ages by cultures worldwide.
This tableside spice can
benefit
the digestive tract function, your nervous system, antioxidant, anti-inflammatory, antimicrobial, and properties that serve those purposes and overall health.
Magnesium
Magnesium is known for being a superstar among supplements, and many of us don't get enough of it naturally in our food. It is one of the most crucial minerals for relaxation, rejuvenation, and recovery.
The book
Magnesium in Human Health and Disease
outlines many benefits of the magnificent mineral, including its necessity to help control diabetes, asthma, kidney disease, and other metabolic diseases.
Lemon Balm
Lemon balm has been used in ancient and current times to enhance cognitive function and mood, two things essential to reducing stress and easing into a state of relaxation.
The herb produces a calming, anti-anxiety effect on the mind;
scientific research
shows that it even improves memory.
Nutrition Facts
Per serving (scoop), Organifi Gold contains:
Calories: 26 (8 from fat)
Fat: 1g
Carbs: 4g
Dietary Fiber: 2g
Sugar: 0
Vitamin D: 80 IUD
Calcium: 20mg
Iron: 1mg
Magnesium: 10mg
Sodium: 5mg
Potassium: 22mg
Superfood blend: 2195mg
Digestion blend: 2980mg
How Much Does it Cost?
Organifi Gold is usually priced at $80 for a 30 servings container (one month's worth). While that might seem like a lot initially (it did to me), it averages to just over $2.50 per day.
Organifi also offers promotions regularly (check their
website
) and provides reduced-price options for those who become subscribers. Subscribers save 15% of the retail price for a one-time purchase, plus earn credits and discounts. You can cancel at any time.
What Does Organifi Gold Taste Like?
Before you fret that this medicinal medley of superfood supplements might be a bitter powder to swallow, fear not; it's quite a delightful treat!
One buyer called it "sweet and yummy," and another mentioned that it "tasted good and was nice to have in the evening." I found it to be an excellent blend of sweetness and spiciness without being overwhelming.
FAQ's
The short yet probably unsatisfying answer is you'll have to try it to find out if it works for you.
To me, the biggest draw was the multitude of benefits the combination of superfoods provided, not only those meant to promote relaxation and sleep.
I noticed often the discomfort, restlessness, and irritability around bedtime came from an upset stomach after dinner. A soothing cup of Organifi Gold helped with that.
Customer reviews have sung its praises, "Organifi Gold has changed my life. This little gem helps me relax at night and fall asleep with good happy thoughts.
I would definitely recommend it!" Others have proclaimed, "My sleep and relaxation is next-level good!"
As a powdered supplement, it is best served with hot water or milk (I prefer dairy-free), which also has a calming effect in and of itself as a night time tea or a warm glass of milk reminiscent of grandmother's home remedies.
The highly-concentrated, high-quality superfoods found in Organifi Gold have been used to support the immune system for centuries in cultures across the world, well before modern medicine. Sleep and reduced stress are also vital to immune support, so the supplement works double-time.
With a high price tag, this is an important thing to consider. Fortunately, the answer is yes. Organifi stands behind all of its products and offers a 100% no-risk money-back guarantee.
Final Thoughts
The benefits of getting a good night's sleep on your health cannot be overstated. Sleep can boost your mood and immune system, prevent weight gain, and increase productivity and memory.
The superfoods in Organifi Gold have been proven to promote relaxation, soothe stress, provide anxiety relief, offer immune support, aid digestion, and other essential health benefits.
A comforting cup before bed as a nighttime ritual can ease you into a pleasant slumber, so why not give it a try?
Support a stronger immune system, soothing your muscles and increasing better rest with a delicious night-time golden tea.
---
Organifi Gold vs. Competitors
There are no reviews yet. Be the first one to write one.
Organifi Gold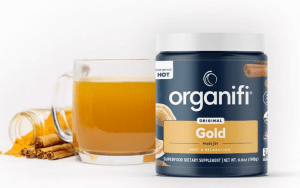 Support a stronger immune system, soothing your muscles and increasing better rest with a delicious night-time golden tea.
Product Brand: Organifi
Product In-Stock: InStock