Monitor Your Domain Names With Domain Tools
The domain name is one of the most important parts of your blog/website. If someone manages to steal or hijack it, you'll pretty much lose everything else. And the worrisome part is that stealing a domain is not that hard.
The most used strategy to do this is to get access to the email account of the victim, to set an email forwarder that will redirect the victim's emails to the malicious user, and then to transfer the domain to a new account (the person will be able to do this because he has access to the authorization codes that are sent via email).
There are also other techniques around, but they are more sophisticated. The bottom line is that keeping a close look on your domains is always a good idea.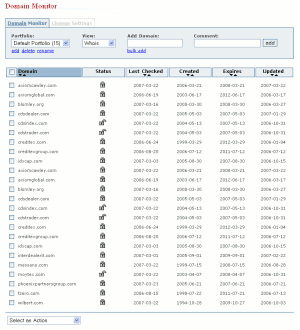 If you want some help with that you can use the Domain Monitor Service from DomainTools.com. The service is completely free, although you'll need to register a user account first.
Once you have an account you can add as many domains as you want, and the tool will track and alert you about changes of:
Domain status (e.g., if the registration lock is removed from your domain)
Domain name servers (e.g., if your domain starts pointing to a new server)
Registrar change (e.g., if a registrar starts a transfer process on your domain)
Expiration dates (e.g., if your domain expires or gets renewed)
It's a pretty useful service, and once you set it up you can forget about it. Check it out.
Browse all articles on the Domain Names category
14 Responses to "Monitor Your Domain Names With Domain Tools"
Alan @ Work From Home

Hey Daniel, thanks for the heads-up. Certainly an invaluable resource for website owners. I would hate to lose one of my sites, let alone all of them. Will definitely get signed up.

Kunal @ TechHogger

This will really be helpful . I never know a domain too can be hacked. Thanks for the useful post. I'm signing up for it.

Web Marketing Tips

welcome to the real world my friend.

S Emerson

Just wondering what stops "the bad guys" from monitoring a site they want to steal?

Web Marketing Tips

think like bad guy and you will be able to get the answer.

Daniel Scocco

Nothing stops bad guys from monitoring a site they want to steal, but they gain very little by doing that.

The monitoring part is much more useful for someone who wants to defend a domain/website, because once anything changes he will get alert, and provided he acts fast he can stop the process (an unauthorized domain transfer, for example).

Joshu Thomas

hmm…thats good information – but why don't we use our own control panel or any who is to check that..

joshu

Web Marketing Tips

and will you able to get the alert once change made.

I do not think so.

Mike @ Blog Success Resource

Sounds like a great idea so I will check it out. It is good to read here Daniel as you seem to know great many resources. Thanks.

Web Marketing Tips

yes we always get this kind of valuable iinformation at here.

That's the main reason visiting here.

OneBlogTips

with this tool, i can moniter domain that will expired and buy it before someone grab it. Old domain is really good for traffic

Web Marketing Tips

for the alert I think they will send tonnes of email as reminder.

You do not have to worry about missing dates.

Stephen

Good information. I've never had the misfortune of having this happen to me, but if it did, it would be disastrous.

I use Domain Tools for all sorts of checks so I know the service is robust and they're trustworthy.

I think I will sign up for this, cheers Daniel.

Web Marketing Tips

yes this kind of service is always helpful.

Glad that this is free …
Comments are closed.