Monetizing Your Blog with a "Posts From Our Sponsors" Section
When I wrote 28 Ways to Make Money with Your Website, one of the mentioned methods to make money from a website was the "Posts from our sponsors" section on the sidebar or somewhere else on a site.
Techmeme, the famous tech news aggregator, bases its monetization strategy almost exclusively on this method. If you visit the site you will notice a prominent "Techmeme Sponsor Posts" section on the sidebar, where posts from the sponsors get featured.
Techmeme charges $5,000 monthly for each sponsor spot. Most of the times they have 6 sponsors, so you make the math.
What always made me curious was the fact that virtually no other website was leveraging this monetization method, despite the success that it has on Techmeme. One could argue that a news aggregator is particularly favorable for such type of "post based" advertising. That is true, but what about blogs?
Blogs also work around posts and articles, and most designs include sections on the sidebar that highlight the "Most popular posts" or "Recent posts." That means that the model could work just as efficiently on them.
I can't say for sure though, and that is why I decided to make a small experiment. If you take look at our sidebar, right below the "Popular Articles" section you will see a new one called "Articles from our Sponsors." Basically that section will feature posts from other blogs that decide to sponsor Daily Blog Tips. I am not sure about the rate yet, but I will kick start it at $100 monthly.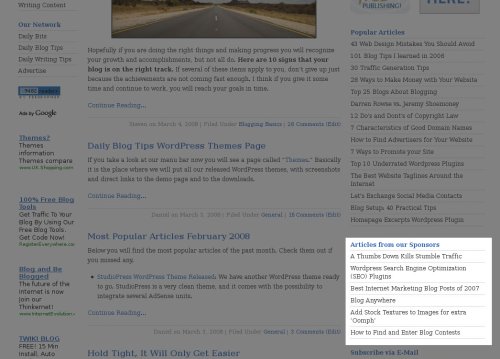 Benefits for the sponsoring blogs
Most advertising on blogs today is either Google Adsense or banners. These formats work well for online companies that want to promote products, services, and to create brand recognition at the same time. For other blogs, however, placing a banner on a website will not be a very effective promotion strategy.
Having your posts featured on the sidebar of a popular blog on your niche, however, might be a better investment. First of all because there will be an endorsement factor in place. That is, the readers of that blog might get encouraged to check your post because they feel that the author of the blog is recommending it.
Secondly, the quality of the traffic should be higher. The visitor will only click on the article if he is interested on the topic, and should he find good quality and useful content on the other side there is a higher chance (when compared to a banner click) that he will end up becoming an RSS subscriber.
Benefits for the hosting blog
The "Posts from our sponsors" section could be used in parallel with other banners or Adsense units that you might already have in place, so it is another revenue source.
Secondly, if you accept posts and articles only from sponsors that have high quality content and are relevant to your niche your readers might find that new section useful as well.
Technical aspects
If I am not wrong Techmeme pulls the posts from its sponsors directly from their RSS feed. Every time a sponsor publishes new content the section gets updated, therefore.
On this blog I will try to do something different. That is, each sponsor will be able to select what post he wants featured, and he can also switch the featured post anytime he desires. The reason is quite simple, if the sponsor wants to maximize the number of clicks that he will get and the conversion rate into RSS subscribers, probably he should showcase only his best articles, and not necessarily the most recent ones.
The links will carry a no-follow tag because we all love Google, right?
If you are interested in getting your posts featured on the sidebar of Daily Blog Tips (on all the pages) for $100 monthly, therefore, just contact me through the Contact Form and we'll talk about it.
I will also keep you guys updated on how effective this monetization strategy turns out to be.
Browse all articles on the Monetize category
21 Responses to "Monetizing Your Blog with a "Posts From Our Sponsors" Section"
helen2008
asosa

Good idea for people who try to learn and get into blog biz. I am sure I will explore it once my blog is up and running.

Thank for sharing.

a.

Sunil Gupta

Good idea, I think i should also put this section in my blog 🙂

Daniel Scocco

I got 2 people interested, if I reach 5 or more I will consider adding it back :).

I will update the post tomorrow with some preliminary results.

Might be too early, but I fear you would need a bigger audience to make this work at a profitable rate (ie. JohnChow or Problogger should be able to pull this off).

Sumesh

Have you removed the posts from sponsors section already? I can't see it 😀

TzuVelli

If you do not mind me asking. How would you grant access to sponsors to let them make the change themselves. That presents dome interesting possibilities.

Daniel

@Tzu and Steven,

Initially I will handle this manually. If the workload is too much, I will just create a plugin or interface or the sponsor can login and change the link himself.

TzuVelli

By implement I mean what plug-in or tool would you use to create the "Articles From Our Sponsor's" section. I would think automation is key to the success of this strategy. Otherwise the overhead of its implementation could quickly degrade its benefits.

SolShine7

Interesting concept. Internet marketing is the wave of future.

Steven

Daniel,
This is a great idea and I think it will work pretty well. You say that sponsors can change the post anytime and that you are doing it manually. Does that mean that the sponsors will email you and you'll change it yourself? I wonder if the OIO Publisher plugin could handle this? I haven't used it yet, but I think it lets advertisers control text links, so maybe that would be an option.

Daniel

@TzuVelli, what do you mean by implement?

@Steven Finch, I am doing it manually, though coding a plugin for that purpose could be easy also.

Matthew

Stumbled, I think this is a great idea 🙂

Steven Finch

Daniel,

This is a very interesting idea. I think it is a great idea. I was wondering if you are using a wordpress plugin to do this, or if you are just run it via a link?

team ray

i notice perez hilton charge for spots too

the more traffic your blog gets the more you can charge

TzuVelli

Daniel,

This is a very interesting idea. Could you let us know how you are going to implement this.

Dan

Interesting ideea. It's almost like the 125×125 buttons strategy but it's about posts. This should really turn out to be a succesful campagin considering the fact that you offer the chance of selecting which posts to show.
Great ideea, thanks for sharing 😉

Daniel

Madhur, good point, I think that this combo would incentive even bloggers to take a banner spot on your site.

Madhur Kapoor

The idea is great Daniel. Since i dont have a very large traffic site, I am thinking of using it together with 125X125 banner ads. Those who purchase banner ads on my site , will get there posts added in the section too . This way both the things will be promoted.

Sumesh

Interesting idea, and this is turning out to be the new link selling – much safer too. But only large sites can command a premium.

Daniel

felix, I don't think the Techmeme links pass link juice, the redirect appears to take place on the same domain.

Secondly, I don't think companies of the size of compete.com would care about one PR 7 pointing to their blog :).

felix

Interesting idea – although I wonder if Techmeme gets the big bux because they aren't nofollowing those links – they're 301 redirecting them, which I believe passes along the link love? Given their toolbar PR of 7, that's gotta make some folks happy.
Comments are closed.