How Should You Monetize a New Blog?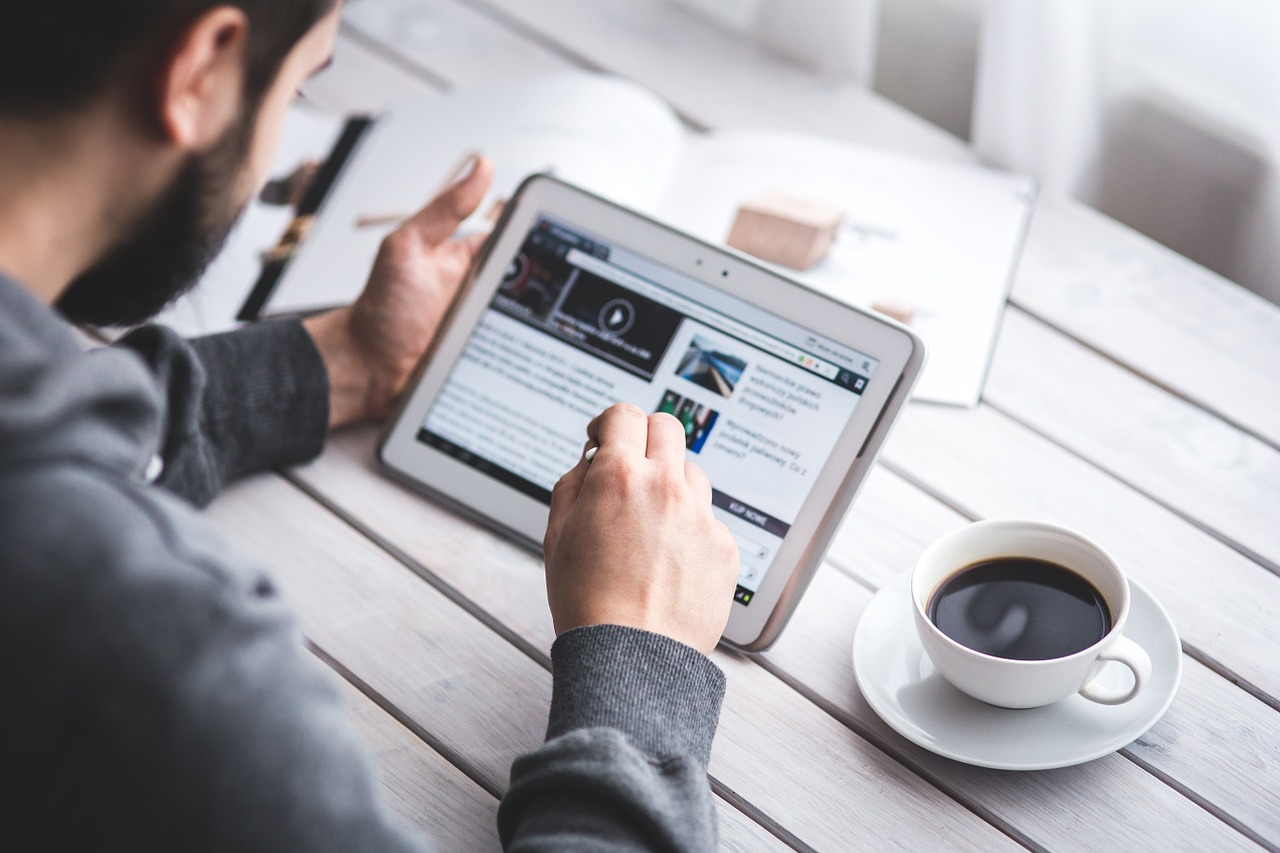 You've got a new blog – maybe it's been running for a few days or a few weeks. (Or perhaps you're still in the planning stages.)
How should you monetize?
(And if you're wondering whether it's too soon, check out this post from last week where we looked at why you can and should monetize your blog right from day one.)
As I see it, there are two really good options for a brand new blog.
Option #1: Affiliate Links
Although affiliate marketing sometimes gets a bad rap, it's a straightforward way to make money, and (done with integrity) it creates a win-win-win situation for you, your reader, and the product creator.
Many digital products (like ebooks, software and membership sites) offer an affiliate program, where you can sign up to earn commission on any sales you generate. If you own any digital products, look for an "Affiliates" section on their website, or contact the creator to ask if there's an affiliate program. Often, you'll get a 50% cut.
If you want to promote physical products, Amazon will give you a small percentage of sales – this could work out very well if you blog about laptops, cameras, phones, or anything else where readers are likely to buy high-priced products. If you mainly promote books and other low-priced products, though, it can take a long time to make any money like this.
Tip: Only promote products you own and like. Don't sign up as an affiliate for a product you've never used – it could badly backfire if a reader buys on your recommendation. Always be honest when reviewing products, and let readers know any drawbacks.
Option #2: Services
Creating a product up-front is probably going to take more time than you have – but how about selling a service instead?
Hopefully, you have a few skills that relate to your niche. For instance, on my site Aliventures I blog about writing – and I could feasibly sell my services as a blogger, an editor, a proof-reader, a writing coach, and so on. (In fact, I've done all of these in my time.)
Don't underestimate yourself here. Skills that may seem second-nature to you could be very valuable to someone else. Let's say you've started ten blogs and you're now great at installing WordPress, setting up plugins, tweaking themes, and so on. You could offer blog setup to people who aren't so techy minded.
Tip: Offer your services for free to a few selected people, and get them to give you feedback so you can improve. Ask them for a testimonial that you can include on your website: this will be a big help in persuading potential customers that you're reputable.
So why haven't I mentioned one of the most popular options out there – running adverts on your site? Many new bloggers want to monetize using ads – but it's rarely a good way to make money. You need a lot of traffic to make ads worthwhile, and while they can provide a nice extra stream of income, you're unlikely to make a living from them.
(To give you an example here, it took me 11 months of blogging to get my first $100 from Google Adsense, and just a couple of months to make that much through freelance blogging.)
If you've been blogging for a while, tell us what monetization techniques worked best for you in the early days of your blog. And if you've got a new blog, or you're about to get started, leave a comment to tell us how you'll be monetizing.
Browse all articles on the Monetize category
22 Responses to "How Should You Monetize a New Blog?"
kennyjim

I was planning on building my audience first before i start monetizing but after reading this post i change my position on waiting and will start now.

Brandon Phipps

It was my understanding that Google's Penguin / Panda updates were penalizing blogs with affiliate links. Based on your experience, is that the case, or does it matter what your PR is if you are marketing a blog meant for affiliate sales?

Ali Luke

Brandon — good question, and this post on Site Pro News may help shed some light on it. Personally, I've not experienced any problems with my affiliate links, but only a small percentage of my income is from affiliate marketing.

James Harkin

From personal experience regarding niche blogs it is important to offer your visitors a product or service that is targeted at them. From the statistics you can figure out who your target audience is. For example, your blog could be mainly 45-55 year old males living in the USA with a college education browsing from home and your blog is about financial news then it would be important to stick with products and services that would suit them, such as promoting investment, retirement and IRA products. You can find many at Commission Junction.

If you want to use 3rd party advertising would avoid using 'AdSense' and stick with networks where you can control the products being advertised such as 'Buy Sell Ads'. Depending on traffic to your site you can earn $10+ per 1,000 impressions.

Akash

That's correct, affiliate marketing is the best way for earning money.

An example can be taken from my blog, I yet couldn't made $100 from Google AdSense, but made $100 in the first month from the time I started working on it. 😀

By the way, thanks for such a great article!

Ali Luke

@Shawn — I really like that suggestion! Adsense is very easy to get set up with, but I agree with you that it's not really a long-term strategy.

Bilal Akbar

Nice post !!!
Nodoubt , affiliate marketing is a great way to monetize any blog and you don't need lot of traffic. All you need is targeted traffic.

Shawn Gossman

I always use a basic tactic when I want to monetize a blog. I start by adding Google Adsense ads to the blog. Maybe 1-3 ads total! Then I let the ads do what they are supposed to do and work on getting content on the blog and promoting it to others. After the blog has aged a little bit, got some good comments here and there and etc. I then focus on finding other means of advertising and income earning to replace to Adsense ads. Adsense to me is just a great 'temp way' of earning a little revenue while I am getting the blog better to earn some serious revenue. 🙂 Good post!

Ali Luke

Thanks everyone.

Both Arbaz and "NewYorkerApts" make the point that you need traffic. Of course you can't make money if no-one visits your blog — but if you go the freelancing route in particular, you don't need a *lot* of traffic.

Sutradhar, I didn't want to overcomplicate the post, but of course you don't necessarily have to own every single product you promote — but you definitely do need to remember that your reputation is on the line if you promote something that's no good. I would never promote a product without being 100% confident that it was worth readers' money, which for me almost always means it's something I own and have used!

Sagar, want the bad news? The "make money online" market is really saturated with a lot of new blogs. I'd suggest finding another niche, one where you already have lots of experience to share. Sorry!

farhan

d extra flavor in affiliate success, but without owning goods also affiliating many marketers successfully due to having expert knowledge in the products. Another most powerful path to earn traffic is not in your consideration that is email marketing.Following this path of marketing a Vietnamese affiliate also selling out Amazon goods t

Sutradhar

Hi Ali, you are really great to state clear tips, noted them for my two efforts of affiliate blogs. One think I can't approve that product should be own in use for affiliate marketing, it may added extra flavor in affiliate success, but without owning goods also affiliating many marketers successfully due to having expert knowledge in the products. Another most powerful path to earn traffic is not in your consideration that is email marketing.Following this path of marketing a Vietnamese affiliate also selling out Amazon goods to USA consumers successfully without owning the goods in use. However, thanks for your clear n killer tips.

Shahzad Saeed

I think AdSense would be great for beginners.

Many people find affiliate marketing as a harder way for making money online.

For beginners it would be better to promote only less prized product at first.
Cheers!

Leo @Newbiesup

Traffic is the basis for monetization.
After getting enough traffic, there are lots of ways to earn some $$ like affiliate, adsense, own product/service, direct ads, etc.

I myself is running a blog(not the one linked to my avatar) but I am still struggling for traffic.

Leo

NewYorkerApts

But don't put the cart before the horse, right?

You can't really monetize a blog unless you have visitors, and you won't have visitors unless you're providing compelling content. So it's best to blog about something of interest to you, because then it will be of interest to others. I think that's the initial sort of quandary that most encounter.

Thanks for this article.

dojo

I am planning on starting monetizing my blog. It will happen via affiliate marketing / banner promotion. I also promote my writing and web design services, so it's another good way to bring in some revenue

sameer

Hi ali,
Great post indeed,i was little confuse about monetization but your post solve my confusion very nicely.now am thinking about affiliate marketing.Thank you for this post.

Lakhyajyoti

My blog is just six months old. Affiliate marketing works well for me. I have using it for last four months and making $200+ every month. I have not applied for Google adsense till now. Thanks for the share.

Moath Obeidat

thank you so much 😀

Raspal Seni

Hi Ali,

Thanks for this monetization post, we were waiting for. I agree, it will take time before you hit the first 100 bucks using ads. When I started my technical blog back in Feb, I had applied for Google adsense (not knowing their rules) and was immediately rejected due to very less content. But, for how long should we wait before we go for ads, and what kind of ads are goo to use? Some people say Google adsense doesn't make sense and it's not nice.

I think affiliate marketing is very good and if I go through each of my blog posts I published the last 32 days, I'll get at least one product or service from each of the posts, to add affiliates to. More than one for many of the posts. Thanks for the nice advice about affiliate marketing. I'll make a list of which products and services I need to get affiliate links for and add to my posts.

I'll also give my services for free, may be for one or two months and advertise about it on Facebook and Twitter. Great idea.

Kind Regards,
Raspal

Arbaz Khan

To monetizing a blog, you need to have traffic and that too a responsive traffic. Only then, will we be able to make some good income via affiliate marketing. Other than that you can use Adsense on your site too if the traffic is good.

Andrew M. Warner

Hey great post. I use to sell thing son my website, but have since stopped because I'm trying to provide more value and build up credibility. However, I still want to be able to monetize my website and if I can't sell my own products (yet), Affiliate sales is the next best option.

And what you said is very true "Tip: Only promote products you own and like. Don't sign up as an affiliate for a product you've never used – it could badly backfire if a reader buys on your recommendation."

It helps build your credibility of you promote products you're familiar with.

Gugulethu

Affiliate marketing is a great way to make money with a new blog, there's nothing wrong with it. Other ways to monetize a new blog are adsense, amazon associates and direct banner ads. Or even sell your own product.

Great post Ali, Many Thnx 🙂
Comments are closed.