DBT is research-focused. When you buy through links on our site, we may earn an affiliate commission. Learn more
Rigorous workouts can take a toll on your body. Are you fed up with being tired during your workouts?
Are you looking for a way to add to your endurance?
The right recovery supplement can do the trick for you.
Recovery supplements with branched-chain amino acids provide the nutrients your body needs to workout longer and recover faster.
LadyBoss Recover is one of those.
Branched-chain amino acids are necessary proteins that the body cannot produce on its own.
With the help of post-workout supplements, like LadyBoss Recover, your body can get those essential amino acids to reduce muscle damage and improve oxygen used.
Is LadyBoss Recover a good post-workout supplement for your needs?
In our LadyBoss Recover Review, we will look at what's inside the tubs and what the ingredients do. We will also look at other important details like the price and taste.
By the end of the review, you can decide if LadyBoss Recover is the product that will help you work out longer and recover quicker.
Is LadyBoss Recover the right product for you?
Let's check out the details.
What is LadyBoss Recover?
LadyBoss Recover is a nutritional supplement in powder form. It includes a proprietary blend of branched-chain amino acids for recovery and electrolytes for hydration.
The branched-chain amino acid blend includes leucine, isoleucine, valine, and glutamine.
The amino acids help the body recover from rigorous workouts.
Branched-chain amino acids have been proven to stimulate protein synthesis, which enhances muscle growth by reducing fatigue.
The body makes glutamine on its own, but it does not naturally make the other three amino acids.
The only way to get them is to ingest them.
The body exhausts the branch-chain amino acids during vigorous workouts, so LadyBoss Recover helps replace them so you can workout longer and harder.
Each serving of LadyBoss Recover is one scoop, about 13 grams.
Each container holds approximately 30 servings. The recommended serving is one scoop mixed with water or another beverage of your choice.
LadyBoss Recover comes in one flavor: watermelon candy.
Ingredients & Nutrition Facts
LadyBoss Recover uses two blends to support recovery and hydration. It also has a few extra ingredients to give it a sweet watermelon-candy flavor.
Each serving contains less than one gram of carbohydrates and no sugars. It has .6 mg or 35% of the recommended daily allowance of Vitamin B4.
It also has 280 mg of 12% of the recommended daily allowance of sodium, and 90 mg of Potassium, or 2% of the recommended daily allowance.
The proprietary blend of branched-chain amino acids includes leucine, isoleucine, valine, and glutamine.
LadyBoss Recover does not share the percentages or ratios of the blend.
The electrolyte blend includes trisodium citrate dihydrate, sodium chloride, and potassium chloride.
The other ingredients include natural and artificial flavors, citric acid, sucralose, fruit and vegetable juice for color, silicon dioxide, and beta carotene for color.
Sucralose is a synthetic sweetener that you might recognize as Splenda.
Let's take a look at the ingredients in the LadyBoss Recover formula.
Leucine
Leucine is one of the three branched-chain amino acids that the body does not produce naturally.
Studies show that leucine speeds up muscle-protein synthesis and recovery.
Isoleucine
The second necessary branched-chain amino acid is isoleucine.
Studies found this amino acid slows the rate of protein degradation to lengthen and improve mental and physical performance.
Valine
The third amino acid is valine. Studies found this one interacts with the other two to reduce muscle fatigue and speed up protein synthesis, so your muscles do not tire as quickly.
Glutamine
The body produces glutamine on its own, but athletes use it rapidly during strenuous workouts.
Ingesting it helps increase blood alkalinity and growth hormones, helping them build muscle and recover faster from their workouts.
Electrolytes
Electrolytes help the body recover salts, and studies show that supplementing them can help reduce the chances of dehydration.
Nutrition Facts
Per serving (scoop), LadyBoss Recover contains:
Calories: 5
Total Carbohydrates: 1g
Vitamin B6: .6mg
Sodium: 280mg
Potassium: 90mg
Amino Blend: 9.5g
Electrolyte Blend: 1170mg
How Much Does it Cost?
LadyBoss Recover comes in a bottle that holds approximately 390 grams. Each serving is 13 grams.
There are different prices if you buy one bottle or if you subscribe to regular shipments.
Discounts are available if you purchase several bottles at once.
What Does LadyBoss Recover Taste Like?
LadyBoss Recover is sweet, and it has sucralose in the ingredients. The labeled flavor is "Watermelon Candy," and it tastes like that.
The flavor is pleasant and not overwhelmingly sweet if you like sugary beverages.
It blends well with water, and you do not need to add anything else to it. There is not an aftertaste.
If you do not like watermelon flavor, you can add other foods to your mixture to change it slightly.
FAQ's
Below you will find answers to some of the most frequently asked questions concerning LadyBoss Recover.
Yes. The branched-chain amino acids help with muscle recovery and endurance. The electrolyte formula hydrates during and after the rigorous workout.
The formula is not designed for weight loss. However, since it does increase the body's ability to recover quickly from workouts, you can work out longer and harder, which can help with weight loss.
Final Thoughts
LadyBoss Recover is a formula designed for women who want to get more out of their workouts.
The electrolytes help with hydration, and the amino acids help with post-workout muscle recovery.
We've shared what we know about the supplement, including how it tastes, how much it costs, and what the ingredients do.
You get to take the next step and try it with your next workout.
---
LadyBoss Recover vs. Alternatives
---
There are no reviews yet. Be the first one to write one.
LadyBoss Recover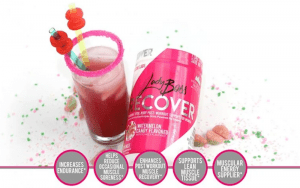 LadyBoss Recover uses a proprietary blend of amino acids and electrolytes to give your body what it craves.
Product Brand: LadyBoss
Product In-Stock: InStock