Interview with Timothy Sykes (The Guy Makes $50,000 Monthly From His Blog)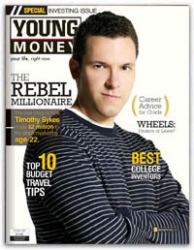 A couple of weeks ago a reader emailed me to ask if I knew anything about a guy named Timothy Sykes, who is supposedly making some killer money with his blog.
By the time, I didn't, but the email got me curious, so I went to check out what the fuzz was all about. Tim, as he calls himself, is a 26-year-old investor, author, and blogger. He managed to make over $1 million trading stocks, and created his own hedge fund. It closed in 2007 though, and now he is venturing in the World Wide Web.
After checking his website for a while I can say that the guy is clever and very innovative. A good post to get started is Suck On This John Chow, My Blog Made $45,000 Last Month!.
Anyway last week I sent him some questions via email and he answered them. Check it out!
1. How long have you been blogging?
Since October 2007
2. Has it been worth it so far?
Hell yes! Forget about just making more money than most doctors do, it's incredibly fulfilling to cut through all the regulatory and snake-oil salesman BS that pollute the finance industry. It's about teaching investors and traders how corrupt the stock market is. And possibly even more important than the teaching is the learning–I'm learning what works, whats readers wants, how the internet is evolving–we're in the bottom of the 1st inning with the internet, there's gonna be stuff we can't even imagine coming out over the next few years and it's gonna be very exciting. The more you know…
3. You claim to have earned $45,000 from your blog last month, and that your traffic is 3 times smaller than John Chow's one. How is that possible?
My business model is different, he's all ad and affiliate-based, while my focus is on creating educational products through my own publishing company, BullShip Prress, LLC, namely my PennyStocking Instructional DVD that makes penny stock trading understandable and TIMalerts, a real-time trading alerts subscription service, both of which I promote endlessly through my blog.
Mind you, I tried Chow's business model–admittedly only half-heartedly because I have problems promoting all the frauds in finance–but it didn't work for me…so I adapted.
4. After reading your earnings disclosure I noticed that you listed together your DVD product and the monthly alerts service. Do they generate an equal percentage of the $35,000? If you needed to use only one of those methods, which one would you choose and why?
They're about equal, but I'll break them down in the future. At first, I just wanted to teach others how to play the game with the DVD, but I forgot that most people are fat and lazy, so the real-time trading alerts–where the subscribers don't really care to understand the game–they just want to make $. It's pathetic, but you gotta give the people what they want.
5. Do you think that bloggers that only focus on making money via advertising are making a mistake?
YES! Advertising has been a major flop so far for me and my partner, Adarsh Dilip–who is the incredibly talented artist behind my bad ass websites–but we're just in the beginning stages so we're not worried as there's literally no competition whatsoever in the brutally honest finance blogging niche.
6. Is it easier to make money trading stocks or working on the Internet?
Trading is definitely easier, but it's also riskier. As I detail in my book "An American Hedge Fund", I got away from my core trading strategy so I'm working off a $300,000ish loss, so I didn't really want to risk my remaining $500,000 net worth.
Also, trading penny stocks truly is a niche so it's not a very scalable money-making strategy whereas my internet business is, as evidenced by the fact that my monthly earnings have gone from $15,000ish in May and $25,000ish in June to the current $45,000.
Mind you this all happening during Wall Street's slowest season so I fully expect to be making $100,000/month by early 2009.
7. I see you are experimenting with many new marketing and promotional tactics, like rewarding visitors for comments and other contributions. Has it been working well?
Bribing my readers with little rewards–TIMbucks –has been our biggest flop as it turns out people are tired of these stupid little rewards and prefer honest information so they can make some real money. I'm skeptical of all these sites that offer their users rewards, methinks if they claim to be successful they're full of crap!
And yes, we do plan on having contributors on our upcoming website for beginners, http://www.PennyStocking.com, because I alone can't keep up with all the stories that need to be written.
Unfortunately, other than Adarsh, I know nobody's gonna work as hard as me–think 16-18 hours days–so it's gonna be tough to find others to give me quality stuff. You know anybody?
8. What is the most common mistake you see bloggers making around the web?
They don't want to put in the time to make it a success, they're not willing to drop projects that prove to be failures, they don't listen to their readers. Again, this is just the beginning of this industry, nobody knows what's gonna work for each niche, you gotta try everything.
Browse all articles on the Monetize category
55 Responses to "Interview with Timothy Sykes (The Guy Makes $50,000 Monthly From His Blog)"
team ray

wow 50 k just wow

Chris

This is very interesting. It's always interesting to see who is making a killing online. There is no one place to go to find out all this info–and it's always good to hear how people created successful websites.

I recently read about the Aussie who build a car website and now it's a multimillion dollar company. It is truly in its infancy–the internet–and who knows what will work next month or next year. It's good to see all these different stories.

Matt

Great Interview…………..Thanks!

Markk

A good example of someone who does not follow the herd and making a success out of it while the rest of us keep on whining and spending time stacking out Mr J Chow's blog.

Moise levi

Hi often read Tim's blog.
He is funny.

Many financial bloggers make more money than that …..you just do not hear about them (tax reasons)
Some Forex (foreign exchange) bloggers make over $100K per months, some even more …..

You do not need huge traffic in finance …..just one or two righ clients …..that's it

If your posts are worth a lot of money, investors will come

black-legend

I think a lot of people will make more money if we aren't trying to run into every niche somebody else is making money from.
The interview is an eye opener.
Consulting seems to be one of the fastest ways of making money on the net through blogs.

Paula Money

Excellent interview, Daniel.

That's so funny that I saw that "Suck on this…" title in my Google Reader the other day, and I dismissed the guy as some phony without even researching him.

I'm glad you did.

I just might go invest in some penny stocks, heh?

Debby Phillips

There are many different ways to monetize a blog. Every blogger will have success in a different way that works for them. What works for John's blog may not work for Timothy's blog and vice versa.

You just have to test what works for your blog and what doesn't. If something isn't generating cash, try something new.

Dr. R

I'm the doctor that makes less money than him but my PageRank is bigger that his!

Crazy

Great interview! Very inspiring.

Ramiro

Great interview. Thanks.

Mr. Javo

Nice interview, it gave me some ideas for future businesses.

Harmony

Funny, when the masses of blog teachers are all teaching one way, a creative thinker who wonders – WHY- does his own thing, and is rewarded for innovation. Hats off!

Ultimate Blogging Experiment

This guy shows a whole nother way of making money off your blog. GENIUS!

stetoscope

We are dying to see this those income posts !

Timothy Sykes

Also in the 2 weeks since this interview happened, we've signed some pretty major advertising deals, think $5k+, so it just proves anything can happen, it just takes time…wait til u see my August & September income posts!

Angel Cuala

While I admire the man for earning such big $$$! I think he only belongs to the exception-to-rule. Although he worked hard for it, he can't live forever.

I still believe on advertising as companies cannot live without it.

However, the only positive lesson I learn from him so far is – to give people what they want, and not what you want to give them.

Nice interview, anyway.

Daniel Scocco

@Timothy, thanks for giving the interview.

Timothy Sykes

(this has the right link to my site, sorry for previous comment!) Thanks again for the interview! If anybody has any questions for me, contact me through my site, thanks!

Timothy Sykes

Thanks again for the interview! If anybody has any questions for me, contact me through my site, thanks!

Writer Dad

Cool interview, and I wholly agree. The bottom will drop from ad blogging. There's just too much of it.

Adam Singer

Really great interview Daniel – I am sharing this with a few people around here.

Thanks,
Adam

Rarst

@Daniel

I think it must be covered few billion times (daily) for people to understand that at last. 🙂

Daniel Scocco

@Rasrt, I think we covered that on the last question 🙂 .

Get Your Green On

I just love the Suck on this John C post. Classic!

Bill Kanapaux

Very cool interview. This is the stuff I've been waiting for. Not necessarily his attitude and certainly not his niche. But what he brings is a more assertive publishing perspective that you would expect to see in other media and the ability to use the immediacy of blogging to do and say what other media can't. For an ex-journalist like me, who sees vast potential for bringing specialty pubs with premium prices online, Sykes is a breath of fresh air.

SEO Genius

What a great interview, a guy i have never heard of but damn i like him after reading this interview. Could i ask where he is from?

I like his idea's i am interested in his blog and i love stocks.

Thanks for the interview Daniel.

I agree Daniel traffic does rule the web but i am not there yet, my traffic is growing and it will keep growing if it stops then i will start to worry.

@ Billingual, dont become demotivated by this guy you should remember that this guy is showing you that there is still room for new websites on the internet even in niche's which already have a large amount of competition. This guy shows us that he is going at the high competition niche from a different angle this being why his blog is a success.

We need to learn from blogs such as dailyblogtips and this guys blog, figure out what they are doing that we are not. With my research i have figured out that its not only good timing on Daniels account and others such as problogger and copyblogger its because they offer unique content, entertain their readers and consistent updates.

The main problem other bloggers have is because of the difficulty in succeeding with a blog considering there is so much competition we tend to give up before we have tried our best. It is hard to make a blog a success especially in this day and age where there is so much competition, not only this but content has been written over and over again, finding a unique angle to write from is hard but not impossible.

Stick with it, we shall succeed.

Thanks Daniel (sorry about the essay)

Rarst

I guess such posts are guilty in good chunk of early blog deaths. 🙂 "Hey, he is bathing in bucks and I made 0.31$ this month! This sucks!" panic and one less blog.

People aspire to quick and easy ways… There are none.

Daniel Scocco

@Bilingual Blogger, there is no shortcut to having a high trafficked site. People that make a lot of money with low traffic websites are the exception.

Traffic rules the web.

But hey who said you won't have a site with huge traffic someday?

Bilingual blogger

Wow, the feelings of inadequacy plague me once again by reading another one of these blogging mega-success stories, from zero to hero in less than a year. Instead of inspiring me this piece made me feel like crap, just another reminder that I'm not measuring up. Great way to start my Monday. It seems that the only people making serious money on the web are people with very high traffic sites that have advertising or people who run blogs telling people how to make money. That's it. If you could find an example of a blogger that doesn't fit either category AND is making serious money from blogging, I'd like to read about them. Thanks.
Comments are closed.