I am Willing to Try Bing, But So Far It Sucks
As you probably know Microsoft launched its newest search engine a couple of weeks ago, called Bing. Some blogs and newspapers reported that the search engine quickly gained market share, and that on some days it was ranking in the second position, above Yahoo!.
If nothing else I also think that we should give Microsoft the benefit of the doubt and try Bing out. Competition is healthy in any market, and Google is not far from having a monopoly in search (thanks to the quality of its service, it is true, but still).
One good move from Microsoft was to opt for a clean homepage. I can't stand Yahoo! exactly because in order to search there I need to go across all the clutter that they put on the front page.
The problem are the search results. They might need some time to tweak the algorithm, but so far it has not impressed me at all. Here are some examples that I gathered in five minutes before writing this post:
1. Searched for "blog tips"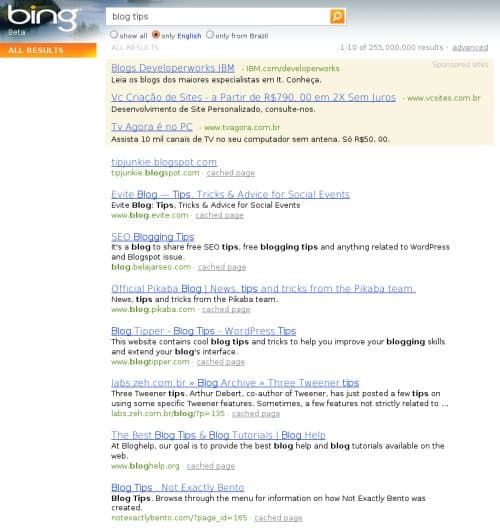 Daily Blog Tips is number one on Google and Yahoo! for that term, but on Bing it was no where to be found. Problogger should be there too, but I couldn't find it either.
2. Searched for "john chow"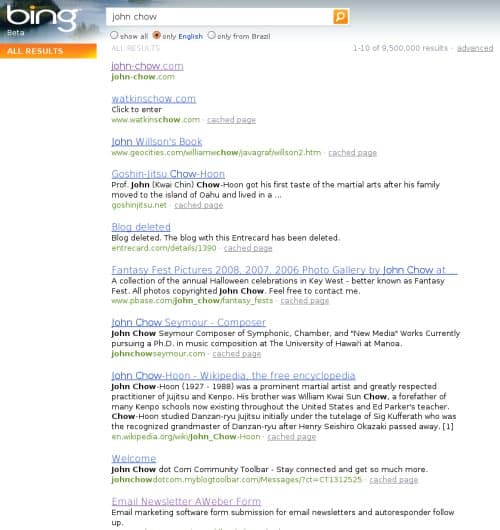 The original John Chow was not there, and instead the first result pointed to a squatter domain (www.john-chow.com) that just has some ads….
3. Searched for "stuntdubl"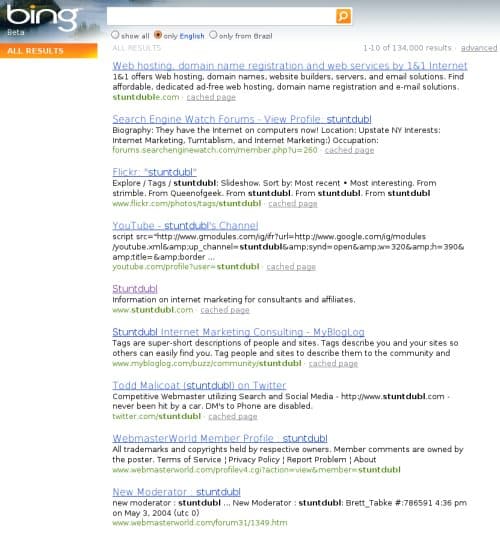 I wanted to give Bing a nudge, so I searched for the exact name of Todd Malicoat's blog (he is a top SEO guy, and the blog is pretty famous too). Still Bing displayed Todd's blog only in the fifth position.
For now, therefore, I am sticking with good old Google.
What about you, have you tried Bing? What kind of results did you get?
Update: It looks like the results are not that bad if you are US or Canada based. The curious thing is that I did use the "English results only" option before searching, so I don't know how come my location is affecting the results page.
Browse all articles on the SEO category
64 Responses to "I am Willing to Try Bing, But So Far It Sucks"
Fatin Pauzi

Maybe those website doesn't submit their blog to Bing yet. That's why they are not listed.

Jehzeel Laurente

I think they just updated the results. Problogger, John Chow and your blog is already present in Bing.com. Still, I love Google more than any other search engines. 🙂

Jamaipanese

my results for those example terms are completely different and much better than yours and I am not in the US or Canada.

recently blogged positively about Bing search

Luca

I'm not impressed so far. They've got some work to do if they want to compete. It looks nice though

Melvin

LOLs, I laughed hard when I saw the results… Anyways there is still a huge room for improvement and Im not just sure it can make an impact though..

Dorothy Thompson

I think the problem is you're not putting quotes around your search words. I tried it with quotes and you're coming up at #1 the last time I checked. ;o)

Eddie Gear

Hi there,

I've tried BING and I've been using it since its release, and I can find significant differences when compared to other popular search engines. However, I would still give Bing some more time to see how the results match up and I'm sure that it come up to be a better search engine.

Cheers,
Eddie Gear

GoBusiness101

Great! Hope my site will be on the top for promoting business online and offline

bilin

maybe all our optimization are aim to Google and Bing have other themselves standard.

redwall_hp

I'm a U.S. user. I tested Bing a little, and found that it works well for "naïve" searches. (That is, specific names or broad topics. E.g. "New York Times" or "Harry Potter.") It doesn't do nearly as well at finding deeper pages, where you're looking for something specific.

Todd Wallace

The bit about searching for Todd Malicoat's blog isn't surprising since SEO is a human vs. algorithm equation…and no one really know how to approach Bing's algorithm yet. It's also why their results are garbage. No one has optimized for Bing yet. No one knows how.

Evan

I couldn't agree more. Some of the search results are coming out of left field. It may be that over time the search becomes more relevant.

I haven't forgiven MS for ie6-or-7, so maybe I am an extra tough critic.

Daniel Scocco

@Vic, Michael and Che, well I used the "English results only" option, so I don't see how my location should affect the English based results.

In Google it does not, for example.

But yeah if you guys are getting better results I guess my IP might be part of the cause for the weird results I get.

I updated the post to reflect this, so thanks for the feedback.

Che – Snugd

For all of the search terms you have mentioned I got the results you are expecting(location : Canada). Results are so much like Google for all the terms I've tested. So bing's results depend on location !!!!!!

Medyum

I've tried Bing and I wasn't satisfied with the relevance of the results, so for now I'm sticking to Google.

I think Google's monopoly is not a bad thing, because they provide good quality services, therefore they deserve it.

Rob

I haven't really tried it, but the visitors I get to my site are generating more page views on average than Google's traffic. Terms they are using to get to site are very relevant as well.

Peter

odd.. I just re-created your search for 'blog tips', and you're #1, problogger.net is #2..

maybe there are different results per country? (I'm in the U.S.)

dd

You know what is worse? Search for "search engine " or "search" on bing. It will not return Bing or even Google on it… Only Ask, Yahoo and a few others..

Vic

He's right. For blog tips search keyword in Bing, problogger is in no.1 DBT is in no.6 position. Lots of people visited and use Bing out of curiosity.

Katrina Stonoff

I'm all for giving Google some competition, but I don't want it to come from Microsoft (the other monopolizing giant!). Isn't there an alternative? Healthy competition that doesn't just swing the heft from one superpower to another?

Pam

It is not that you don't find your blog on Bing and Bing is bad..what theory is this…really what does this mean….

Rajasekharan

Problogger is at first place and DBT at second place when searched from India for 'blog tips' on Bing. May be these two are not faring well in Brazil and hence gave way to the ones that you got, Daniel!

The third position also is for DBT for the article '101 Blog Tips I Learned in 2006.' So what do you say for this?

FIY: I was searching with 'show all' radio button clicked. The only other radio button I had was 'only from India.'

reinkefj

I tried my alumni search on BING:

"manhattan college" -marymount -"marymount manhattan college" -"borough of manhattan college" -marymount -manhattan.edu -bmcc.cuny.edu -msmnyc.edu -mancol.edu -gojaspers.com"

AND, it gives me results that ignore all the minus terms. When I tried to build it manually by the advanced option ignores.

BUT, it still didn't work.

Oh well, I'll try again next year.

michael

I just tried the 3 searches and got totally different results from yours.

1.bloggingtips
2. dailyblogtips
3.notexactlybento
4.probloggerwww

1.twitter/johnchowdotcom
2.johnchowseymour dot com
3.​john-chow-banned-for-john-chow-on-google
4.wikipedia/wiki/John_Chow-Hoon

1.forums.searchenginewatch
2.twitter/stuntdubl
3.stuntdubl
4.stuntduble

I wonder why the results are so different?

Steve

I was getting some great traffic from Bing at the beginning of the month but it seems to have died off fairly quickly.

Dave

Maybe it's a location thing, but for 'stuntdubl' I'm seeing it as 3rd, just behind his twitter page.

Carey Suante

I won't even give it a try! All reviews about Bing is negative and not surprisingly here too!

Anja

I've tried Bing and I wasn't satisfied with the relevance of the results, so for now I'm sticking to Google.

I think Google's monopoly is not a bad thing, because they provide good quality services, therefore they deserve it.

Jaan Kanellis

It seems to me thus far that back link anchor text is rated very low in the algo.

Vincent Chow

Bing is not my cup of tea. The results aren't satisfying, just like the examples you've shown above. Microsoft had re-brand their search engine over and over again, but they just can't get it. Too bad.
Comments are closed.