How to Find Short Domain Names
When I saw the domain name of Kevin Rose's newest venture, Pownce.com, I thought that maybe I should buy some short albeit weird domains myself.
Anyway, after researching a bit I managed to find two interesting tools for that purpose. The first one is dyyo.com, a search engine that will help you find 4 letter domain names.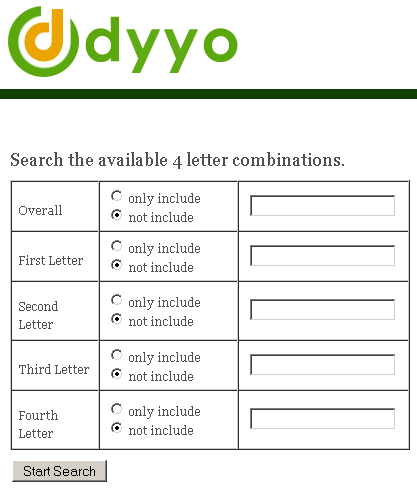 Some time ago I even started looking for 2 and 3 letter domain names, only to discover that they were all gone… so 4 letter is as short as you can go.
According to the tool there are approximately 28,000 4 letter domain names still available. Most of them are unpronounceable words like bqhj.com or pqhn.com, and that is where the tool comes handy. You can specify letters for each position, so just stick some vowels in there, hoping to come up with something useful.
The second tool is 5letter.com, and as you probably guessed it can be used to find 5 letter domain names. Here you create a fragment and specify if the domain name should begin with that frament, end with it, or merely contain it.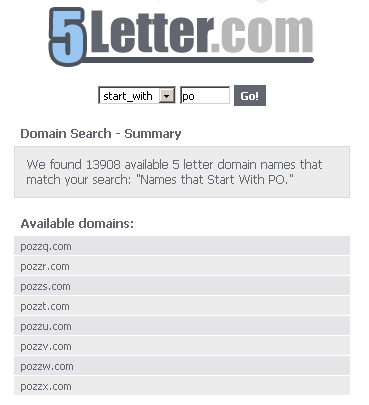 For example, if I specify domains to begin with the fragment "po" I get the following names:
pozzr.com
pobie.com
pokoz.com
podrr.com
Browse all articles on the Domain Names category
32 Responses to "How to Find Short Domain Names"
Tom Bradshaw

Never came across these sites before, thanks for the links

Marketing Network

Although practically all the short domain names are taken these are indeed great tools.

Bang Kritikus

Nice tools daniel. Thanks

Tips4pc

I have been going for 6 or 7 letter domains as you can usually undrstand what the site is about from that. All the good 4's are probably gone..

I love trying to come up with a domain name myself. Loosing letters, adding numbers, and so on. I don't think it does any harm adding a number in. I have domains like 101pctips, tips4pc, 100vista, and more.. but you can see what they are about.

I always go for a .com as this is what people remember.

giuseppemartone

usefull services!!!that's a very nice tip for me! Thank you!

SEO Genius

Very nice tools, all the four letter dot.com domains are now gone, since this article was established a while back.

nunho

oww thanx daniel. i will try this for my new domain.

confuzedkido

can any of you hear me? im not sure if this post actually is going through.

annoying

You guys are a bunch of losers that keep ranting about websites and domain names, i think you should all shutup and move onto somthing else, maybe be more topical, other than that please continue spamming the whole page you ungrateful two sided post ass junkies that only care about selling domains to make a living. No, please get a life you worthless twitz becasue i just sent you a sentence to be read a thousand and means a billions opinions. please shutup.

trocmon

lic4tcaacela

Dave Starr — ROI Guy

Good tip. And those wondering if the name makes a difference ,ight take alook at 45n5.com … name means nothing, tells nothing, but it's easy to remember and it's being developed smartly.

It is worth thinking about short names still available in ccTlds' (like .VC), but I wouldn't think of them for very long … no matter how you try to market it, dn.vc (as an example) is going to send tons of traffic to dn.com … there's no way around it, .com is just that much better.

DNVC

2 letters Very Cool .VC domain extension from St. Vincent.

William Profet from OneJobTwoSalaries.com

Cool. Very useful tools. They work like a combination generators and domain name search engines at the same time. Great idea! 🙂

Jenue Brosinski

I have a very short domain name that's actually my real name. Doesn't that make you all jealous? The disadvantage is that no one knows how to say it. It's pronounced Jen-you.

Daniel

Yeah, but the point is, maybe it is a good idea to register rokkr.com today even if you have no clue what to do with it. Since it is short and easy to remember, maybe you will be able to use it in the future or to sell it for someone else.

Jermayn Parker

Yeah but are not the names actually the name of the business??

Daniel

Jermayn, that is true most of the times. Many web 2.0 companies started changing that rule though.

Just think about pownce.com, ezmo.com, triblr.com and so on. They have nothing about the "business" of their companies, but they are short and easy to remember.

Jermayn Parker

I have to ask what the value of short domain names are? Yes they may be shorter and easier to write but do they represent the business, organisation or identity of what the website is about?

Personally I would rather a longer 10 letter domain name than a short 5 letter domain name that resembles what the website is about.

Nancy

Thanks for the information on the services. It should save time on side stepping the hid and miss method of searching for the short domains.

Katy

I've always wanted to look into getting great resources for purchasing domain names. It's amazing to me how so many people make full time careers out of finding just the right domain names to sell.

Thanks for shaing the information!

Daniel

I've got some domains parked at Sedo, still got see a buck though :).

Frank

Thanks for the new resources Daniel.

It's not quite as great (or as cheap) as actually being able to register a domain but Sedo (www.sedo.com) is a pretty good place to buy a domain. It's also a decent place to unload those domains that you "though" you were going to use.

Daniel

Bibi, bibi.org is a very nice domain indeed. I wish I had started buying them a couple of years ago as well, I would be set by now…

Egonitron.com

great tip Daniel, It's very hard to find good domains anymore, especially short ones. I don't think I'm even going to try for 4-letters, but 5 letters still shows some promise.

Lovedeep Wadhwa

Nice tools. Bookmarked. 😀

Bibi

Thanks for the tips Daniel.

I think I was lucky enough to get a cool domain name. But, of course it was a long time ago.

TV Online

Thanks, Daniel –

You consistently come up with great tips and articles all the time.

I've just opened 5letter.com in a new tab, and I'm going to search for good domain names now to buy.

Take care,
Paula

Ramkarthik

Daniel, good find. Finding 4 letter domains are very tough. I haven't seen many like it. I think 5 letter domains can be got pretty easy although not very easy. Thanks for the tools.

Daniel

Vijay, ideally both :). For instance, botw.org does not sound good, but its a very good domain if you remember "best of the web."

The same thing can be applied to other 4 letter domains.

Vijay

Both those services seem pretty useful.. But you would have a better chance of getting a good looking 5 letter name than a 4 letter one.

Would you simply buy a domain because it is 4 letter or because it sounds good?
Comments are closed.