How to Conquer the Blank Page: 10 Tips That Really Work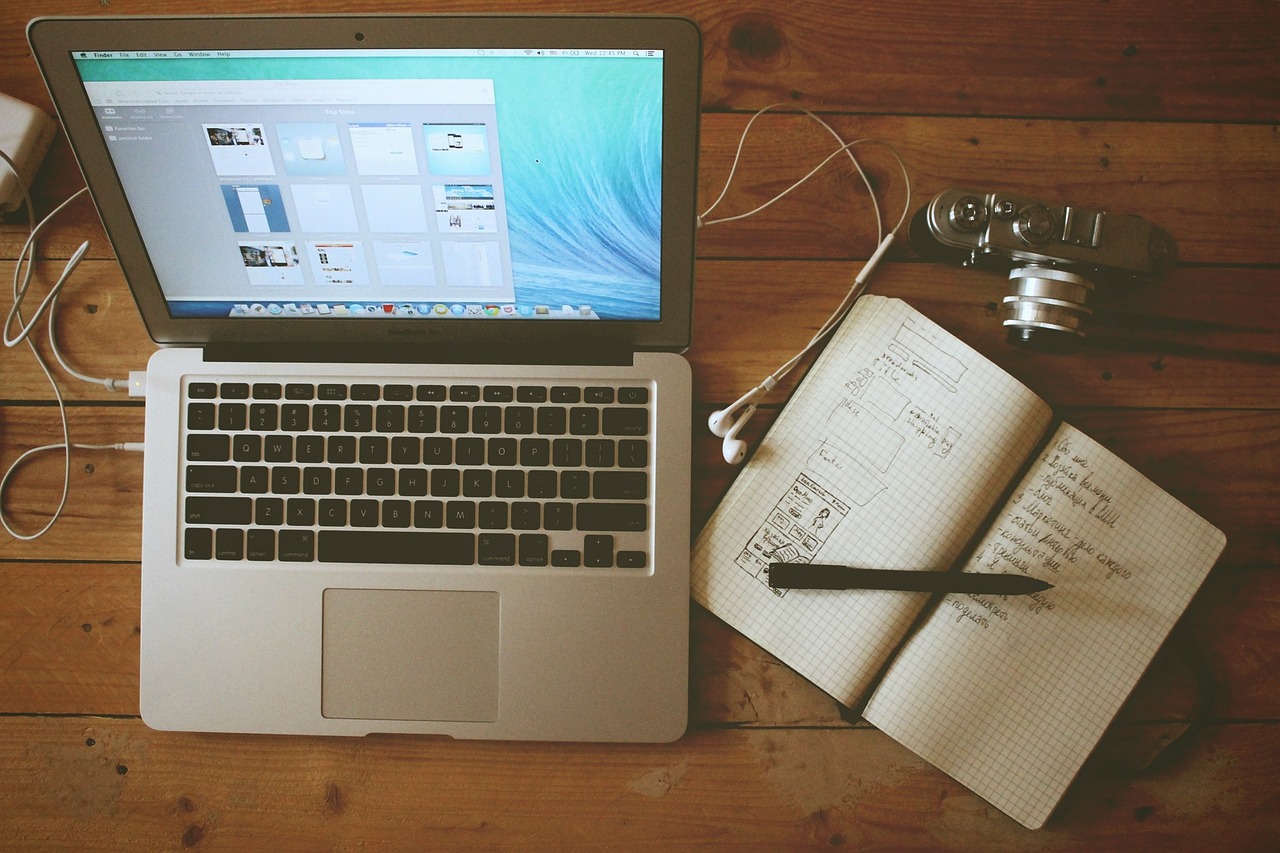 Do you ever sit down and stare at a blank document on your screen?
You want to write a blog post. But your computer seems to have drawn you into a staring match … and it's beating you.
Maybe you sit there for ages, struggling to get started. Maybe you give up, and your blog stays silent for another day.
I'll let you into a secret: most writers and bloggers struggle just as much as you do. We all find it tough to get started. We all have to fight that blank page.
The good news is, there are plenty of ways to win that fight. Here's how to conquer the blank page:
#1: Generate Ideas Separately From Writing
If you only do one thing on this list, do this one. Come up with your ideas before you sit down to write. You can set aside specific times to generate ideas or you can just jot them down in a notebook when they strike you — whatever you want.
When you sit down to write, you want to have an idea ready to work on. Otherwise, it's like starting to make dinner without any clue about what you want to cook — how can you even begin?
#2: Start Off With Someone Else's Words
Often, it's hard to put the first words down onto that blank page. So start off with some ready-made words! Take a quote from a blog post that's inspired you, or from a book that you're reading. Copy it onto your page, and then start writing down your thoughts about it.
You might decide to leave the quote in at the end (make sure you attribute it, if so) or you might take it out.
#3: Write an Outline Before You Start
You can start writing without an outline … but chances are, you'll get a couple of paragraphs into your post and realise you have no idea where you're going next.
Outlines are great for several reasons:
They often give you ready-made subheadings or list items for your post
They let you see how far through the post you are — which is really motivating
They help you to create a structured, coherent post that comes across well to readers
It takes just minutes to jot down a rough outline for your post, but doing so can save you hours of frustration.
#4: Mindmap Your Post
All writers work in different ways … and sometimes, different types of post will suit different planning techniques. If you're struggling to come up with an outline, try mindmapping instead.
To create a mindmap, grab a piece of paper and write your blog post idea in the center. Start adding anything that's connected to the idea — draw circles around each and connect any related thoughts with lines or arrows.
You can also use software to create mindmaps on your computer — there's a list of some great mindmapping applications here.
#5: Set a Timer — and Write
Have you noticed that when you sit down to write a blog post, all sort of other activities suddenly look attractive? You might remember an email that you really should write, or a blog post that you wanted to read, or a phone call …
Instead of getting distracted, set a timer for just 30 minutes and write without stopping. No checking emails, no Twitter, no Facebook. You'll be amazed how far you can get. (If you're not convinced, read about Bamboo Forest's experiences with timers, here.)
#6: Announce Your Upcoming Post on Twitter
Public accountability is a powerful thing. If you tell your Twitter (or Facebook) audience that you're going to publish a blog post in an hour's time, you're going to be motivated to actually get it done!
If you're writing a post that will be published the following day, or at some point in the future, then try using Twitter to stay on track by posting updates on your progress as you write.
#7: Start With a Question
The first few lines of a post are often the hardest to write. You obviously want to grab your readers' attention, and introduce the topic. There are plenty of ways to do this, but an easy one if you're stuck is to open your post with a question.
Good questions are ones which get the reader thinking, or which get them to say "yes, that's me!" (Scroll up to the top of this post for an example…)
#8: Use a Prompt to Get You Going
Sometimes, you'll find that none of your previously-thought-up ideas inspire you — or you'll be out of ideas altogether. If that happens, a writing prompt is a great way to get going.
A prompt can be anything at all: a line from a song, an image, a question, or even a single word. You can find some sample writing prompts here — these are aimed primarily at fiction writers, but they might still spark off an idea for you.
#9: Read Your Recent Comments
When you're not sure what to write, or what tone to strike, look at the comments on your blog. See what questions your readers are asking — could you address those in a post? What seems to have struck a chord with your audience — can you do more of the same?
If you don't have any comments on your blog yet, try reading the comments on a bigger blog in your niche — these are a rich source of ideas.
#10: Write Your Post as an Email
When you're struggling to get the words out, try this: write your post as if it's an email to a friend. You might even want to open up a blank message in your email client and type the text of your post into that.
Most of us find it easy to write emails — they're a chatty, friendly, informal form of writing. Just like blog posts, in fact! You might want to alter your post a bit when you've finished, or you might want to keep the email format and make it a letter to your readers.
Have you fought with the blank page recently, and won? Share your battle stories and your tactical tips here in the comments …
Ali Luke is a blogger, writer and writing coach. She's just launched a new ecourse, Blog On, that's designed to help bloggers beat the blank page — with step-by-step guidance, straightforward exercises, clear examples and an extra dose of motivation in the form of a prize draw at the end of the course. You can find out all about it here — but hurry, because registration's only open until Friday 3rd June.
Browse all articles on the Writing Content category
25 Responses to "How to Conquer the Blank Page: 10 Tips That Really Work"
Amrish Singh

Nice advise . we should always think about ideas before write articals . ideas may reduce you time to write articals . But never compromise with the quality of articals

Jerrick

you remind me something, i was thinking of provide solution on blog.
Then at the end of the blog write the next blog title which coming soon and give yourself a timeline to blog it in time .
I think this would be effective that for me to post consistent and interact with reader about the next blog content before wrote it. It always got lot of idea to get from reader while i also may take reader issues to mention in the next blog.

Joy

Thanks Ali for these great tips,

I recently heard about the timer idea and thought that was a great idea, haven't tried it yet but will.

I actually used mind mapping for an assignment a couple of years ago, and found it a great tool, thanks for the reminder to use it again.

Cheers

Joy

RealTimeTricks

I like the #10 tip, write as you're writing to your friend. This could help anyone in their writing, even me, you guessed it write i too opens the document and think hundreds of time before writing a single line. but i guess this tip could fix my problem.

Thanks for the amazing idea, i know its quite simple but for me its useful. A light for me in darkness!

Ali Luke – Aliventures

Sometimes the simplest ideas and tips are the best! 🙂 Glad it helped you!

Jody Pirrello

I've recently started using an outline (#3). It's sped up my writing considerably because I separated the "shiny object!" that occurs when researching from the actual writing.

And while I haven't done #6 I can certainly see how public pressure and fear of humiliation and failure can certainly motivate 🙂

I'd also add reading similar blogs (especially comments) to generate topics that weren't covered in the original post.

Cathy Miller

Another great writing prompt site is Creative Copy Challenge. Twice a week they post 10 words or phrases and visitors create stories from them. There's poems, short stories, ongoing series-whatever.

The community is fabulous and it is a very fun and creative way to break through any blank screen.

P.S. I don't have any affiliation with them other then I love the place.

Ali Luke – Aliventures

Great addition, Cathy! I know the site (I even contributed the words once) — it's a very fun way to flex your writing muscles 🙂

Adarsh

I just sit there and think about a topic to write about. I don't do research first. I write whatever comes to my mind first.

Then finally after I have exhausted my ideas, i do a bit of online research to find quality articles to link to.

Use a tool like darkroom (Windows) and Whiteroom (MAC) for distraction free writing

cmdweb @freewritingadvice

One of the best methods I've found is to write when you have an idea – no matter when that might be. Carry a note book with you (a paper one, that is) and jot down ideas as they occur to you. Sometimes it'll be a sentence or something you read on a billboard, sometimes it'll be a whole paragraph of stuff that just appears from nowhere.
I've found that having a ready supply of partial jottings and half-finished articles that I scrawled when I hadn't really figured out what the real meat of the article was about, allows me to pick up subjects and follow them through whenever I've reached a lean period.

Ali Luke – Aliventures

Great one — thanks!

Rison Simon

Really nice post about generating ideas. I haven't tried mindmapping yet. I will have to try it sometime. I also love the idea of creating an outline of the post before starting writing.

Ali Luke – Aliventures

Give it a go! Not all writers like mindmapping, but it's definitely worth trying it to see whether it's for you.

Fayaz Ahmad

After reading this post now I have write an artical .but could not make this pillar like you . I thinks i can do this with continues writing

doug_eike

Setting time aside for generating ideas is extremely important. It's all about discipline, and few people have it. Thanks for the tips.

Nasrul Hanis

Great tips!

This is a common phenomenon for me and sometimes I have to 'let' my blog without updates for 1-2 weeks because of this "blank page".

Love #2 and #7 – sometimes the best way to start writing is by acquiring inspiration from others!

Thanks!

eumaeus

I am very new to blogging (just passed my two months birthday) and at the moment I have way more ideas than time to write them. The area I am blogging in (self-sufficiency) is such that a stream of ideas knock on my door just through living. Each evening I sit down for a few minutes and add any ideas I have had to my list.

I try to use a lot of photos to help me explain things (and sometimes just cute animals LOL) and I find that as I am taking the photos, I am mentally describing them to someone as I go. So when I sit down to write, I am just writing what I thought about earlier?

My biggest problem is that I try to write tomorrow's post tonight (after my daughter is in bed), ready to publish when I get up in the morning after a quick read though for typos etc. That means that I am always writing the post when I am already dog-tired – not the best time to write coherently.

To try to defeat this, I am attempting to build a bank of draft posts, that aren't time sensitive, and that I can pull out to use if I am just too tired to write.

Ali Luke – Aliventures

Welcome to blogging! 🙂 I think that your technique with the photos sounds like a great idea … your mind must be working away on your post so that it's ready when you sit down to write. 🙂

Can you get up a little earlier and write first thing in the morning (and then save your post to proof-read the next morning)? You might find it easier to write well then.

Cleber Lusa

It's funny, but for me, most ideas I have when I'm not using computer…

Other ideas I get a base from other websites and I write using my own ideas and opinions.

But there are some days that my mind simply "blank".

Ikenna @blogmobilepro

I like the last point on write like an email to a friend or reader. The tips are quite practical. Thanks for sharing.

Toby

great post and just so right i often have those problems but you are right by following a plan as you suggest you can always win out – thanks for sharing the tips

Jane | Find All Answers

Hey Ali,

Great to see you here 🙂 Nice points to beat blogger burnout by the way. For sure every blogger has crossed this phase and many are still battling their way through.

To me, writing an outline works great. Whenever I get a blog post idea, I open up a draft (either on WordPress itself or a .doc file on my computer) and write down the tentative title and the key points.

With such a draft I can simply run through my fingers and get the post done with much ease. I cannot imagine writing without an outline; if I try to do that it usually takes ages and I cannot write in one sitting. I have to break up the task and do something else in the middle to gear up my mind.

On the other hand, writing with an alarm is not y thing. When I am under pressure I don't offer good quality 🙂

Thanks for the great post.

Cheers,
Jane.

Ali Luke – Aliventures

Thanks Jane! I guest post here on DBT from time to time 🙂

Like you, I find that outlines make the process SO much easier, especially for blogging. The post just flows after that.

Alarms and timers work for me, but not for everyone!

Daniel

Great Post, Ali.
I have seen how writers block affects people in the screenwriting world.

It can last for quite some time, whereas the writer literally can not put word to paper.

If a person has some particular way(Method, mantra or whatever it may be) for getting themselves into the zone(the realm of creativity) well and good.

Although, possibly the best cure for writers block, is to just go ahead and write.

Ali Luke – Aliventures

Yeah, I agree that just getting on with the writing is the best cure! I think for most people, a struggle to write isn't not full-blown writers' block but more like anxiety and perfectionism.

Being unable to write at all is definitely a problem — thankfully not one I've ever had!
Comments are closed.