Homepage Excerpts WordPress Plugin
I am glad to finally release Homepage Excerpts, a WordPress plugin that I have been developing with a friend for some time already. The plugin has two main objectives. The first one is to make blogs that use full posts on the homepage more search engine friendly. The second one is to give flexibility to people that want to use both full posts and excerpts on the homepage.
Homepage Excerpts for SEO
We are all aware that Google and other search engines penalize websites that contain duplicate content. Ideally, therefore, the content of your posts should be displayed fully in one location only, and that is the single post page.
Most blogs, however, display full posts on the homepage as well, and the posts remain being displayed in full even when they slip out of the homepage into page two, three and so on.
The Homepage Excerpts plugin can be used to reduce this duplicate content while keeping full posts on the homepage. Suppose you have 8 full posts on the homepage. Once you activate the plugin you will have the option to select how many posts to display fully in the homepage. The options will go from 1 up to 8. If you select 8, all your posts on the homepage will keep being displayed fully while all the other posts (the ones on page two, three, four and so on) will turn into excerpts.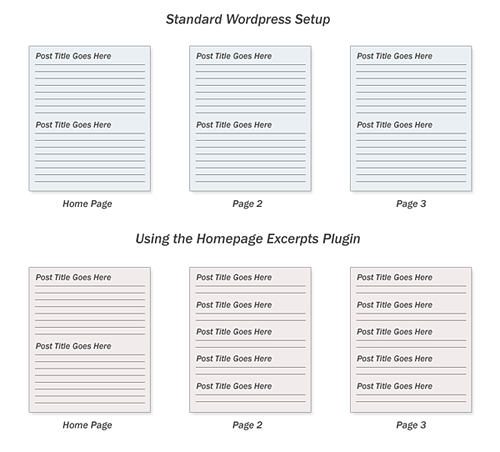 Remember that new pages usually take one week or more to get indexed by search engines, so that by the time your single post page gets indexed the post will already be out of the homepage, and it will be displayed as an excerpt, removing the duplicate content issue.
Apart from SEO benefits this change might also improve the user experience. Displaying only post excerpts on the subsequent pages will make it easier for readers to scan them quickly while searching for the post that they are looking for.
Homepage Excerpts for Layout
The plugin can also be used if you want to use an hybrid layout on your homepage, displaying the most recent posts in full and the older ones with an excerpt. On this blog usually I display the most recent post in full while making the others show excerpts, so that the reader can scan quickly through all of them. Some other people might want to display half of the posts on the homepage fully and the other half with excerpts. With the plugin you have complete control over this.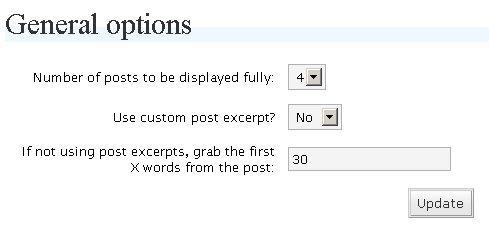 Notice that you can also select if the plugin should extract the custom excerpt from WordPress (the one that you insert manually when writing an entry) or if it should automatically grab the first X words of each post, where X is a number that can be specified on the options panel.
Installation
Download and unzip the plugin
Uploade the file homepage-excerpts.php to your plugin directory. (Usually
located in wp-content/plugins/)
Log into the WordPress control panel, then go into "Plugins" and activate the
plugin
Still inside the WordPress control panel go into "options" and then "Homepage Excerpts"
Update the plugin options as appropriate
Browse all articles on the WordPress category
243 Responses to "Homepage Excerpts WordPress Plugin"
dt

Thanks Daniel, I will look it up more at the wordpress site.

Greg Balanko-Dickson

Thanks for the great plugin and to Michael Marine to pointing to you.

Technobuzz.net

Nice plugin

downloading it

Robert Irizarry

Great plugin! – I installed and activated it yesterday. My site gets a fair amount of traffic to the front page so I've always displayed full posts there. It's great to have a way to address SEO concerns on subsequent pages. Thank you!

Shankar Ganesh

@Daniel: The plugin works like a charm. I had no problems using it.

Daniel

Everton, I agree with you and Ashish. However, many bloggers prefer to have full posts on their homepage regardless of any SEO problems, since most of their readers like it that way (and you cant argue with the fact that a blog should be built for the readers and not for the search bots).

That is where the plugin comes into play, it help these bloggers limit the diplicate content issues while STILL displaying full posts.

Daniel

Thanks for the input everyone, I am working on putting a trailing […] at the end of the excerpts so that it you will look nicer.

Regarding the space between the excerpt and the "Read more…" link, I think you can customize it manually via CSS.

Daniel

dt, the custom excerpt option is supposed to pick the text that you enter on the "Optional Excerpt" field when writing a post on WP, and not the more tag.

Lincoln

Works great! A couple of suggestions: you might want to give users the option of trailing excerpts with a […] so it doesn't end so abruptly, and maybe place a line break before the "Continue Reading" link for a cleaner look. 🙂

Angela

I have been searching around for a good plugin for exerpts and what a coincidence that your's is out at just the right time. Thank you Daniel!

Jason Ho

nice one..this is going to be useful for me.. 🙂

Photoshopium

Wow, very sweet plugin! Thanks a lot. It really helps.

Everton

I'm with Ashish on this Daniel. Homepages get very little traffic, so it's better to go with a simple solution like just displaying excerpts. It's what you do with your category pages, so why all the hassle on the homepage?

Also, displaying full posts on could actually be bad for SEO! Some robots only index a limited amount of words, then displaying full posts will mean that some of your content won't get picked up!

Brip Blap

Fantastic plugin – worked perfectly!

Daniel

Thanks Steven, 250 downloads so far. The plugin was born out of a problem I had, so it is good if other people will benefit from it as well.

Steven

Daniel,
Congratulations on the first plugin! I think it will be helpful for thousands of WordPress users, and hopefully it will give you a lot of backlinks too.

Daniel

Michel, I think what the links you are talking about (or the lack of them) are coming directly from your theme.

The plugin will display whatever links your theme has specified with full posts and excerpts.

Let me know if you are referring to something else.

Michel Fortin

Great plugin! My only problem with it is that it doesn't display a link at the end of the full post to comment or at least to view them. In fact, the full post cuts abruptly at the end of the article, and that's it. I would be nice to be able to add a link at the end to comment and customize that text from within the plugin's CP.

Robert Irizarry

Great idea! I've been concerned about duplicate content but I've been reluctant to move to partial posts on my main page. This definitely opens up some opportunities.

engtech @ internet duct tape

It looks worth leaving WordPress.com for.

I have to achieve something similar in a very hacky way by using CSS display:none; for all the posts except for the first post, and then getting rid of the navigation options off of the first page.

Steven Bradley

Daniel I've always manually set things up so my most recent posts shows in full and then after that it's the excerpt on the home page. I add the -more- comment.

I think I'll like you're plugin better as a solution since the manual approach means going back into each post and adding the comment after publishing the next post.

Daniel

Nico, I will ask you to not offer the download of the plugin directly from your blog. I welcome anyone writing about it, but please just put a link to this page.

Sorry about this, but it is the only way I have to control how many people are downloading it and to keep the code intact.

Nicolargo

For a french version, you can have a look here

Eric Grey

I definitely appreciate this. My readers are pretty into full posts on the homepage – but I've been worried about SEO troubles. I think this plugin helps me maintain a healthy balance. Thanks a lot!

Eric Grey
BMM member

Wallace

innovative plugin, great job!

Romance

Hey cool plugin man, I just installed it. Great job.

Daniel

Ashish, there is a percentage of readers that don't like post excerpts in the Homepage, that is why the majority of blogs (including big ones like TechCrunch) still use full posts on the Homepage.

Bloggers that want to keep full posts on the homepage, therefore, can use the plugin to minimize the duplicate content issue.

Also, even if the post gets indexed in two days, it will remain duplicate only for as long as it stays on the homepage, once it goes to page 2 that gets fixed.

Ashish Mohta

Daniel, I have a different view. Putting a full page in home page and then same post as single post is duplication by itself.

why not just use the_excerpt in the wordpress loop instead of the_content. This will just display exceprts.

Home page gets indexed faster and this will create duplicate content when its time your single page gets indexed. I think its better to use exceprts everywhere. The first 30 lines are more than enough to which is showed in exceprts to get it into serach engines

Moreover i had seen posts getting indexed in a day or 2 now. Even matt cluts said about it that google indexing had gone faster now.

Daniel

If you have any problems using it or suggestions for upgrades let me know.

Robert

In your loading instructions, you state after activating the plugin, and while in the control panel go to options. I am using WP version 2,9,2 and can not find Options in the plugin. Am I blind. Please help.

Michelle

I too am having a hard time. I am new to WordPress. I downloaded the plugin just fine. But I don't know how to Uploade the file homepage-excerpts.php to my plugin directory. (Can't find my plugin directory) and then when I log into the WordPress control panel, I can't find "Plugins." Can you help???? I am stuck. Thank you!

jhoysi

I think WordPress, at one time, had an Options menu item, but it has since been removed in updates. I see this in plugin instructions all the time, so it must be old information.

If you go to 'Settings' you'll see where to edit the Homepage Excerpts plugin. Click on the down arrow to the right of it in your control panel menu and you'll see a menu item for Homepage Excerpts.

Shankar Ganesh

Wow this is just great for SEO. I think I'll install it immediately
Comments are closed.