Grab Your Facebook Vanity URL at Midnight
If you have used Facebook in the past, you probably have noticed that profile pages have really weird URLs, something like http://www.facebook.com/profile.php?id=767842914. The problem with those URLs is that they are impossible to remember, can't be shared easily and are not descriptive.
To fix the issue, Facebook will start letting its users pick "vanity URLs," which will contain the name of the user. If your user is called John Doe, for instance, you should be able to pick facebook.com/johnd or facebook.com/john.doe or some other combination of name and surname.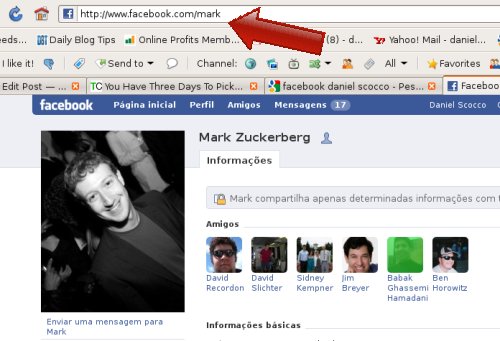 Well, you should be able to pick those URLs if you act fast. Facebook is opening the new URLs at midnight of this Friday (eastern time), and they already stated officially that it will work on a first come first served basis.
Unless you have a unique name, therefore, it should be worth to go there at 12:01 and secure your vanity URL.
Update: In order to access this feature, once you are logged in just go to facebook.com/username
Browse all articles on the Promotion category
40 Responses to "Grab Your Facebook Vanity URL at Midnight"
WordSprite

I'm not sure what the big deal is. It is easy to search by email, name and city, or other basic distinguishing features. I have never had a problem finding anyone on FB who has an existing account. Then again, I am a good Googler (if that counts as a skill) and can use a search engine more efficiently than most. Seriously, though, I think this is kind of an overrated new FB "feature."
The problem I do have with it is that for a band page, for instance, to get the vanity-type listing the band must have at least 1,000 fans already. For a local band trying to make it, that's kind of ironic- how do I get that many fans if people have a hard time finding us?

Chester

Got mine updated too 😉 This is good news for facebookers.

McRapu

I got mine too which is the same with my twitter account. Just great.

SATISH — Technotip.org

I grabbed mine @ http://www.facebook.com/technotip

My twitter ID is http://twitter.com/technotip

So it will be good to have technotip as username at both places.

One more thing to add Daniel..
If anyone saw about this vanity URL and hurried to signup to facebook, I have a bad news for them!

Ineligible Account
At this time only users who have registered for Facebook before June 9th, 2009 are eligible to obtain a username. All other users will be allowed to register a username in the near future. We apologize for any inconvenience. 🙁

yosafat

i got mine…thanks

Do Follow

That's awesome I am going to get mine now I hope I will get what I want. Thanks.

Raj

Account holders before June 10th can get these URLs. New accounts have to wait.

ayman

good work

Capri

They're not "vanity urls"! They are personalized urls! I'm not vain for wanting a word or two instead of a bunch of numbers in an easier to remember url. Let's get rid of that insulting term "vanity url" and call it "personalized url".

vanae

i got mines!

facebook.com/vanae

whad up, yo!

Blogger

Got mine! Pretty cool!

Do Not make Money

I got my vanity URL. Didn't get the one I desired but got one close to. Maybe i was too late.

Daniel Scocco

@Pink Ink, once you are logged in, go to facebook.com/username

BloggerDaily

changed it. now it's easier to promote our profiles at Facebook. I wonder why it takes so long to apply this vanity URL. but I believe they got their reasons too.

btw, we got our vanity URL now and it's really cool!

Jeff

Finally! Vanity urls as you call it =) Thanks FB.

Pink Ink

Okay, I just discovered you have to have been on FB before June 9 for this to be an option. Those after will be able to pick "in the near future".

Pink Ink

Daniel, can you provide a link to do this?? Thanks.

Hesham

This is great news!

Pink Ink

You just might have convinced me to finally sign up for a facebook account…!

Daniel Scocco

Alright I just got facebook.com/danielscocco . It is the same as my twitter ID so it is good.

Sean

In reply to Sheamus:

It was available for everyone in the world right away. People have different time zones though, which explains for the differences. Australian's didn't get to choose earlier, and American didn't get to chose last. Where are you getting this ridiculous logic from?

5:01AM your time is 12:01AM EST (or whatever time zone they go by). I got mine at 1:01AM, but it was still 12:01AM EST and 5:01 your time when I got it.

Matej

@Sheamus

😛 It's the same time, just different clock numbers. When it's 00:00 in US, in most of the European countries it's 06:00 except UK because it's are closer to the west ( US ). Everyone had same chance.

I picked MatejJ, because I wanted to match my Twitter account and because every catchphrase from HIMYM was already taken 🙂

"Matej" was not available, neither taken. Why?

temi

They call it vanity url I call it seo friendly url, the problem is I created a facebook account this morning and there was no reference to this so called vanity url, is there a special url needed to sign up or an option to click? The account I created this morning seem to have the usual boring facebook url

Decky H Rooroh

I just try it, but it does not work.

Michael Aulia

Nice! I'll keep checking it when the time comes. Don't think I can get a "Michael" though lol. I'll just use my full name, it's quite "unique" 🙂

UncleLar

Cancel my previous comment. It turns out that restriction is for page only (and will be lifted in two weeks) not for individuals.

UncleLar

You guys all missed the small print which says that you must already have a Facebook PAGE (not account) and that PAGE must be followed by at least 1000 people.

FB has done a terrible job of getting that word out and there are going to be an awful lot of disappointed people at midnight tonight.

Crazy Oldie

I just made a whole bunch of FB accounts so I can try and stake a claim to the bigger names and possible sell them off. Its a long shot but worth one.

Sheamus

It was midnight, but it now depends on your timezone – for me (in the UK), Facebook now states I can select my username at 5.01 GMT.

"Starting on Saturday, June 13th, at 5:01am in your time zone, you'll be able to choose a username for your Facebook account to easily direct friends, family, and coworkers to your profile."

I've discussed this with some friends online and many Europeans are stating it says 6.01am for them, so I'm guessing they're now staggering in users to deal with the massive influx.

What this means, of course, is Australians and New Zealanders will get all the choice picks. Oddly, Americans will pick last. Strange order, but that's Facebook for you.

redwall_hp

I have a very unique name, and a handle I use all over the place, but I'm not sure I want to use either for my vanity URL.

I only use Facebook to connect with "IRL" friends and family, while Twitter and other networks I'll add my internet friends. I don't want to encourage more friend requests from people I don't actually know on Facebook…
Comments are closed.