Why Google's Hummingbird Matters – and How to Future-proof Your SEO
This is a guest post by SEO expert Joe Williams.
One of the best ways to improve your SEO is to stay up-to-date with Search Engine's algorithm changes. And in case you didn't hear Google just had a big one – the biggest in over 10 years!
Google announced on the eve of its 15th birthday (September 26th) that it had completely rewritten its main algorithm, and named it Hummingbird. Interestingly, Google unofficially launched it a month earlier but this largely went unnoticed in SEO circles.
So how come such a big update (rumoured to affect 90% of searches) went undetected by many so-called SEO experts?
Because this is just the beginning. The beginning of something much bigger which I will reveal in this post.
Why You Need to Understand Hummingbird
Hummingbird is Google's whole search engine and includes smaller pieces like PageRank, Panda and Penguin which are sub-algorithms. The underlying framework has become more powerful, meaning it can better support these parts.
More importantly, Google will develop new enhancements to Hummingbird in the coming months (and years) to provide a much improved experience to its users.
How to Future-Proof Your SEO
Hummingbird is likely to be around for a long time, perhaps another 10 years. And the good news is that Google has left plenty of clues as to what it wants now and in the future.  Here are six that I would like to share:
#1 – Understand Your Customers Better
As a key part of Hummingbird, Google has upped its sophistication in understanding natural language. It now considers every word entered into a search, meaning it can better use natural and conversation searches.
For example, if you search 'Edinburgh castle' and 'show me pictures of Edinburgh castle' you see very different results: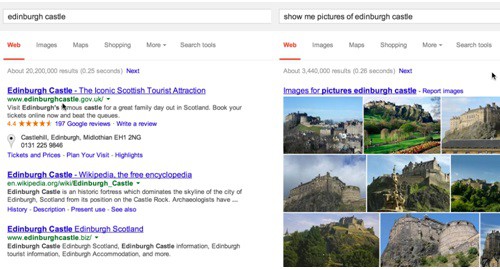 That's because the intent of the searcher is better understood. Google is getter smarter and wants you to do the same by creating content that matches up with the intent of its users (and your customers).
Tip: Create customer profiles for your business and provide answers to their questions in all stages of the buying cycle.
#2 – Research Topics and Not Just Keywords
Google's improved understanding of natural language means it has a deeper understanding of the relationships of keywords that form topics. Keywords still matter but they don't rank on their own: the context is becoming more important.
Next time you optimise content, research which keywords you wish to target, think about the customer's search intent and create relevant content that not only sells your products or services but also answers questions your customers might have before they are ready to buy. This helps Google in all stages of the buying cycle and builds trust with your customers.
Tip: Get familiar with the new Google Planner to research both keywords and topics.
#3 – Act Like an Author and Less Like an SEO
It's no longer just about keywords and webpages: you need to become an authority within your industry. You can do this by having your customer's interest at heart, through educating and/or entertaining them, and once you have built your trust you can then sell to them too.
Being an authority means becoming an author and an industry expert. Google wants to identify (and reward) the expert authors for each industry. It also wants to know what they look like too:

Tip: Build in-depth expert articles and get setup on Google Authorship.
#4 – Think and Act Like a Brand
People remember brands. People trust brands. And most importantly people have emotional bonds with brands and tell their friends about them.
Google loves brands too:
Brands are the solution, not the problem. Brands are how you sort out the cesspool.

– Eric Schmidt, CEO of Google
Put another way, Eric is saying that brands are for the power of good because they improve the Internet and they are trustworthy for both Search Engines and its users.
And now for the good news: the Internet is a level playing field which means small-time brands can make it big more often than you might think.
Tip: Have a clear purpose and vision and build up your trust through expert content.
#5 – Avoid Gaming or Trying to Trick Google at All Costs
I've been a digital marketer since 2005 but after a few years I fell out of love with Google and SEO. I nearly changed career – twice! To dominate in competitive industries you needed take short-cuts and this often meant tricking Google into thinking your site was more relevant or reputable than it actually was.
This all changed firstly in 2011 with the introduction of Google's Panda algorithm, and then later in 2012 with the Penguin update.
Although this was a tricky time for lots of business owners, this made Google a much fairer referee, and sites which thought and acted like both brands and experts were able to succeed more easily. This made me a much happier SEO. 🙂
Tip: Make sure you know rules and respect Google's SEO guidelines.
#6 – Stay Up-to-Date
It sometimes feels like Google are forever moving the goal posts for SEO. Luckily that's not really true. The core principles stay the same year after year. Build a search engine friendly site (WordPress is great for this), create relevant content (for your customers) and build your website reputation (by creating remarkable content that people want to share and link to).
What changes more frequently is Google's view on what it considers trustworthy, particularly when building your reputation. In fact, Google tweaks its algorithm daily. These are mainly minor tweaks but every few months or so it has a major update to its algorithm (think Panda, Penguin or Hummingbird) with the goal of benefiting the trustworthy and relevant sites.
Tip: Check out Moz's comprehensive and up-to-date changes log on Google's algorithm. It provides links to further reading and can be great for diagnosing why your site has risen or fallen off Google.
We are in a new and exciting era of Google and SEO. Short-cuts and tricks are risky and usually get you into trouble. If you wish to succeed, you need to play the longer game through building trustworthy content that is both relevant and reputable to your customers and wider industry. Hopefully some of the tips above will help you do just this and steer your website into the direction Google is heading, and help grow your business.
If you have any questions about Hummingbird, Google or SEO – please pop them in the comments below.
Bio: Today's post is by Joe Williams who is an SEO trainer at  Zen Optimize.
Browse all articles on the SEO category
17 Responses to "Why Google's Hummingbird Matters – and How to Future-proof Your SEO"
SmartCanadian

Great post. I have been concerned about reports of the change in Google algorithm, whatever it is. But I love the theme of moving away from a purely keyword world to a search term world. We do our searches using the latter rather than the former principle.

Tony Nguyen

Hi,
I love this post. The article is informative and useful. I do follow your articles recently. Love the way you write your posts. After reading this article, I think I have some ideas for myself. Thanks for sharing this post. Hope to read more interesting information from you. Great job!

Slavko Desik

Someone finally had to write this! Kudos for bringing Joe here guys.

Hummingbird is probably the biggest shift towards what guys like Rand Fishkin and Eric Enge, and multitude of others, tried to tilt- holistic understanding of the search industry.

This article really emphasizes on what is most important- authority and relevance.

Judging how SEO giants recognize this shift by changing their predictions and expectations for what is about to come, I'm willing to wager that author rank and topic modelling are about to get even more of a spotlight. And this is only the proverbial tip of the iceberg here.

Moz is a great place if people want to stay up to date on these things, and moreover their vision intersects with what Google probably aims for- holistic approach to search marketing. To bad that I can see some really authoritative figures in the blogging industry still preaching about SEO tricks and things that work on the short run.

Sajid Hussain

Great analysis Joe. Read out the full story and found something interesting about the Google's new algorithm. Will implement the same for my blog.

Thanks for sharing and advising.

Shyam Chathuranga

Wow! Great post and I like these long explained posts rather than normal posts of DBT. Google is changing their algorithms everyday, but the real actions of SEO stay there forever.

That's creating reader loving quality content.

Also, 1st point is very useful and I should concentrate more on that fact.

Best Wishes,
Shyam.

P.S. DBT said they never gonna take Guest Posts again, Did you change your mind?

faisal

Hope they address spam as that's still plenty in Google Search.

Rogers

Hi,

I must say this "Humming Bird" algorithm is quite innovative on Google's part as it will not only prevent blackhat seo techniques but will also present relevant search results to end users. Now SEO people have to be well aware of what they are doing not just doing massive backlinking and spammy tools to promote clients websites.

George

Here's the new Google's update then! I'm not even surprised how often they come.
Looks like the spammy and black hat days are over, like it should be! I hate when I work hard for months to SEO my site and then comes some SEO skid with his link spamming software and his site comes to the first page in just few days.
Like this, looks like finally these methods will dye.
Good explained post, thanks for writing it!

Have a great day,
George

Gabriel Purdey

I have always just totally ignored all of the SEO techniques and just built websites that have a good purpose, obviously You maybe go for less usual keywords at the start otherwise you will never end up anywhere. This method may turn out to have worked as I would imagine google will eventually overlook all back links.

Ali Luke

@Shawn – you're welcome to my post style! I thought Joe used it really well, it was a great fit for this post. 🙂

Joe Williams

Thanks for the comments guys!

@cicek – I think Daniel and Ali have more SEO posts planned and ones that relate to the above tips.

@Uju – that's the way Google likes you to do things 🙂 You don't need to digest an SEO text book to be a great blogger or publisher.

@Shawn – glad you liked the style and plan to use it yourself. I learned it off Ali – a mish-mash of two of her previous posts. I'm sure she will be pleased you use her style too 🙂

Shawn Gossman

Joe – awesome post and it has even been bookmarked! 🙂 I have really enjoyed your 'tip links' added to the article. I like that style and may use something like that on my own articles from time to time. I know a lot about SEO now but after reading your post, I know even more. 🙂 Good job!

Uju

Sometimes being a novice helps… Here I was blogging with my long tails.
Before writing I always asked myself how I would search for that particular topic and I write for that human in me not the bot.
Thanks a lot for a great post, quite enlightening

Joe Williams

Ryan, thanks for the comment and kind words.

I remember reading that Google makes $100+ million a day from search advertising so you can bet they invest a fair wad of that into combating SEO webspam. Something tells me Hummingbird is just the first sign of Google getting really smart..

Cicek Gonder

Hi,
? read your post and search on dailyblogtips and i didn't find extra information about hummingbird. i want to read about hummingbird more, ?f you write something else about it, i would be glad.
Meanwhile thanks for your post.

Ryan Biddulph

Hi Joe,

Sensational post!

The biggest development is focusing on topics over keywords. People generally search for longer tail deals versus the traditional keyword so many bloggers slobbered over for years.

Think of longer search terms based on topics to match what Google is looking for in a blog or website.

As for trying to trick Google, always a bad idea. Our ego can be silly, right? People think they are smarter than billions of dollars and a company chock full of some of the smartest people on earth.

You might game 'em for a little bit but when the penalties come down you will likely be looking for a new line of work or starting from scratch.

Thanks for sharing!

Ryan

Shawn Hartwell

Thanks for a great and informative post. I have never been that great at understanding SEO and when I heard about this 'HummingBird' bussiness I was confused.

Once again thanks for bringing out the most important parts to our attention 🙂
Comments are closed.