Five Nifty WordPress Features You (Almost Certainly) Didn't Know About
Even though I've been using WordPress for close to seven years, I still occasionally come across features that I didn't know about … or had forgotten about.
Whether you're new to WordPress or an old hand, these are some little-known features you've probably not yet tried.
(And if you have? Congratulate yourself on being well ahead of most bloggers!)
#1: Using the Full Screen Writing Mode
If you write your posts straight into WordPress, rather than using Word or Google Docs or similar, this is a really handy feature.
At the top right of your posting box, just below the "Text" tab, you should see a little icon like this:

Click on it, and you'll get a full screen editor with a simple toolbar at the top (this disappears when you're writing, and reappears when you run your mouse over it):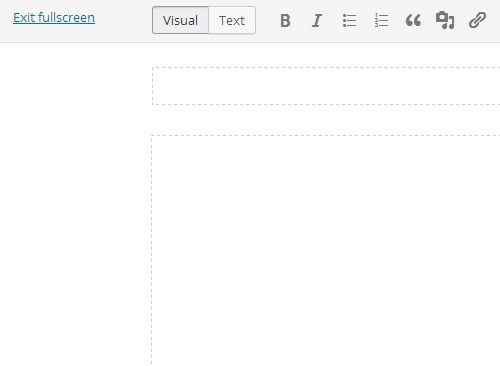 #2: Adding a "Read More" Link
Some blog themes, like the DailyBlogTips one, automatically only display the start of your post on the blog's home page (www.dailyblogtips.com). Others, like the Thesis theme I use on my site Aliventures, will display full posts by default.
If you have a theme like this, the home page can end up very long. You might prefer instead to show the first few paragraphs of a post, then get readers to click to read more.
There's a very simple way to do this in WordPress: you just add a "Read More" link. In the post editor, click where you want to break the post, and then press this button: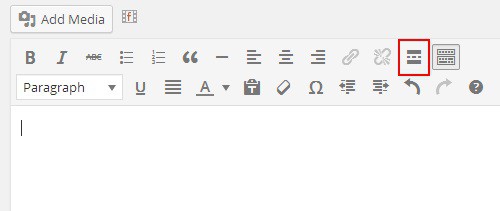 #3: Making a Post "Sticky"
New blog posts always appear at the top of your blog, knocking older ones further down … right?
Well, it doesn't have to be that way if you don't want it to be. You can make a post "sticky" and keep it at the top of your blog. (You might have come across the same feature on forums.)
To do this:
When drafting or editing your post, look at the "Publish" options on the top right
For the post's Visibility, click "Edit"
Check the box "Stick this post to the front page" (under the radio button "Public")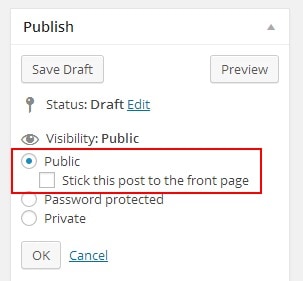 #4: Using the "Help" Menus
WordPress has tons of flexibility and loads of options … and this can sometimes be a bit of a mixed blessing. If you're ever stuck or struggling to understand something, you can use the Help menu.
Never noticed this before? It appears in the top right of every screen on your WordPress Dashboard: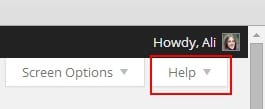 Just click the little dropdown, and a list of help topics will appear:

#5: Changing Your Screen Options
You might know about this one if you read this DailyBlogTips post a few months ago … but it's such a handy and overlooked feature, I wanted to bring it up again.
Pretty much every screen of your Dashboard has various "Screen Options" (right next to "Help"). This dropdown allows you to change what you see on the screen. For instance, you might find that the "Author" box is missing by default — by turning it on, you can easily reassign a post to a different author.
Here's how it looks when you're adding / editing a post:

Most of the options you see will be default ones that come with WordPress, but some may be added by plugins you're using. If there are particular options you don't use on your blog (e.g. tags), then you can declutter your posting screen.
Was one of these features totally new to you? Or did this post remind you of something you'd forgotten about? Let us know in the comments…
Browse all articles on the WordPress category
10 Responses to "Five Nifty WordPress Features You (Almost Certainly) Didn't Know About"
sireesha puppala

Thanks for the detailed tips. Am new to wordpress and these tips mean a lot to me,

Read more is the ultimate tip I found out form this post . anyways my theme already show only excerpts but didn know this feature is available in normal editor.

Indu jain

I had no clue about the read more and the full screen mode of writing. This will help me to focus more on my writing. Thanks for sharing

Jonas Braun

I am a wordpress developer from last two years and i know all above features from the day first when i started the job as trainee. Any way thanks many of non developers do not about these. It would be helpful for those who works for their own wordpress blog.

tHnaks

Ali Jayne

Thank you, Thank you, Thank you!!!
I had no idea about the "Read more…" button! I've been looking for something like this for ages and thought I had to change my theme to find it (in fact I nearly bought into one of the theme groups last week)… Now I dont have to make a hasty decision about paid themes because I read this post first!
I've just gone through and added "read more" to all of my posts… so happy! So grateful!
Thank you 🙂
Ali Jayne

Ali Luke

Very glad to help, Ali Jayne! WordPress has so many great features that it's not always too obvious where to find them.

aceclue

Truth that many bloggers do overlook these important wordpress feature. Some even, aren't aware of them.

With the exception of the "sticky to the home page" feature which I do overlook, I've at some points used the features.

Thanks for sharing

Lakhyajyoti

Great tips. I have been using WordPress for last three years, but I never tried any of the features, you mentioned on your post. Thanks for the awesome share.

Hannah

These are a few nice and useful tips – I use WordPress a lot, but I think the more you use it the more you overlook the most simple and often most useful features.

Iftekhar Bhuiyan

hahahah I found this post to be little funny 😛 I know all these features. However, as Raspal mentioned earlier "people tend to forget".

Raspal Seni

*Patting himself on the back* Good to know I know all of these features, though don't need to use some, like the sticky post one.

But, surely these are features which many people tend to forget. Though WordPress is at ver 3.91, there are still some holes in it and missing features which hopefully next versions will fulfil. Heard about ver 4.0 beta.
Comments are closed.