All products and companies have pros and cons, we've covered the important ones here for you.
Are you tired of buying "miracle cures" to detoxify, cleanse and refine your skin, just to be disappointed?
Are you tired of finding a product to try, only to find out that it has ingredients you don't want on your skin?
Most of us just want a simple, single cleanser that really works. I am excited by this product's innovative formula and want to share with you what I found—here's a breakdown of the Erno Laszlo Pore Refining Cleanse review.
What is Erno Laszlo Pore Refining Cleanse?
Mornings take long enough as it is, without a complicated skin care routine.
However, Erno Lazlo's Pore Refining Double Cleanse isn't just one facial cleanser, it's two, and it's made without the harmful ingredients you want to avoid.
Filling in for two other products in your routine is just one benefit.
It's a nutrient-rich powerhouse in a simple formula.
If you're like me, you probably expect a nice, foamy face wash to get that clean feeling.
However, due to the ingredients in this cleanser, you get the same clean without the added chemicals to cause that thick foam.
Key Ingredients
Harnessing the power of black charcoal and fruit oils and enzymes, with added kale protein, this cleanser draws impurities out of your skin, clarifies, and restores skin with needed mega-nutrients.
It includes ingredients like Aloe leaf juice, grapefruit peel oil, and kiwi extract.
Here's what these ingredients do:
What it doesn't have is parabens, phthalates, sulfates, urea, mineral oil, petrolatum, or colorants.
Ingredients like parabens and petrolatum are known to irritate skin and can cause allergies.
Those sulfates are harsh surfactants and what causes other cleansers to foam up heavily.
This product gives you that clean, without the heavy lather, and the suspended charcoal works without leaving dark stains on your sink or towels.
How Much Does it Cost?
Erno Lazlo's pore refining double cleanse comes in a 3.3-ounce bottle for $58.00 on their website, but you don't have to pay it all right away.
Erno Lazlo offers Quadpay, which uses your credit or debit card to make four payments over six weeks, instead of paying all at once.
Their shipping and return policies are also simple and easy to understand.
They don't offer international shipping from their website. However, if you want to make arrangements for overseas orders, their brand ambassador may be able to help you.
Let's talk rates; two-day shipping with Saturday delivery is a flat fee of only $5.00 for orders under $50, and free for over $50.
You can also opt for overnight delivery for $25.00 and get your order in one business day.
In the event that you need to return your product, they also have a return policy that allows for accepting returns for up to 30 days.
The time starts from your purchase date, and you need to have the return slip and original packaging for the return to be accepted.
Return shipping is the buyer's responsibility unless the return is due to defect or damage.
If you have a defective or damaged product, their customer service will pay return shipping and arrange a refund or replacement.
How to Use It
Let's talk about how to use this morning cleanser. Unlike complicated multi-step systems, this two-in-one cleanser and pore refiner is simple, quick, and effective.
First, wet your face until it is damp, then pump the product into the palm of your hand.

Then, rub your palms together to form a lather and apply in circular motions to your face.

Lastly, rinse your face thoroughly and pat dry with a towel.
Remember, this cleanser doesn't foam up the way that some of those with more harsh sulfates and detergents in them do.
Don't worry, it still cleans just as well, without a thick lather.
That's it, two major steps in your daily routine accomplished in three easy steps.
FAQ's
We've compiled a list of the most frequently asked questions about this product below:
Yes, we have found many happy people who use this product also see a reduction in pore size, breakouts, and are quite happy.
While people may be expecting it to foam up easily, it doesn't need to lather to do its job, due to the powerful formula of natural enzymes and clarifiers.
You should apply Erno Laslo's Pore Refining Double Cleanse when you do your morning routine.
It's best for removing the buildup of oils and toxins that accrue overnight and leaving your face fresh and clean for the rest of your daily self-care and makeup.
Final Thoughts
Erno Laszlo Pore Refining Cleanse is a double-acting facial cleanser that is perfect for your morning routine.
It's thoughtfully formulated to harness natural enzymes, nutrients, oils, and additives for a fresh, clean feeling that also leaves you appreciating your skin more over time.
They've chosen not to use the well-known chemical, irritating ingredients that many other companies still use to create a lather, which is another benefit of this cleanser.
Go visit their site today to order your first bottle. Chances are, it won't be your last.
A refreshing morning cleanse helps cleanse overnight impurities from pores while smoothing away buildup on the surface.
---
Erno Laszlo Cleanse vs. Alternatives
First Aid Beauty Cleanser
---
Erno Laszlo Cleanse Reviews
There are no reviews yet. Be the first one to write one.
Erno Lazlo Pore Refining Cleanse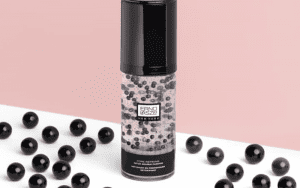 Erno Lazlo Pore Refining Cleanse is a double-acting morning cleanser that not only cleans away the buildup from overnight, but it also detoxifies and smooths away surface impurities.
Product Brand: Erno Lazlo
Product In-Stock: InStock